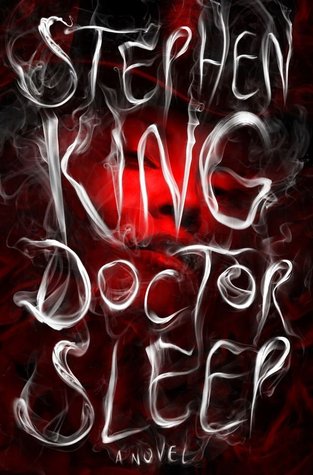 Source: Public Library
Audio, 18 hrs
I am an Amazon Affiliate
Doctor Sleep by Stephen King is a sequel to The Shining, starring Dan Torrance who was just a young boy in the first book.  In this novel, we learn about the life Dan led after the infamous events at the Overlook Hotel.  Dan has struggle most of his adult life against addiction to alcohol, like his father, but in many ways, the alcohol became a way for him to hide from his gifts.  As he copes with his addiction, he finds solace in that he can help those leaving this world for the next go peacefully.  Eventually, he becomes known as Doctor Sleep in a small New Hampshire town at a nursing home.
Meanwhile, Abra Stone, a gifted twelve-year-old girl, has caught the eye of the members of the True Knot who are human and not-human.  The True Knot seems to be an unstoppable force that are sucking the life force out of those with special gifts, but they haven't yet met their match.  This novel is a slow builder, but in true King style, the characters are varied and dynamic.  Blending not only the supernatural with small town creepiness, King creates an atmosphere that is at once familiar and other worldly.
Doctor Sleep by Stephen King is an adventure and otherworldly with interesting characters, but there were times during the audio that my mind wandered.  The narrator, Will Patton, does a great job of creating voices that are nuanced enough to be separate entities in the performance.  I enjoyed the audio performance, but felt as though Dan's flaws lost their impact along they way — does that mean his character evolved or that they were forgotten? — and Abra has gone from a scared Shiner to a formidable foe awfully quickly.  There are some story arcs that are quickly wrapped up and others that seem glossed over, leaving readers to fill in the gaps.  However, in terms of a sequel, written so many years after the first book, King has created a book that could be read wholly on its own, but is richer if readers have read the first book.
About the Author:
Stephen King is the author of more than fifty books, all of them worldwide bestsellers. His recent work includes Doctor Sleep and Under the Dome, now a major TV miniseries on CBS. His novel 11/22/63 was named a top ten book of 2011 by The New York Times Book Review and won the Los Angeles Times Book Prize for Mystery/Thriller as well as the Best Hardcover Book Award from the International Thriller Writers Association. He is the recipient of the 2003 National Book Foundation Medal for Distinguished Contribution to American Letters. He lives in Bangor, Maine, with his wife, novelist Tabitha King.