Source: Purchased
Hardcover, 336 pgs.
I am an Amazon Affiliate
---
I think Beth Kephart is the most reviewed author on my blog. And you will probably understand why when you realize that many of her books are like prose poems that tell stories with big themes and complex and colorful characters. She is one of my favorite authors, and I especially love that her husband is illustrating some of her more recent books.
---
Wild Blues by Beth Kephart, with illustrations from William Sulit, is as beautifully poetic as Kephart's previous novels, but this one is suspense wrapped in the wilds of the Adirondacks. Taking inspiration from a prison break at the Clinton Correctional Facility and the family heirlooms — Camping and Woodcraft by Horace Kephart — in her father's home, Kephart has woven an inspirational tale of courage tugged from 13-year-old Lizzie's connections with her family and dearest friend, Matias. This middle-grade novel will charge young readers to think about their own lives and whether their willing to go the distance to save their own family and friends.
"I don't remember if I ran, but maybe I did. I don't remember how my heart felt, except for the squirm of it, like it was riding a carousel inside my chest." (pg. 96)
Using the victim impact statement as a story-telling device, Lizzie takes us on the road to recovering her missing Uncle Davy and her friend Matias, but to take the journey, she says we must first understand who they are. We're given glimpses of life in Matias' homeland of El Salvadore — the beauty and the violence — and in many ways Lizzie's journey to save them is like stepping foot into those El Salvadorean jungles where fear takes hold and makes things larger than life, scarier than they may be … at least in the Adirondacks. William Sulit's watercolor renderings from Matias are beautiful and add a sense of wonder to the story, providing us a glimpse of what his art could be.
"'I heard it roar. The loudest commotion you ever heard. Like an old man snoring through a megaphone that had been slapped against my ear.'" (pg. 289-90)
I was swept up in this story of Lizzie, her famous antique finding Uncle Davy, and her artistic friend Matias. I loved that Lizzie wanted to be brave and to find her family but at the same time her limitations are realistic. The woods carry a mystical quality for our young biologist, especially since she's as entranced by her friend Matias' paintings as she is enchanted by the natural world. She holds tight to memories and her family, but she also holds tight to knowledge, including the knowledge in The Art of Keppy, a practical guide for woodland explorers. My only moment of confusion and pause came when a character (who really isn't) appears as Lizzie tells us what happened to the escapees and how this "character" had been tricked. This sequence took me out of Lizzie's story and I was disoriented for a moment. I've debated whether this was intentional or not, but regardless, I wanted back into Lizzie's world … to know what happened.
Wild Blues by Beth Kephart, with illustrations from William Sulit, looks at the consequences of choice for the young protagonist, Lizzie. She chooses to leave her mother alone for the summer and be with her uncle in the woods and with her summer friend. She chooses to run after Matias when she learns he is missing, getting lost herself. When she returns home to find her uncle gone and police looking for escapees, she must make another choice and that choice can have the most dire of consequences. Would you have the same courage, touched with naivete? Does she make the right decisions? Many of these questions are not answered, but it would be a great book club discussion.
RATING: QUATRAIN
Other Books Reviewed: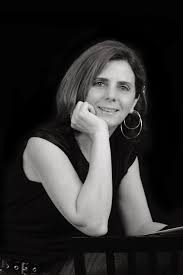 About the Author:
Beth Kephart is the author of twenty-two books, publishing memoir, young adult literature, a corporate fairytale, an autobiography of a river, and an essay/photography collection.
Handling the Truth: On the Writing of Memoir (Gotham), based in part on Kephart's teaching at Penn (where she won the 2015 Beltran Teaching Award), won the 2013 Books for a Better Life Award (Motivational Category), was featured as a top writing book by O Magazine, and was named a Best Writing Book by Poets and Writers. Small Damages (Philomel) was named a 2013 Carolyn W. Field Honor Book and a best book of the year by many publications. Going Over (Chronicle) was the 2014 Parents' Choice, Gold Medal Winner/Historical Fiction and a Booklist Editor's Choice. One Thing Stolen (Chronicle) was a 2015 Parents' Choice Gold Medal winner. Kephart's 2014 Shebooks e-memoir is Nest. Flight. Sky.: On Love and Loss One Wing at a Time. Her 2013 middle grade historical novel, Dr. Radway's Sarsaparilla Resolvent (Temple University Press), was named a top book of the year by Kirkus.
Kephart is a National Book Award nominee and a winner of the Pennsylvania Council on the Arts fiction grant, a National Endowment for the Arts grant, a Leeway grant, a Pew Fellowships in the Arts grant, and the Speakeasy Poetry Prize. She writes a monthly column for the Philadelphia Inquirer, is a frequent contributor to the Chicago Tribune, has given keynote addresses on the state of literature and teaching, and served as a judge for the National Book Awards, the National Endowment for the Arts, and PEN. 

Kephart was one of 50 Philadelphia writers chosen for the year-long Philadelphia's Literary Legacy, exhibited at the Philadelphia International Airport. Excerpts from her Love: A Philadelphia Affair were the subject of a six-month Airport exhibit. She is a Radnor High Hall of Fame.
Kephart's most recent book—This Is the Story of You—was published by Chronicle and is a Junior Library Guild and Scholastic Book Club selection, on the 2017 TAYSHAS list, a VOYA Perfect Ten, and a Top Ten New Jersey Book.
Kephart will release two middle grade books with Caitlyn Dlouhy of Atheneum/Simon & Schuster. She is the co-founder of Juncture Workshops, offering memoir workshops and resources to writers across the country