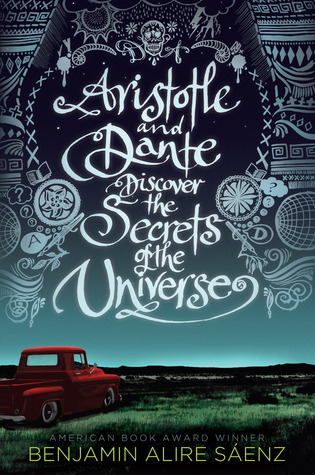 Source: Public Library
Hardcover, 359 pgs
On Amazon and on Kobo
Aristotle and Dante Discover the Secrets of the Universe by Benjamin Alire Saenz is a brilliant coming of age story that examines not only how tough it is to be a young boy — a young Mexican American — but also how these boys struggle with cultural stereotypes of what becoming a man should be.  Dante is an optimistic boy who sees the beauty of the world all around him, while Aristotle (Ari) seems himself as a loner and a pessimist.  These boys meet one summer in 1987 in El Paso at a local pool, and Dante offers to teach Ari how to swim.  Dante loves the water and he wants to share that love with someone who could become his best friend.  These boys are exploring their lives, learning that their lives are not their own, but often dictated by the parents who care for them and they wonder when they will get to create and be in lives wholly their own.
"There is a famous painting, Nighthawks, by Edward Hopper.  I am in love with that painting.  Sometimes, I think everyone is like the people in that painting, everyone lost in their own private universes of pain or sorrow of guilt, everyone remote and unknowable.  The painting reminds me of you.  It breaks my heart."  (page 185)

In Ari's home, his brother is dead to them because he is in prison, but Ari knows that he must have loved him and doesn't understand why there are no pictures of him in the house, why he is never spoken of, and why he doesn't know what happened to him.  This void is huge and hard to fill, but he's also impacted by the silence of his father, a Vietnam veteran forever changed by a horrifying war and other deeply felt losses.  Dante's family is different, it is affectionate physically and emotionally, and his parents are well-educated intellectuals.  But there are secrets here too, secrets held close by Dante, who only wants to share them with someone who could understand — Ari.  Being 15, these are in between childhood and becoming men, and that is a tough time for any adolescent, but its even tougher when you are confused about who you are and who you want to be.  Dante and Ari's friendship is far from easy, but the understand one another.
"'Sometimes don't you just want to stand up and yell out all the cuss words you've learned?'
'Every day.'
'Every day? You're worse than me.' He looked at the hail. 'It's like pissed off snow,' he said.
That made me laugh." (page 104)
Aristotle and Dante Discover the Secrets of the Universe by Benjamin Alire Saenz is an award winning book for great reasons. It is never forced, it is as easy as a friendship between two boys can be, but it also tackles that harder issues that we as a society continue to struggle with. At its heart, it is a beautiful love story, one that will stay with readers long after turning the last page. Another contender for the Best of 2014 list.
***I want to thank Beth Kephart for her review of this book in August.  She always has the best recommendations.***
About the Author:
Benjamin Alire Sáenz is an award-winning American poet, novelist and writer of children's books.  He was born at Old Picacho, New Mexico, the fourth of seven children, and was raised on a small farm near Mesilla, New Mexico. He graduated from Las Cruces High School in 1972. That fall, he entered St. Thomas Seminary in Denver, Colorado where he received a B.A. degree in Humanities and Philosophy in 1977. He studied Theology at the University of Louvain in Leuven, Belgium from 1977 to 1981. He was a priest for a few years in El Paso, Texas before leaving the order.
In 1985, he returned to school, and studied English and Creative Writing at the University of Texas at El Paso where he earned an M.A. degree in Creative Writing. He then spent a year at the University of Iowa as a PhD student in American Literature. A year later, he was awarded a Wallace E. Stegner fellowship. While at Stanford University under the guidance of Denise Levertov, he completed his first book of poems, Calendar of Dust, which won an American Book Award in 1992. He entered the Ph.D. program at Stanford and continued his studies for two more years. Before completing his Ph.D., he moved back to the border and began teaching at the University of Texas at El Paso in the bilingual MFA program.
76th book for 2014 New Author Reading Challenge.