April 24, 2019 Leave a Comment
A Sight in Camp in the Daybreak Gray and Dim
by: Walt Whitman
A sight in camp in the daybreak gray and dim,
As from my tent I emerge so early sleepless,
As slow I walk in the cool fresh air the path near by the hospital tent,
Three forms I see on stretchers lying, brought out there untended lying,
Over each the blanket spread, ample brownish woolen blanket,
Gray and heavy blanket, folding, covering all.

Curious I halt and silent stand,
Then with light fingers I from the face of the nearest the first just lift the blanket;
Who are you elderly man so gaunt and grim, with well-gray'd hair, and flesh all sunken about the eyes?
Who are you my dear comrade?

Then to the second I step—and who are you my child and darling?
Who are you sweet boy with cheeks yet blooming?

Then to the third—a face nor child nor old, very calm, as of beautiful yellow-white ivory;
Young man I think I know you—I think this face is the face of the Christ himself,
Dead and divine and brother of all, and here again he lies.
April 23, 2019 Leave a Comment
You knew it was coming. At least, you should have. I love writing haiku, so it seems fitting that we try to make our own today.
In short, haiku is a Japanese three-line poem that juxtaposes two images or ideas and "cutting word" between them — something that signals a moment of separation — as well as 17 syllables total in a 5-7-5 pattern spread out over three lines.
From Matsuo Basho:

The old pond-
a frog jumps in,
sound of water.
Here's one of my urban haiku published at Better Than Starbucks:
Black gloss screen holds tight,
Slack jawed stare, eyes wide open,
Empty sockets filled.
Please share your favorite haiku or write one of your own in the comments. Here's a Haiku Generator if you want some help.
April 22, 2019 Leave a Comment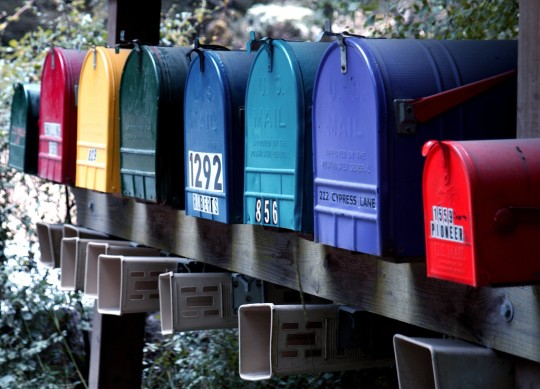 Mailbox Monday has become a tradition in the blogging world, and many of us thank Marcia of The Printed Page for creating it.
It now has it's own blog where book bloggers can link up their own mailbox posts and share which books they bought or which they received for review from publishers, authors, and more.
Leslie, Martha, and I also will share our picks from everyone's links in the new feature Books that Caught Our Eye. We hope you'll join us.
Here's what I received:
Apprehension and Desire by Ola Wegner, a Kindle freebie.
What if Elizabeth Bennet had agreed to Darcy's marriage proposal offered to her at Hunsford parsonage, sincerely thinking it was the best thing she could have done in her situation? As his fiancée and later wife, can she fall in love with Fitzwiliam Darcy who is still very much arrogant, rude, and not reformed man? Will she be able to look over her own prejudice and apprehension, and see a worthy man who loves, and desires her?
The Passion According to Carmela by Marcos Aguinis, translated by Carolina De Robertis, a Kindle freebie for World Book Day.
It is a time for upheaval in Cuba: the time to build a new society. Even from her position of privilege, idealistic divorcée Carmela Vasconcelos sees the waves of uprising and is caught up in the excitement. Persuaded by her brother, Lucas, she flees her wealthy home to join Fidel Castro's rebels.

In the mountainous jungle of the Sierra Maestra, Carmela meets Ignacio Deheza, a charismatic Argentinian socialist fighting on behalf of the insurrection. On the training fields of a revolution, they bond in the cause—and in a blind passion that stirs their blood and soul.

As Carmela, Ignacio, and Lucas navigate increasingly dangerous political waters, their personal fates become inexorably tied with that of their country. But when the rebellion succumbs to corruption and disillusionment, they'll find their dedication to the movement tested. For Carmela and Ignacio, they'll soon discover that it's their commitment to each other—and the choices they must make to survive—that will be the greatest challenge of all.
Go: A Coming of Age Novel by Kazuki Kaneshiro, translated by Takami Nieda, a Kindle freebie for World Book Day.
As a Korean student in a Japanese high school, Sugihara has had to defend himself against all kinds of bullies. But nothing could have prepared him for the heartache he feels when he falls hopelessly in love with a Japanese girl named Sakurai. Immersed in their shared love for classical music and foreign movies, the two gradually grow closer and closer.

One night, after being hit by personal tragedy, Sugihara reveals to Sakurai that he is not Japanese—as his name might indicate.

Torn between a chance at self-discovery that he's ready to seize and the prejudices of others that he can't control, Sugihara must decide who he wants to be and where he wants to go next. Will Sakurai be able to confront her own bias and accompany him on his journey?
What did you receive?
April 19, 2019 Leave a Comment
Forgetfulness (listen here) by Billy Collins The name of the author is the first to go followed obediently by the title, the plot, the heartbreaking conclusion, the entire novel which suddenly becomes one you have never read, never even heard of, as if, one by one, the memories you used to harbor decided to retire […]