March 18, 2019 Leave a Comment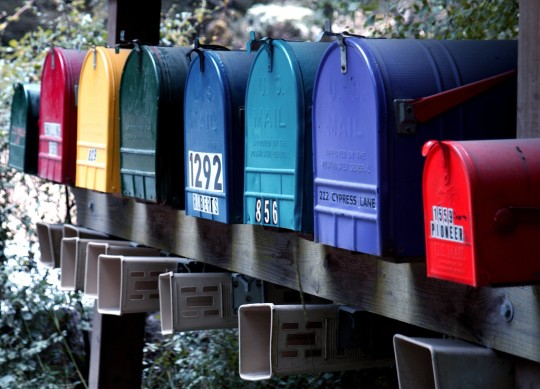 Mailbox Monday has become a tradition in the blogging world, and many of us thank Marcia of The Printed Page for creating it.
It now has it's own blog where book bloggers can link up their own mailbox posts and share which books they bought or which they received for review from publishers, authors, and more.
Leslie, Martha, and I also will share our picks from everyone's links in the new feature Books that Caught Our Eye. We hope you'll join us.
Here's what I received:
The Manic Pixie Dream Boy Improvement Project by Lenore Appelhans, which I purchased.
Riley lives in TropeTown, where everyone plays stock roles in novels. Riley, a Manic Pixie Dream Boy, is sent to group therapy after going off-script. Riley knows that breaking the rules again could get him terminated, yet he feels there must be more to life than recycling the same clichés for readers' entertainment. Then he meets Zelda, a Manic Pixie Dream Girl (Geek Chic subtype), and falls head over heels in love. Zelda's in therapy too, along with several other Manic Pixies. But TropeTown has a dark secret, and if Riley and his fellow Manic Pixies don't get to the bottom of it, they may all be terminated.
Seasons in Time by Cat Gardiner, which came as a surprise from the author.
Romance, history, and memories of old are only part of what makes the 130 year old Time & Again antique shop so special.For Lizzy Bennet, what begins as a simple visit to Time & Again turns into so much more than discovering trinkets from the past. An unlikely friendship forms with the elderly shopkeeper who sends her on a journey of a lifetime─through a time portal. Love and lessons await her when she leaves her mobile device behind and finally looks up. Travel with Lizzy back to wartime 1940s─where her heart opens and future changes thanks to one dashing G.I: William Darcy and the magic of an antique shop.
As One Fire Consumes Another by John Sibley Williams, a review copy from the poet.
What happens when metaphysics and social critique meet? Poetry that has to find a new form to express the tension it embodies. John Sibley Williams' newspaper-like columns in As One Fire Consumes Another do just that. Here, transcendent vision and trenchant social insight meet, wrestle, and end up revitalizing one another.
Praying with Jane by Rachel Dodge from Anna at Diary of an Eccentric.
The charm of Jane Austen and her novels has been enjoyed for over 200 years by readers around the world. Much has been written about her fascinating life, yet little is known about Jane's spiritual side. In this lovely 31-day devotional, you will get an in-depth look at Miss Austen's vibrant, steadfast prayer and faith life. Her intimate relationship with the Father comes to life through her exquisite prayers, touching biographical anecdotes, intimate excerpts from family letters and memoirs, and illuminating scenes from her novels.

Spiritual insights and Scripture references shed light on the profound meaning behind Miss Austen's prayers and the enduring truths they contain. Each day ends with a key Bible verse and invitation to "pray with Jane," helping to ignite and deepen your own vibrant relationship with the Father.
The Eight Mountains by Paolo Cognetti from Anna at Diary of an Eccentric.
For fans of Elena Ferrante and Paulo Coelho comes the international sensation about the friendship between two young Italian boys from different backgrounds and how their connection evolves and challenges them throughout their lives.

Pietro is a lonely boy living in Milan. With his parents becoming more distant each day, the only thing the family shares is their love for the mountains that surround Italy.

While on vacation at the foot of the Aosta Valley, Pietro meets Bruno, an adventurous, spirited local boy. Together they spend many summers exploring the mountains' meadows and peaks and discover the similarities and differences in their lives, their backgrounds, and their futures. The two boys come to find the true meaning of friendship and camaraderie, even as their divergent paths in life—Bruno's in the mountains, Pietro's across the world—test the strength and meaning of their connection.
What did you receive?
March 14, 2019 Leave a Comment
Source: the poet
Paperback, 96 pgs.
I am an Amazon Affiliate
Narrow Bridge by Robbi Nester explores the degrees of fear we face throughout our lives as things change. The first section of the collection sets the tone for the whole, as each poem focuses on change — a desire to be something you're not in "Mermaid to Woman" and a re-imagining of Beethoven as a whale in "The Making." There is a certain fear in change, but Nester calls on the reader to see the beauty in being something different, something that evolves.
 From "The Making" (pg. 3)

If Beethoven were a whale, he would
groan a song as monumental as his bulk,
one the waves would write -- always
in suspension. They would take an hour
to break along a shore so distant
none of us could fathom where it was.
Nester explores the changes that happen during childhood, traveling miles and moving to a new home, and how scary those moments can be. But there are times where the reader still sees the wonder of change as the narrator plays "capture the moon" with a compact mirror. Imagination takes center stage in the second section, and my daughter really enjoyed these poems when I read them aloud to her. She was reminded of the tents we made in our old house's living room, and she began thinking up her own games to play in the car.
Section three explores the darkest reaches of fear, including a poem for the Sandy Hook school shooting. There's also a lament for what America has become.
Sandy Hook (pg. 33)

...The teacher tries
to hide us, but bullets fly
so fast. Now she won't 
wake up, no matter how
I shake her. No crayon
could ever be that red.
In the final sections, Nester explores the fears of the past and places them into context. She broadens the scope beyond the fears of a younger self about her unruly hair and the wiser self who sees those imperfections as par for the course of life. "My past/quivers beneath the lens of memory," she says in "Picture of a Life."
Narrow Bridge by Robbi Nester is an exploration of life — its bumps and moments of joy — to find the light. She reminds us to push through and "recognize the stranger" in ourselves. She calls on us to reach beyond our fears and ourselves into the unknown to find beauty in the vacillation and uncertainty of change.
RATING: Cinquain
About the Poet:
Robbi Nester is the author of three other books of poetry: a chapbook, Balance (White Violet, 2012), and two collections—A Likely Story (Moon Tide, 2014) and Other-Wise (Kelsay, 2017). She has also edited two anthologies: The Liberal Media Made Me Do It! (Nine Toes, 2014) and an Ekphrastic e-book, Over the Moon: Birds, Beasts, and Trees—celebrating the photography of Beth Moon, published as an issue of Poemeleon Poetry Journal.
March 13, 2019 Leave a Comment
Source: the author
Audible, 5+ hrs.
I am an Amazon Affiliate
Christmas at Darcy House by Victoria Kincaid, narrated by Julia Eve, is a variation that takes some liberty with Darcy's reserved character when it places Elizabeth Bennet directly in the path of Mr. Wickham and a marriage proposal. Darcy unexpectedly finds Elizabeth to be in London, and his efforts to forget her after removing him and the Bingleys from Hertfordshire are for naught. Her fine eyes are there beckoning him to get closer, but for her part, she cannot understand why Darcy would want to dance with her at a Christmas ball or even be in her company after the things he's said.
Darcy's character is impulsive at just the wrong moment, but for the right reason, as he sees no other way to save Elizabeth from Wickham and his advances. Despite his uncharacteristic behavior, Elizabeth's response is spot on in many ways. How can they resolve their differences and learn to meet in love when so much has been said and misunderstood?
Kincaid has pushed the envelope here with her Darcy character, but as the story evolves you can see how desperate he is at the prospect of losing Elizabeth to Wickham. The narrator was a bit odd when speaking male parts, as if she tried too hard to deepen her voice. Darcy's narration came off less reserved and more harsh, but so too did Elizabeth's narration at times.
Christmas at Darcy House by Victoria Kincaid, narrated by Julia Eve, is a fun Yuletide variation that will keep readers on their toes. If you want something close to the original character of Mr. Darcy, this is not for you.
RATING: Quatrain
Other Reviews:
About the Author:
The author of numerous best-selling Pride and Prejudice variations, historical romance writer Victoria Kincaid has a Ph.D. in English literature and runs a small business, er, household with two children, a hyperactive dog, an overly affectionate cat, and a husband who is not threatened by Mr. Darcy. They live near Washington DC, where the inhabitants occasionally stop talking about politics long enough to complain about the traffic.
On weekdays she is a freelance writer/editor who specializes in IT marketing (it's more interesting than it sounds) and teaches business writing. A lifelong Austen fan, Victoria has read more Jane Austen variations and sequels than she can count – and confesses to an extreme partiality for the Colin Firth version of Pride and Prejudice. Visit her website. View her blog, visit her on Facebook, GoodReads, and on Amazon.
March 12, 2019 Leave a Comment
Source: the author Audiobook, 7+ hrs. I am an Amazon Affiliate The Unforgettable Mr. Darcy by Victoria Kincaid, narrated by Stevie Zimmerman, is a heart-wrenching variation of Pride & Prejudice. Following a disastrous proposal at Hunsford, Darcy is determined to improve Elizabeth Bennet's opinion of him and hopefully win her love. But upon his arrival […]