March 26, 2020 Leave a Comment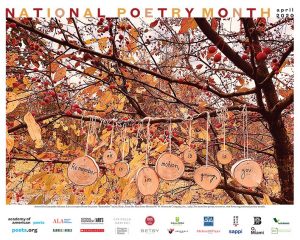 National Poetry Month 2020 is around the corner.
Here are some possible ways to celebrate:
Share your favorite poems on your blog, with friends, on video chat, and let me know how you'll be celebrating poetry this year.
I'd love to add more online gems to the list!
March 26, 2020 Leave a Comment
National Poetry Month 2020 is around the corner. Here are some possible ways to celebrate: Dear Poet Project for kids (esp. now that kids are home) Read a Poem a Day Virtual Readings and More Poem in Your Pocket Day 30 Ways to Celebrate Join Savvy Verse & Wit's Poetry Reading Challenge Patrick Stewart Reads […]
April 3, 2020 Leave a Comment
Today, I thought I would direct you to read or listen to a poem by Donika Kelly. The moon rose over the bay. I had a lot of feelings. by Donika Kelly (audio is available) She is the author of the chapbook Aviarium (fivehundred places, 2017), and the full-length collection Bestiary (Graywolf Press, 2016), winner […]
April 2, 2020 Leave a Comment
Poetry has reached beyond the page in a lot of cases, and many are aware of InstaPoets who read online in Instagram and create graphic posts of their poems. But were you aware of poets who are creating interactive collections using QR codes and turning to audio as a way to reach wider audiences? Jessica […]
April 1, 2020 Leave a Comment
Most everyone knows what a postcard is — a 4×6 inch piece of card stock with an image on the front and a place to write a note on the back that can be mailed with postage and an address sans envelope. I'm sure this has been done before, but with many of us sheltering […]
March 31, 2020 Leave a Comment
Source: Purchased Paperback, 97 pgs. I am an Amazon Affiliate Nancy Drew Clue Book: Pool Party Puzzler by Carolyn Keene, illustrated by Peter Francis, is a fun mystery that younger kids can read without parents worrying about too much danger. These are mysteries that kids could do on their own with little adult help. I […]
March 30, 2020 Leave a Comment
Mailbox Monday has become a tradition in the blogging world, and many of us thank Marcia of The Printed Page for creating it. It now has it's own blog where book bloggers can link up their own mailbox posts and share which books they bought or which they received for review from publishers, authors, and […]