May 21, 2019 Leave a Comment
Source: Purchased
Paperback, 73 pgs.
I am an Amazon Affiliate
Nanopedia by Charles Jensen is the poetry collection you've been waiting for all year — or at least I have. Jensen takes a keen look at the America we live in today and examines its past through a different lens. He picks apart the facade of American life, whether as a gay man looking for love in all the wrong places or the search for identity and place in a social structure that demeans us, as it does with millennials. All of these prose poems taken together demonstrate the fractured nature of American society. Beneath the surface of American bravery and diversity are the fissures brought bigotry, classism, and self-hatred.
"Modern Art" (pg. 19)

Absence is a bomb that detonates inward.
Jensen's lines and his sort poems are like an explosion that obliterates broad perceptions of America. Americans who search for validation in the acquisition of things, Americans who dislike babies but cannot say so, and so many more will be found in this collection. The poems ask for self-reflection and provide it whether the reader is willing to participate or not. The collection is more than short reference entries about American present and past. It's a mirror of our foibles and hardships — a reflection of things we want to change but are ultimately so hard to change, making it a doubly frustrating and perhaps unattainable.
A powerful collection in which politics and the political landscape are hovering in the background but never quite rise to the surface of these lives, but it is there, waiting to insert itself in every conversation, every look, every moment to muddy the waters even further.
Nanopedia by Charles Jensen uses prose poems to examine the American life whether at a distance or in its most intimate setting between two lovers. His poems reach into the darkness to reveal a tragic comedy of errors, an American history that continues to write and rewrite itself.
RATING: Cinquain
May 20, 2019 Leave a Comment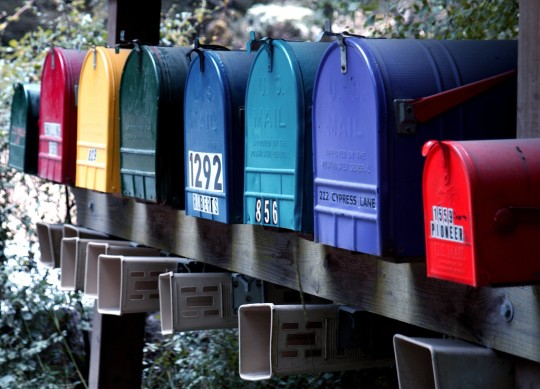 Mailbox Monday has become a tradition in the blogging world, and many of us thank Marcia of The Printed Page for creating it.
It now has it's own blog where book bloggers can link up their own mailbox posts and share which books they bought or which they received for review from publishers, authors, and more.
Leslie, Martha, and I also will share our picks from everyone's links in the new feature Books that Caught Our Eye. We hope you'll join us.
Here's what I received:
Searching for Sylvie Lee by Jean Kwok for review in June.
A poignant and suspenseful drama that untangles the complicated ties binding three women—two sisters and their mother—in one Chinese immigrant family and explores what happens when the eldest daughter disappears, and a series of family secrets emerge, from the New York Times bestselling author of Girl in Translation

It begins with a mystery. Sylvie, the beautiful, brilliant, successful older daughter of the Lee family, flies to the Netherlands for one final visit with her dying grandmother—and then vanishes.

Amy, the sheltered baby of the Lee family, is too young to remember a time when her parents were newly immigrated and too poor to keep Sylvie. Seven years older, Sylvie was raised by a distant relative in a faraway, foreign place, and didn't rejoin her family in America until age nine. Timid and shy, Amy has always looked up to her sister, the fierce and fearless protector who showered her with unconditional love.

But what happened to Sylvie? Amy and her parents are distraught and desperate for answers. Sylvie has always looked out for them. Now, it's Amy's turn to help. Terrified yet determined, Amy retraces her sister's movements, flying to the last place Sylvie was seen. But instead of simple answers, she discovers something much more valuable: the truth. Sylvie, the golden girl, kept painful secrets . . . secrets that will reveal more about Amy's complicated family—and herself—than she ever could have imagined.

A deeply moving story of family, secrets, identity, and longing, Searching for Sylvie Lee is both a gripping page-turner and a sensitive portrait of an immigrant family. It is a profound exploration of the many ways culture and language can divide us and the impossibility of ever truly knowing someone—especially those we love.
Lady in the Lake by Laura Lippman for review in July.
In 1966, Baltimore is a city of secrets that everyone seems to know—everyone, that is, except Madeline "Maddie" Schwartz. Last year, she was a happy, even pampered housewife. This year, she's bolted from her marriage of almost twenty years, determined to make good on her youthful ambitions to live a passionate, meaningful life.

Maddie wants to matter, to leave her mark on a swiftly changing world. Drawing on her own secrets, she helps Baltimore police find a murdered girl—assistance that leads to a job at the city's afternoon newspaper, the Star. Working at the newspaper offers Maddie the opportunity to make her name, and she has found just the story to do it: a missing woman whose body was discovered in the fountain of a city park lake.

Cleo Sherwood was a young African-American woman who liked to have a good time. No one seems to know or care why she was killed except Maddie—and the dead woman herself. Maddie's going to find the truth about Cleo's life and death. Cleo's ghost, privy to Maddie's poking and prying, wants to be left alone.

Maddie's investigation brings her into contact with people that used to be on the periphery of her life—a jewelry store clerk, a waitress, a rising star on the Baltimore Orioles, a patrol cop, a hardened female reporter, a lonely man in a movie theater. But for all her ambition and drive, Maddie often fails to see the people right in front of her. Her inability to look beyond her own needs will lead to tragedy and turmoil for all sorts of people—including the man who shares her bed, a black police officer who cares for Maddie more than she knows.
Phoenix: Transformation Poems by Jessica Goody, which I purchased.
The sideways glance, the quick turn of the head, the sudden look up: these provide Jessica Goody's angle of vision into the fleeting experience of the world that is captured and rendered in her lines.
What did you receive?
May 16, 2019 Leave a Comment
Source: the author
Paperback, 190 pgs.
I am an Amazon Affiliate
Treading the Uneven Road by L.M. Brown is a collection of short stories set in Ireland with a cast of characters who are like little puzzles to solve. Their lives have not gone as planned and it is how they adapt (or don't) to changes and bumps in the road that make them so puzzling. Brown also has adeptly created a collection of stories in which characters from one may be connected to those in another. Even as we follow these characters, readers come to realize that where they come from — a tiny village bypassed by progress — is slowly dying. This dying town weighs heavily on these stories and is a character who motivates Brown's protagonists or forces them to take action.
From "The Lady on the Bridge"

"She felt the same keen nervousness reaching for her husband's book as she did with the thought of the flooding." (pg. 1)

"A dark cloud had spread in her chest but she didn't know why." (pg. 12)
Like "The Lady on the Bridge," readers are swept away by the emotion of Brown's stories — a woman whose husband has a gay lover, a man whose child dies, a brother who has become an anchor, a dyslexic man who seeks revenge on a former teacher, and so many more. Each character is larger than life, living big emotions and trying to bury them beneath the surface. These emotions can bubble to the surface at any time, and they often do. The narration lulls you into a trance as Brown navigates this small town and its cast of characters, but this trance is filled with tension, as she weaves her tales and surprises so seamlessly. The connections between the characters are not always obvious, and some are startling.
Much like the uneven gravel roads of small town Irish living, these characters must learn to cope with their loves, the bumps in the road, and the low hanging clouds obscuring their view. Readers will enjoy the different perspectives provided by some characters of the same person. It is true that you can never know everything about someone, even the ones you are most intimate with.
Masterfully crafted short stories with a multitude of perspectives about a dying town's small-town life. Don't miss out on Treading the Uneven Road by L.M. Brown.
RATING: Cinquain
May 15, 2019 Leave a Comment
Source: Purchased Paperback, 57 pgs. I am an Amazon Affiliate An Everyday Thing by Nancy Richardson explores what happens in the every day when there is an intersection of politics and society. Many of these based in Ohio or Kent State examine the unimaginable — what happens when guns go off and students are shot […]