February 24, 2020 Leave a Comment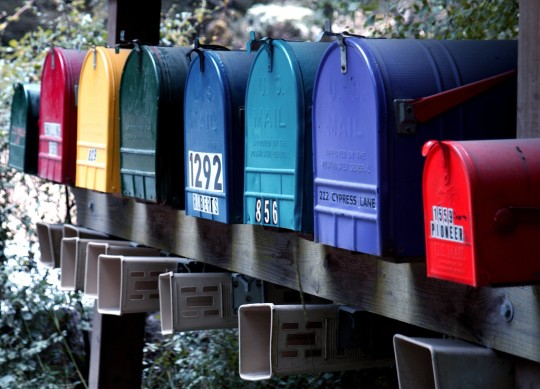 Mailbox Monday has become a tradition in the blogging world, and many of us thank Marcia of The Printed Page for creating it.
It now has it's own blog where book bloggers can link up their own mailbox posts and share which books they bought or which they received for review from publishers, authors, and more.
Leslie, Martha, and I also will share our picks from everyone's links in the new feature Books that Caught Our Eye. We hope you'll join us.
Here's what I received:
This Is Not a Sky by Jessica Piazza, which I purchased.
Jessica Piazza's THIS IS NOT A SKY begins with the seed of ekphrastic literature, then yawns, then stretches, then bursts beyond those bounds. Each of these 18 poems borrows a title from the greats—from Raphael and Turner to Warhol and Twombly—and through imagined narratives, takes the reader both inside and outside the paintings. In Piazza's capable hands, the original art works serve as launch pads, and the poems are glorious departures. Through the guided commentary of an italicized speaker (sometimes commentator, sometimes companion, sometimes voyeur), we are taken to a long hallway wherein the reader wanders from room to room, peeking inside. Behind one door, "The ladies wore boas and nothing else; the beautiful men repeated themselves," and behind another, "You float, no floors, no doors in the office walls, hidden heavy hook of neck, crook of knee." THIS IS NOT A SKY is a multi-faceted sensory experience; Piazza employs QR codes in tandem with each poem to allow the reader access to the original work of art alongside its poetic departure. Through her finely tuned ear for carefully considered formal metrical structures and rhyme, Piazza merges music, painting, and poetry to breathe new, strange, and modern life into the grand themes that have long given art its universality: death, love, religion, and truth.
Partial Genius by Mary Biddinger, which I purchased.
What happens when you finally realize that you are really good, but only at unremarkable things? What value does memory hold when weighed against heavier commodities such as money and time and conventional beauty? The prose poems of Partial Genius build upon the form in a collective narrative, working in unison to craft a larger story. Post-youth and mid-epiphany, Partial Genius ponders the years spent waiting for reconciliation of past wrongs, the acknowledgment of former selves, and the desire to truly fit into one landscape or another.

"I love this book so much. A work of meticulous craft and profound originality, Mary Biddinger's newest collection of prose poems is one of the best books I've read on our historical moment and the decades that led to it. PARTIAL GENIUS reads like a dossier of the psychological landscape of late capitalist America and the end of empire. In the tradition of John Ashbery, but wholly original in her own vision and voice, Biddinger draws from a deep well of poetic intellect and wit to illuminate the existential threats and imaginative possibilities of our collective self-destruction. In 'The Subject Pool' the speaker watches a man tattoo AU COURANT around her thigh. The tattoo artist has no idea. Every poem is chock-full of revelations in every detail. Reading this book felt like sitting by the fire in some secret location with a double agent, smoking her pipe telling tales of all that went down right in front of our faces, while we were all driven to distraction by outrage. To paraphrase Kim Gordon of Sonic Youth, She's got it all in this book."–Heather Derr-Smith
What did you receive?
February 21, 2020 Leave a Comment
Source: Purchased
Hardcover, 32 pgs.
I am an Amazon Affiliate
Olivia Otter Builds Her Raft by Dara Kass and Jessica Piazza, illustrated by Abe Tensia, is a delightfully illustrated picture book that teaches younger kids about what it means to work with others and craft a reliable family net they can rely on. The colorful watercolor paintings – that's exactly what they look like — compel younger readers to think about water movement and the life of an otter in its natural environment. Olivia Otter is swept up in a storm stronger than the ones she's experienced before and she has nothing to hold on to, but she knows she's a strong swimmer and a survivor. Olivia misses her mom and her family, but their memories are still with her.
Kids will easily read this book after some practice as Kass and Piazza have chosen words that young kids are already familiar with. My daughter and I loved that Olivia wanted to build her own raft of otters. Slowly over time she does just that, and these otters know that they can count on each other. When her small group stumbles upon a larger group of otters, it's time to choose to live with more otters or be in their small group. Kids will learn what it means to be part of a larger society in this book — how to share and care for others who are not blood relatives, but are their family nonetheless.
Olivia Otter Builds Her Raft by Dara Kass and Jessica Piazza, illustrated by Abe Tensia, is a delightful picture book about survival and what family actually means. It will also teach children that no matter their gender, they're equally capable of great things. Ultimately, I hope that my daughter and other young kids who read this book will learn to build their own rafts, expanding their family wide enough to support them no matter where they are in the future.
RATING: Cinquain
Other Reviews:
About the Authors:
Jessica Piazza is the author of two full-length poetry collections from Red Hen Press: "Interrobang" (2013) and, with Heather Aimee O'Neill, "Obliterations" (forthcoming, 2015) as well as the chapbook "This is not a sky" (Black Lawrence Press, 2014). Originally from Brooklyn, NY, she holds a Ph.D. in Creative Writing and English Literature from the University of Southern California, a Master's degree in English/Creative Writing from the University of Texas at Austin and a B.S. in Journalism from Boston University. She is co-founder of Gold Line Press and Bat City Review and a contributing editor at The Offending Adam. Her poetry has appeared in Agni, Indiana Review, Mid-American Review, Rattle, No Tell Motel, 32 Poems, Forklift, Ohio, National Poetry Review, Pebble Lake Review, Anti- and 42 Opus, among other places.
Dara Kass, MD is the founder of FemInEM. An emergency medicine physician and advocate for the advancement of women in medicine, she is passionate about creating a community where women in EM can act as champions for one another. She is a graduate of SUNY Downstate Medical School and Kings County Hospital's residency program.

Abe Tensia was born in Wyoming and spent most of her childhood as an indoor kid/reluctant car camper.  After relocating to Maine to attend Bowdoin College, she realized that nature were pretty cool after all and began sharing her favorite bits through pen and ink drawings.  Her work celebrates creative play and the natural wonder and whimsy of the great outdoors, both things near and dear to her own heart.
February 20, 2020 Leave a Comment
Today, Feb. 20, 2020, is the deadline for high school students in the Maryland, Virginia, and Washington, D.C., area to submit their poems for consideration in the Gaithersburg Book Festival poetry contest.
Qualifications
Author must be a high school student (public, private or homeschooled, grades 9-12, in the 2019-20 school year) at time of entry.
Author must live in Maryland, Virginia or Washington, D.C.
Only one submission per author.
The entry cannot have been published elsewhere. It must be an original and sole work of the author.
For more information about the contest, go here.
February 19, 2020 Leave a Comment
Source: Purchased Hardcover, 336 pgs. I am an Amazon Affiliate I think Beth Kephart is the most reviewed author on my blog. And you will probably understand why when you realize that many of her books are like prose poems that tell stories with big themes and complex and colorful characters. She is one of […]