Mailbox Monday, created by Marcia at To Be Continued, formerly The Printed Page, has a permanent home at its own blog.
To check out what everyone has received over the last week, visit the blog and check out the links.  Leave yours too.
Also, each week, Leslie, Vicki, and I will share the Books that Caught Our Eye from everyone's weekly links.
Here's what I received:
1.  The Paradise Tree by Elena Maria Vidal for review in October for Historical Fiction Virtual Book Tours.
The year is 1887 in Leeds County, Ontario. The O'Connor clan is gathering to mourn the loss of its patriarch Daniel O'Connor, an Irish immigrant. The story of Daniel and his wife Brigit is one of great hardships, including illness, ill-starred romances, war and political upheavals, as well as undying love and persevering faith. As Daniel is laid to rest, his grandson Fergus receives a piercing insight into what his own calling in life will be.
2. Giggle Poetry Reading Lessons: A Successful Reading-Fluency Program Parents and Teachers Can Use to Dramatically Improve Reading Skills and Scores by Amy Buswell and Bruce Lansky, illustrated by Stephen Carpenter from LibraryThing Early Reviewers.
Many struggling readers are embarrassed to read aloud. They are often intimidated or bored by texts that conventional programs require them to practice. So, instead of catching up, they fall further behind. Currently 67% of American fourth graders can't read grade-level text. Reading specialist Amy Buswell has spent eight years looking for remediation methods that work. "What is needed," Buswell explains, "is a program that improves the motivation of struggling readers, because that accounts for 90% of the problem." Four years ago, Buswell came up with a brainstorm. She knew her best readers enjoyed reading Bruce Lansky's poetry books for pleasure. The more poems they read, the better their reading got. Why not use Lansky's kid-tested poems as texts struggling readers could practice on to improve their reading—using six research-based strategies: choral reading, echo reading, paired reading, repeated reading, sustained silent reading and "say it like the character" reading. — This book is the result of that brainstorm and the resulting collaboration between Buswell and Lansky. It gives teachers and parents everything they need to help children improve their reading: -35 kid-tested poems by Bruce Lansky -35 customized reading lessons by Amy Buswell -35 off-the-wall illustrations by Stephen Carpenter -35 sets of zany performance tips by Bruce Lansky …all of which is designed to make the process of reading improvement more like fun than work. Parents will enjoy Lansky's funny poems and Stephen Carpenter's delightful illustrations as much as their children.
3.  The Garden of Letters by Alyson Richman for review in September.
Portofino, Italy, 1943. A young woman steps off a boat in a scenic coastal village. Although she knows how to disappear in a crowd, Elodie is too terrified to slip by the German officers while carrying her poorly forged identity papers. She is frozen until a man she's never met before claims to know her. In desperate need of shelter, Elodie follows him back to his home on the cliffs of Portofino.

Only months before, Elodie Bertolotti was a cello prodigy in Verona, unconcerned with world events. But when Mussolini's Fascist regime strikes her family, Elodie is drawn into the burgeoning resistance movement by Luca, a young and impassioned bookseller. As the occupation looms, she discovers that her unique musical talents, and her courage, have the power to save lives.
4.  In Real Life: Love, Lies, & Identity in the Digital Age by Nev Schulman, a suprise review copy from Grand Central.
Now Nev takes his investigation to the page, providing readers with an essential roadmap to better connect their digital personas with their true selves. Woven throughout with Nev's personal stories, this book explores relationships in the era of social media. Specifically the book tackles:

-what motivates catfish
-why people fall for catfish
-how one can avoid being deceived
-online accountability
-Nev's rules for dating
-how to connect authentically with people over the internet
-how to turn an online relationship into a real life relationship, and much, much more.

Nev delves deeply into the complexities of dating in a digital age, and continues the cultural dialogue his show has begun about how we interact with each other through social media versus in person — specifically in relation to millennials, who have never known a world without Facebook.
5.  My Mother's Secret: A Novel Based on a True Holocaust Story by J.L. Witterick for review in September.
Franciszka and her daughter, Helena, are unlikely heroines. They are simple people who mind their own business and don't stand out from the crowd. Until 1939, when crisis strikes. The Nazis have invaded Poland and they are starting to persecute the Jews. Providing shelter to a Jew has become a death sentence. And yet, Franciszka and Helena decide to do just that. In their tiny, two-bedroom home in Sokal, Poland, they cleverly hide a Jewish family of two brothers and their wives in their pigsty out back, a Jewish doctor with his wife and son in a makeshift cellar under the kitchen floorboards, and a defecting German soldier in the attic–each group completely unbeknownst to the others. For everyone to survive, Franciszka will have to outsmart her neighbors and the German commanders standing guard right outside her yard.

6.  Chasers of the Light by Tyler Knott Gregson for review in September.

One day, while browsing an antique store in Helena, Montana, photographer Tyler Knott Gregson stumbled upon a vintage Remington typewriter for sale. Standing up and using a page from a broken book he was buying for $2, he typed a poem without thinking, without planning, and without the ability to revise anything.

He fell in love.

Three years and almost one thousand poems later, Tyler is now known as the creator of the Typewriter Series: a striking collection of poems typed onto found scraps of paper or created via blackout method. Chasers of the Light features some of his most insightful and beautifully worded pieces of work—poems that illuminate grand gestures and small glimpses, poems that celebrate the beauty of a life spent chasing the light.
7.  Pies & Peril by Janel Gradowski from my friend and the author.  Thank you!  Check out my review.

When Amy Ridley decided to compete in the Kellerton Summer Festival Pie Contest, the last thing she expected was to find the reigning pie queen, Mandy Jo, dead—a raspberry pie smashed on her face! Mandy Jo made fantastic pies, but she accumulated more enemies than baking trophies. But when Amy receives a note threatening her own life, she decides to do some investigating herself.

It seems that half the town has a reason to kill the mean pie queen, and Amy finds herself sifting through a list of suspects that's longer than her list of recipes. Not to mention playing cupid for her love-shy best friend, fending off a baker intent on finding out her prize-winning culinary secrets, and ducking the deadly attentions of Mandy Jo's killer. If Amy doesn't find out who wanted the pie queen dead soon, her own goose may be cooked!
8.  One Hundred Years of Solitude by Gabriel Garcia Marquez from the library sale for 50 cents.
The novel tells the story of the rise and fall of the mythical town of Macondo through the history of the family. It is a rich and brilliant chronicle of life and death, and the tragicomedy of humankind. In the noble, ridiculous, beautiful, and tawdry story of the family, one sees all of humanity, just as in the history, myths, growth, and decay of Macondo, one sees all of Latin America.

Love and lust, war and revolution, riches and poverty, youth and senility — the variety of life, the endlessness of death, the search for peace and truth — these universal themes dominate the novel. Whether he is describing an affair of passion or the voracity of capitalism and the corruption of government.
9.  The Best of Us by Sarah Pekkanen from the library sale for 50 cents.
Following a once-in-a-lifetime invitation, a group of old college friends leap at the chance to bring their husbands for a week's vacation at a private villa in Jamaica to celebrate a former classmates' thirty-fifth birthday.
All four women are desperate for a break and this seems like a perfect opportunity. Tina is drowning under the demands of mothering four young children. Allie needs to escape from the shattering news about an illness that runs in her family. Savannah is carrying the secret of her husband's infidelity. And, finally, there's Pauline, who spares no expense to throw her husband an unforgettable birthday celebration, hoping it will gloss over the cracks that have already formed in their new marriage.

The week begins idyllically, filled with languorous days and late nights of drinking and laughter. But as a hurricane approaches the island, turmoil builds, forcing each woman to re-evaluate everything she's known about the others—and herself.
10.  The Best-Loved Poems of Jacqueline Kennedy Onassis with an introduction by Caroline Kennedy from the library sale for $1.
Jacqueline Kennedy Onassis loved literature, especially poetry. Once you can express yourself, she wrote, you can tell the world what you want from it. Now, Caroline Kennedy shares her mothers favorite poems by such renowned authors as William Shakespeare, Emily Dickinson, e.e. cummings, and Robert Frost. The book also includes a poem written by Jacqueline Kennedy and is illustrated with photographs of the Kennedy clan. This is a wonderful volume for reading aloud or by yourself and a meaningful gift or keepsake for Mothers Day.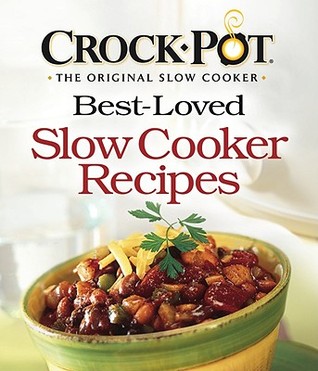 11.  Best-Loved Slow Cooker Recipes from the library sale for $1.
Crock Pot Best Loved Slow Cooker Recipes includes more than 100 recipes for your Crock Pot Slow Cooker. Whether you need to whip up main dish meals, party time appetizers or sweet tooth threats, the Crock Pot slow cooker helps to easy your busy day.
12.  The Winter Guest by Pam Jenoff from Anna at Diary of an Eccentric who had an extra copy.
Life is a constant struggle for the eighteen-year-old Nowak twins as they raise their three younger siblings in rural Poland under the shadow of the Nazi occupation. The constant threat of arrest has made everyone in their village a spy, and turned neighbor against neighbor. Though rugged, independent Helena and pretty, gentle Ruth couldn't be more different, they are staunch allies in protecting their family from the threats the war brings closer to their doorstep with each passing day.

Then Helena discovers an American paratrooper stranded outside their small mountain village, wounded, but alive. Risking the safety of herself and her family, she hides Sam, a Jew, but Helena's concern for the American grows into something much deeper. Defying the perils that render a future together all but impossible, Sam and Helena make plans for the family to flee. But Helena is forced to contend with the jealousy her choices have sparked in Ruth, culminating in a singular act of betrayal that endangers them all and setting in motion a chain of events that will reverberate across continents and decades.
What did you receive?