Source: TLC Book Tours
Paperback, 416 pgs.
I am an Amazon Affiliate
Secrets of Nanreath Hall by Alix Rickloff is an epic debut in the historical fiction genre in which both strong women — Lady Katherine Trenowyth and Anna Trenowyth — are challenged. Katherine, a budding artist, bucks societal expectations to follow her heart, but her actions have ramifications. Nurse Anna closes herself off from others following a tragic sinking of a ship and deaths that rock her world. These women choose hard, lonely paths, but their strength carries them through the good and bad. While Katherine knows when to accept help, Anna must learn this lesson on her own, which can be tough during a WWII when many things are uncertain and tragedy can strike at any moment.
Panicked like a wild thing caught and frozen by the hunter's lamp. (pg. 293 ARC)
As Rickloff shifts between the points of view and the time periods, readers may expect to lose their place in these stories, but she does such a wonderful job integrating them, readers are bound to fall in love with both characters. Although we may want the best for them, the realities of war and circumstance will intervene. When Anna shows up to tend to the patients at Nanreath Hall, an ancestral home she's never seen, her curiosity takes over, forcing her to uncover the secrets of her mother, where she comes from, and the family she never knew as a child.
Secrets of Nanreath Hall by Alix Rickloff is a carefully woven tapestry of generations of Trenowyths, whose lives are upended by the decisions they make, the passions they follow, and the wars they cannot control. This is historical fiction at its best with elements of romance, artistry, romance, and mystery. Get swept away by the mysterious ruins of lives past and learn to make a new path from the old.
RATING: Cinquain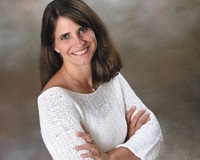 About the Author:
Alix Rickloff is a critically acclaimed author of historical and paranormal romance. Her previous novels include the Bligh Family series (Kensington, 2009), the Heirs of Kilronan trilogy (Pocket, 2011), and, as Alexa Egan, the Imnada Brotherhood series (Pocket, 2014). She lives in Chestertown, Maryland, with her husband and three children.  Find out more about Alix at her website, and connect with her on Facebook and Twitter. You can also follow her on Pinterest.