Mailbox Monday, created by Marcia at To Be Continued, formerly The Printed Page, has gone through a few incarnations from a permanent home with Marcia to a tour of other blogs.
Now, it has its own permanent home at its own blog.
To check out what everyone has received over the last week, visit the blog and check out the links.  Leave yours too.
Also, each week, Leslie, Vicki, and I will share the Books that Caught Our Eye from everyone's weekly links.
These are some Kindle books I downloaded that I keep forgetting to add:
1. Jane Austen and Food by Maggie Lane
What was the significance of the pyramid of fruit which confronted Elizabeth Bennet at Pemberley? Or of the cold beef eaten by Willoughby on his journey of repentance to see Marianne?

Why is it so appropriate that the scene of Emma's disgrace should be a picnic, and how do the different styles of housekeeping in Mansfield Park relate to the social issues of the day?

While Jane Austen does not luxuriate in cataloguing meals in the way of Victorian novelists, food in fact plays a vital part in her novels.
2.  Yours Affectionately, Jane Austen by Sally Smith O'Rourke
Was Mr. Darcy real? Is time travel really possible? For pragmatic Manhattan artist Eliza Knight the answer to both questions is absolutely, Yes! And Fitzwilliam Darcy of Pemberley Farms, Virginia is the reason why!

His tale of love and romance in Regency England leaves Eliza in no doubt that Fitz Darcy is the embodiment of Jane Austen's legendary hero. And she's falling in love with him. But can the man who loved the inimitable Jane Austen ever love average, ordinary Eliza Knight?
3. Darcy Goes to War by Mary Lydon Simonsen
Spring 1944 – Britain is now in its fourth year of war. In order to defeat Adolph Hitler and his Nazis, everyone in the country must do his or her bit. While a young Elizabeth Bennet makes her contribution by driving a lorry, Fitzwilliam Darcy flies Lancaster bombers over Germany. Because of the war, both are wary of falling in love, but when the two meet near an airbase in Hertfordshire, all bets are off.

Set against the background of World War II, in Darcy Goes to War, Elizabeth Bennet and Fitzwilliam Darcy battle something more than class differences. The greatest evil of the 20th Century is trying to bring Britain to its knees. In order to be together, they must survive the war.
4. A Pemberley Medley by Abigail Reynolds
It's the best of all worlds in this collection of five short Pride & Prejudice variations by bestselling writer Abigail Reynolds. Can Mr. Darcy win Elizabeth Bennet's heart… or are they doomed to misunderstand one another forever? Can Mr. Darcy stand by and watch while Elizabeth loses everything she holds precious… including him?

Contents include "Such Differing Reports", "A Succession of Rain", "Reason's Rule" (an excerpt from The Rule of Reason), "The Most Natural Thing", and "Intermezzo".
5. Darcy on the Hudson by Mary Lydon Simonsen
When Fitzwilliam Darcy, Georgiana Darcy, and Charles Bingley set sail from England to New York, each travels with a different purpose in mind. Georgiana wants to put a particularly jarring incident involving a family friend behind her, and Charles wishes to visit his uncle in an exciting new land. For Darcy, it is an opportunity to explore the possibilities of new sources of wealth in the expanding United States, but once Darcy meets American Elizabeth Bennet, it becomes the beginning of a love story. But will cultural differences and a possible second war with England keep them apart?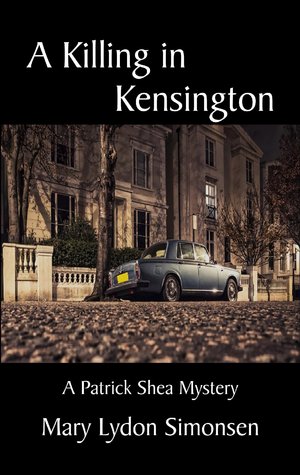 6. A Killing in Kensington by Mary Lydon Simonsen
Detective Sergeant Patrick Shea of London's Metropolitan Police and his new partner, Detective Chief Inspector Tommy Boyle, have been handed a high-profile murder case. In the penthouse of Kensington Tower, playboy Clifton Trentmore lay dead with his head bashed in, and the investigation reveals a man who was loathed by both sexes. With too few clues and too many suspects, Shea and Boyle must determine who hated Trentmore enough to kill him. But as Patrick digs deeper, he finds his suspects have secrets of their own.

A Killing in Kensington is the second in the Patrick Shea mystery series.
7. Becoming Elizabeth Darcy by Mary Lydon Simonsen
In 2011, American Elizabeth Hannigan, suffering from the flu, falls into a coma and wakes up in the bed and body of Elizabeth Bennet Darcy. Beth soon realizes that the only way back to her life in the 21st Century is through the Master of Pemberley, Jane Austen's Fitzwilliam Darcy. But first she must uncover the dark secret that brought her to Pemberley in 1826 in the first place.

Becoming Elizabeth Darcy is a story of love, loyalty, and loss, where a modern woman is called upon to resolve the problems of Jane Austen's most beloved couple.
8. Georgiana Darcy's Diary by Anna Elliott
The year is 1814, and it's springtime at Pemberley. Elizabeth and Mr. Darcy have married. But now a new romance is in the air, along with high fashion, elegant manners, scandal, deception, and the wonderful hope of a true and lasting love.

Shy Georgiana Darcy has been content to remain unmarried, living with her brother and his new bride. But Elizabeth and Darcy's fairy-tale love reminds Georgiana daily that she has found no true love of her own. And perhaps never will, for she is convinced the one man she secretly cares for will never love her in return. Georgiana's domineering aunt, Lady Catherine de Bourgh, has determined that Georgiana shall marry, and has a list of eligible bachelors in mind. But which of the suitors are sincere, and which are merely interested in Georgiana's fortune? Georgiana must learn to trust her heart and rely on her courage, for she also faces the return of the man who could ruin her reputation and spoil a happy ending, just when it finally lies within her grasp.
9.  Drawn by Marie Lamba
She's the artist that finds him in her drawings. He's the medieval ghost that conquers her heart. And their time is running out.

Michelle De Freccio moves to England seeking a normal life, but someone starts appearing in her sketches. Then he grabs her at the castle, his pale green eyes full of longing. She's immediately drawn to him, but is Christopher Newman real? She's either losing it, or channeling a hot ghost from the 1400's. History calls him a murderer. Her heart tells her other truths. Now Michelle faces endless dangers…and a timeless love.
10.  Ride for Rights by Tara Chevrestt
In the summer of 1916 women do not have the right to vote, let alone be motorcycle dispatch riders. Two sisters, Angeline and Adelaide Hanson are determined to prove to the world that not only are women capable of riding motorbikes, but they can ride motorbikes across the United States. Alone.From a dance hall in Chicago to a jail cell in Dodge City, love and trouble both follow Angeline and Adelaide on the dirt roads across the United States. The sisters shout their triumph from Pike's Peak only to end up lost in the Salt Lake desert.

Will they make it to their goal of Los Angeles or will too many mishaps prevent them from reaching their destination and thus, hinder their desire to prove that women can do it?
11. All Is Bright by Sarah Pekkanen
Thirty-year-old Elise Andrews couldn't bring herself to marry Griffin, her childhood friend turned sweetheart, so she let him walk away. Eight months after their breakup, she arrives in her hometown of Chicago on Christmas Eve and hears a voice from the past calling her name in the grocery store. It's Griffin's mother, Janice, who invites Elise over for a neighborhood gathering of eggnog and carols.

Walking into Janice's house sends Elise tumbling headlong into memories of her relationship with Griffin—and with Janice, who exudes the kind of warmth Elise ached for after her own mom passed away when she was six. But Griffin has moved on, and suddenly Elise doubts her decision to give him up and lose her chance at being folded into his wonderful family. Confused and reeling, she goes in search of an answer to a universal question: How do we say good-bye to people we've loved without losing everything they've meant to us?
12. Love, Accidentally by Sarah Pekkanen
Ilsa Brown wasn't expecting a little, injured dog to lead her to the love of her life. But within months of their first meeting on a street corner in L.A., she and Grif, the dog's owner, are engaged. Things between them are so blissful that Ilsa is stunned by the tension that erupts during their visit to Chicago to meet his parents, where she discovers that Grif's old girlfriend, Elise, is still woven into his family. What Ilsa needs to know before she can walk down the aisle is whether Elise is still in Grif's heart, too.
What did you receive?