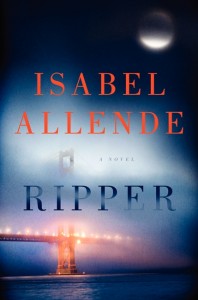 Source: Harper and TLC Book Tours
Hardcover, 496 pages
I am an Amazon Affiliate
Young Amanda Jackson is the game master for an online game, Ripper, in which participants — including her grandfather — examine evidence of heinous crimes and try to solve them. Up until recently, the gamers had focused on Jack the Ripper and other past cases, but when a rash of murders with unusual elements surface after a bloody premonition by local psychic Celeste Roko, the members set their sights on solving the new crimes. Ripper by Isabel Allende, translated by Oliver Bock and Frank Wynne, psychologically gets under the skin of the reader as they meet with the Ripper members and become part of the characters' lives — Indiana, a homeopathic healer and Amanda's mother; Ryan Miller, an ex-Navy SEAL and security specialist; Pedro Alarcón, Miller's business partner and former guerrilla fighter from Uruguay; Alan Keller, a socialite man quickly running out of prestige and pennies; and more.
"The cold was like a sudden blow to the body, but soon he was feeling the heady euphoria of a swimmer.  At moments like this — feeling weightless as he defied the treacherous currents, withstanding the near-freezing temperatures that made his bones creak, propelling himself with the powerful muscles in his arms and his back — he was once again the man he used to be.  After a few strokes he no longer felt the cold, and could focus on his breathing, his speed and his direction, orienting himself by the buoys that he could just pick out through his goggles and the fog."  (page 150 ARC)
Amanda's online detective game becomes more real than she expects, and the consequences of not solving the case are more dire than she would ever have imagined.  While her mother is free-spirited and lives on little, Amanda longs for something greater, taking cues from her father's investigations as a policeman and the novels and books she reads on some of the greatest crimes in history.  Graduating from a fascination with wolves and vampires, Amanda has set in motion the ultimate game to pass time with her online friends, but when murders and kidnappings begin to hit too close to home, she has little choice but to take matters into her own hands.
Allende's modern setting of San Francisco comes alive, with its mysterious fog obscuring some of the characters until such a time they are revealed in their full, flawed glory.  Although the plot is slow moving and the narrative jumps between characters — giving detailed descriptions of their pasts and current issues — Allende is creating a quilt of intrigue, leaving readers to shuffle through the red herrings and the clues to solve the mystery.  What's stunning here is her characters, particularly ex-Navy SEAL Ryan Miller and his issues with PTSD following a raid in Afghanistan and Indiana with her unending capacity to give to others.  Ripper by Isabel Allende deliberately uncovers psychological motivations in each character, peeling back the skin a little bit at the time to reveal not only petty jealousies but the selflessness of love and family connection.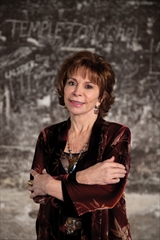 About the Author:
Isabel Allende is the bestselling author of twelve works of fiction, four memoirs, and three young adult novels, which have been translated into more than twenty-seven languages, with more than 57 million copies sold. In 2004, she was inducted into the American Academy of Arts and Letters. She received the Hans Christian Andersen Literature Award in 2012. Born in Peru and raised in Chile, she lives in California. Find out more about Allende, her books, and her foundation and visit her on Facebook.