Mailbox Monday (click the icon to check out the new blog) has gone on tour since Marcia at To Be Continued, formerly The Printed Page passed the torch.  September's host is Book Dragon's Lair.
The meme allows bloggers to share what books they receive in the mail or through other means over the past week.
Just be warned that these posts can increase your TBR piles and wish lists.
Here's what I received:
1. Ripper by Isabel Allende for review.
The Jackson women, Indiana and Amanda, have always had each other. Yet, while their bond is strong, mother and daughter are as different as night and day. Indiana, a beautiful holistic healer, is a free-spirited bohemian. Long divorced from Amanda's father, she's reluctant to settle down with either of the men who want her—Alan, the wealthy scion of one of San Francisco's elite families, and Ryan, an enigmatic, scarred former Navy SEAL.

While her mom looks for the good in people, Amanda is fascinated by the dark side of human nature, like her father, the SFPD's Deputy Chief of Homicide. Brilliant and introverted, the MIT-bound high school senior is a natural-born sleuth addicted to crime novels and Ripper, the online mystery game she plays with her beloved grandfather and friends around the world.
2.  Five Little Pumpkins by Dan Yaccarino, which my mom sent to the little one.

Five little pumpkins sitting on a gate.The first one said, "Oh my, it's getting late."Get ready for some wicked fun as these five pumpkins run and roll! Toddlers will want to chant along with this popular rhyme again and again. Dan Yaccarino's vibrant and bold illustrations bring these pumpkins to life with personality and style. Toddlers are sure to laugh out loud as these pumpkins roll out of sight!
3.  Polarity Bear Tours the Zoo by Sue de Cuevas, illustrated by Wendy Rasmussen, which I received for review.
Polarity Bear Tours the Zoo is a beautifully illustrated book (suitable for ages 3-8) about an imaginary polar bear's adventures in New York's Central Park Zoo. Set at the time when the zoo made the transformation from cages to more natural habitats, it also celebrates three leading Central Park attractions: the sea lion pool, the Delacorte Clock, and the carousel.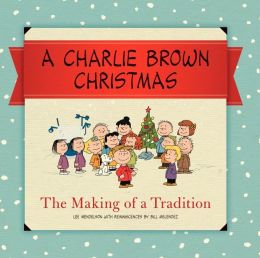 4.  A Charlie Brown Christmas: The Making of a Tradition by Charles M. Schultz for review.
Charles M. Schulz's A Charlie Brown Christmas: The Making of a Tradition is a lushly illustrated tribute to the beloved television classic that takes readers behind-the-scenes of the Peanuts holiday special that has aired each year since December 1965.

A Charlie Brown Christmas: The Making of a Tradition includes the script of the Emmy Award–winning A Charlie Brown Christmas, more than two hundred full-color pieces of original animation art, Vince Guaraldi's original score and publication notes for the songs "Christmas Time Is Here" and "Linus and Lucy," and a look at the making of the feature from producer Lee Mendelson and original animator, the late Bill Melendez.

No holiday season is complete without Charlie Brown, Linus, Lucy, Snoopy, and the rest of the Peanuts gang giving a forgotten tree a little love, reciting the Christmas story, and singing "Silent Night."
5.  Half Popped by Jeff Feuerstein, Dayna Brandoff, Alex Miller for review.

Half Popped is the heart-warming and whimsical story of Kenny the Kernel, a discouraged but friendly popcorn kernel who believes he never reached his full potential. As Kenny journeys through the kitchen, he helps cheer up other down-on-their-luck snacks by pointing out the bright side to their situations, all the while harboring a half-empty view of himself. Until…. With a silly, story-telling rhyme evocative of Shel Silverstein poetry and unique artwork that combines photography and illustration, the charming tale serves as a lesson in self-confidence and reminds young readers that a genuine compliment has the power to make a friend's day. Sometimes it takes an outside perspective to see it, but there's a place and a purpose in this world for everyone – even Kenny the Kernel, who was only half popped, and turned out that way when the microwave stopped.
6.  Robert Plant: A Life by Paul Rees for review.

Robert Plant by Paul Rees is the definitive biography of Led Zeppelin's legendary frontman. As lead singer for one of the biggest and most influential rock bands of all time—whose song "Stairway to Heaven" has been played more times on American radio than any other track—Robert Plant defined what it means to be a rock god.

Over the course of his twenty-year career, British music journalist and editor Paul Rees has interviewed such greats as Sir Paul McCartney, Bruce Springsteen, Madonna, Bono, and AC/DC. Rees now offers a full portrait of Robert Plant for the first time, exploring the forces that shaped him, the ravaging highs and lows of the Zeppelin years—including his relationship with Jimmy Page and John Bonham—and his life as a solo artist today.
What did you receive?