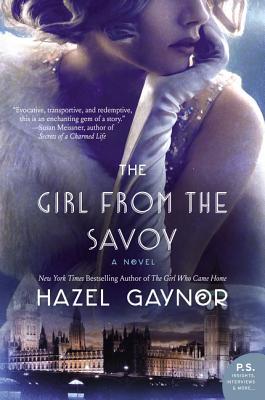 Source: TLC Book Tours
Paperback, 448 pgs.
I am an Amazon Affiliate
The Girl from the Savoy by Hazel Gaynor is a dazzling dream of a young maid who worships the starlight in the dresses of London actresses on stage and loves to dance.  Dolly Lane has started from a small town and when her childhood love returns from WWI a broken man who no longer remembers her, she makes a tough choice to follow her own dreams.  Told from three points of view — Dolly, Teddy, and Loretta — readers are given a wide view of how lives were changed by war.  Gaynor's leading ladies are different but similar.  Dolly wants to be in the limelight and Loretta has achieved that dream, and how these ladies lives become entwined is a stroke of chance.
"He pours milk into his tea. 'I'm not that bad.  Am I?'
'Yes, you are. Honestly, darling, sometimes it's like spending time with a dead trout.  And you used to be such tremendous fun.'" (pg. 35 ARC)
Loretta is a brave woman who takes her life and makes something of it, living her life as she chooses. She becomes a famous actress and spurns the trappings of her family's expectations. Dolly, on the other hand, has dreams but is waffling as to how to achieve them. She leaves the employment of a rich household to become a maid at The Savoy in the hope that she will meet someone to change her course, but what she doesn't realize is that she must muster up the courage to make the most of even innocuous meetings.
"Instead, I tug at the counterpane on my bed, straightening the creases I've made by sitting on it.  A habit of mine.  If I can't untangle the knots in my heart, it seems that my life must be spent untangling everything else, setting things straight, making neat all that has been messed up.'" (pg. 44 ARC)
War is hammer that shatters the lives of those soldiers directly involved, but the reverberations travel far beyond the front lines, crippling families thousands of miles away and showing those inspired to help the wounded and others that their selfish concerns are shallow.  Gaynor has meted out the historical details so well, readers will become immersed in this glamorous and mundane world — the two sides of the coin between the dreamers and those who live in the spotlight.  The Girl from the Savoy by Hazel Gaynor reminds us that dreaming is not enough; we must learn to reach for those dreams and bring them to life.
RATING: CINQUAIN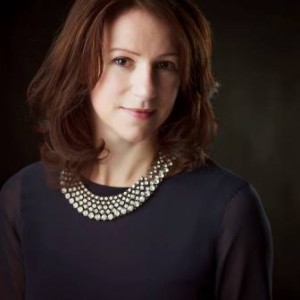 About the Author:
Hazel Gaynor's 2014 debut novel The Girl Who Came Home—A Novel of the Titanicwas a New York Times and USA Today bestseller. A Memory of Violets is her second novel.
Hazel writes a popular guest blog 'Carry on Writing' for national Irish writing website writing.ie and contributes regular feature articles for the site, interviewing authors such as Philippa Gregory, Sebastian Faulks, Cheryl Strayed, Rachel Joyce and Jo Baker, among others.
Hazel was the recipient of the 2012 Cecil Day Lewis award for Emerging Writers and was selected by Library Journal as one of Ten Big Breakout Authors for 2015. She appeared as a guest speaker at the Romantic Novelists' Association and Historical Novel Society annual conferences in 2014.
Originally from Yorkshire, England, Hazel now lives in Ireland with her husband and two children.
Find out more about Hazel at her website, and connect with her on Facebook and Twitter.