Mailbox Monday, created by Marcia at To Be Continued, formerly The Printed Page, has a permanent home at its own blog.
To check out what everyone has received over the last week, visit the blog and check out the links.  Leave yours too.
Also, each week, Leslie, Vicki, and I will share the Books that Caught Our Eye from everyone's weekly links.
Here's what I received:
Jane Austen Lives Again by Jane Odiwe from the author for review.

When Jane Austen's doctor discovers the secret to immortal life in 1817, she thinks her wishes have come true. But when she wakes up from the dead, a penniless Miss Austen finds herself in 1925, having to become a governess to five girls of an eccentric and bohemian family at the crumbling Manberley Castle by the sea. Jane soon finds she's caught up in the dramas of every family member, but she loves nothing more than a challenge, and resolves on putting them in order. If only she can stop herself from falling in love, she can change the lives of them all!  Inspired by Jane Austen's wonderful novels and written in the tradition of classic books like Cold Comfort Farm, I Capture the Castle, and Miss Pettigrew Lives for a Day, Jane Austen Lives Again is an amusing fairy story for grown-ups.
Fudge Brownies & Murder by Janel Gradowski from the author for review.
Culinary whiz and reluctant amateur sleuth, Amy Ridley, has a lot on her plate. Her very pregnant best friend, Carla, can barely move from her couch per doctor's orders. So Amy is tasked with preparing meals for the expanding family along with baking endless pans of brownies to quench Carla's pregnancy cravings. Not only is she playing chef, but she's also trying to convince the mommy-to-be that she needs to have a baby shower. But when a restaurant owner is murdered at a blogging conference, Amy finds herself in a race to catch the killer before the baby is born.

As Carla's baby bump gets bigger, so does the list of suspects. While Amy pares down the potential murderers and staves off disgruntled cooking competition rivals, the clock ticks down, the baby's arrival draws closer, and the danger grows stronger! If Amy doesn't watch her back, she may be the next member of the competition going down.
The Diary of Emily Dickinson by Jamie Fuller, illustrated by Marlene McLoughlin, which I picked up at the library sale shelf for 50 cents.
The discovery of Emily Dickinson's poetry after her death unleashed a series of mysteries and revelations that astonished those who knew her and continue to intrigue readers today. Who was the reclusive woman who wrote these wise and beautiful verses? Slowly answers came and, with them, more questions. Why did Emily continue to seek the advice of Thomas Wentworth Higginson when he never recognized her genius? To whom were the mysterious "master" letters, written at the height of her poetic creativity, addressed? Why did she keep most of her writing secret from her family? Did she hope for eventual fame? Answers to such questions could have been suggested in 1916, when, during reconstruction of the Dickinson house in Amherst, Massachusetts, a worker discovered Emily's secret diary hidden in a crevice of the wall of the conservatory. Unfortunately, he kept the discovery to himself for many years. Only now has this remarkable document, edited and annotated by Jamie Fuller, become available to Dickinson admirers. Such is the premise of this unique fictional work. The diary begins in March 1867 and ends in April 1868. During this span Dickinson recounts the revelations and trials of her day-to-day life, from burnt puddings to professions of undying love.

With discriminating insight, Fuller helps extract from Dickinson's cryptic style her views on God, family, nature, death, love, poetry, fame, and her role as a woman in a patriarchal society. Most of all, The Diary of Emily Dickinson is an exquisite account of what it means to live the writing life, to live for poetry. Author Jamie Fuller has given us a fictional diary based on close readings of Dickinson's writings and contemporaneousmaterials, that is so sensitive and sympathetic, so delicately and smoothly written, in a style so closely resembling Emily's own, that one could well believe it contains the private musings of the enigmatic poet. In it, Emily Dickinson comes alive.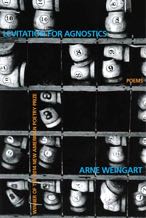 Levitation for Agnostics by Arne Weingart for review from Book Savvy Public Relations.
Arne Weingart's debut poetry collection. Winner of the 2014 New American Poetry prize.

Arne Weingart is the 2015 laureate of the New American Press Poetry Prize, awarded for his debut poetry collection, Levitation for Agnostics (New American Press, January 2016). A Pushcart Prize nominee, Arne also won the 2013 Sow's Ear Poetry Review Poetry Contest and has had poems featured by such esteemed publications as RHINO, The Georgetown Review, Oberon, Arts & Letters and The Spoon River Poetry Review.  He has been granted a writing residency at the Atlantic Center for the Arts and is alumnus of Columbia University's MFA program in writing. Arne and his family live in Chicago, where he is the principal of a graphic design firm specializing in identity and wayfinding.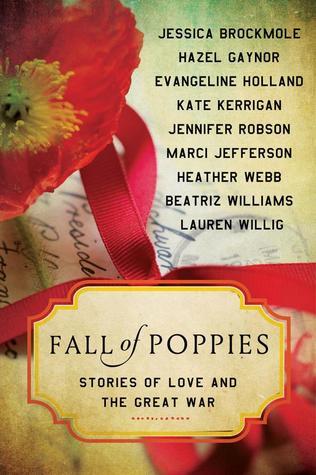 Fall of Poppies by Heather Webb, Hazel Gaynor, Beatriz Williams, Jennifer Robson, Jessica Brockmole, Kate Kerrigan, Evangeline Holland, Lauren Willig, and Marci Jefferson for review from Harper Collins and TLC Book Tours.
On the eleventh hour of the eleventh day of the eleventh month…

November 11, 1918. After four long, dark years of fighting, the Great War ends at last, and the world is forever changed. For soldiers, loved ones, and survivors the years ahead stretch with new promise, even as their hearts are marked by all those who have been lost.

As families come back together, lovers reunite, and strangers take solace in each other, everyone has a story to tell.

In this moving anthology, nine authors share stories of love, strength, and renewal as hope takes root in a fall of poppies.
What did you receive?