Mailbox Monday, created by Marcia at To Be Continued, formerly The Printed Page, has a permanent home at its own blog.
To check out what everyone has received over the last week, visit the blog and check out the links.  Leave yours too.
Also, each week, Leslie, Vicki, and I will share the Books that Caught Our Eye from everyone's weekly links.
Here's what I received:
Sunshine Beach by Wendy Wax for review.
After losing their life savings in a Ponzi scheme, Maddie, Avery, and Nikki have banded together to make the most of what they have left, using their determination, ingenuity, guts, and a large dose of elbow grease. It's Maddie's daughter Kyra who stumbles across a once glorious beachfront hotel that has fallen into disrepair. The opportunity to renovate this seaside jewel is too good to pass up—especially when they come up with the idea of shooting their own independent television show about the restoration. What could possibly go wrong?
Everything. With the cameras rolling, Maddie's second-chance romance with her all-too-famous new boyfriend gets complicated, Avery struggles with grief over the loss of her mother, and Nikki's reluctance to commit to the man who loves her could leave her to face the biggest challenge of her life. Even the hotel seems to be against them, when their renovation uncovers a decades-old unsolved murder which just might bring their lives tumbling down all over again
Follow the River Home by Corran Harrington for review for TLC Book Tours in June.

DANIEL ARROYO has suffered a lifetime of guilt over the sudden death of his infant sister, who died when he was eight years old. He now lives his middle years between that guilt and worsening episodes of PTSD from a Vietnam he left thirty years ago. When a violent encounter on a dusty highway forces Daniel to face what haunts him, he finds himself pulled back to the neighborhood of his youth, where old houses hold tired secrets. What really happened on that steamy August afternoon? The answer comes spilling from the old neighborhood, and Daniel begins to find his way home. Corran Harrington takes the reader along the Rio Grande, from its headwaters to the sea.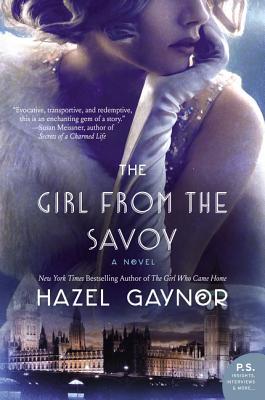 The Girl from the Savoy by Hazel Gaynor for a TLC Book Tour in June.
Dolly Lane is a dreamer; a downtrodden maid who longs to dance on the London stage, but her life has been fractured by the Great War. Memories of the soldier she loved, of secret shame and profound loss, by turns pull her back and spur her on to make a better life.
When she finds employment as a chambermaid at London's grandest hotel, The Savoy, Dolly takes a step closer to the glittering lives of the Bright Young Things who thrive on champagne, jazz and rebellion. Right now, she must exist on the fringes of power, wealth and glamor—she must remain invisible and unimportant.
But her fortunes take an unexpected turn when she responds to a struggling songwriter's advertisement for a 'muse' and finds herself thrust into London's exhilarating theatre scene and into the lives of celebrated actress, Loretta May, and her brother, Perry. Loretta and Perry may have the life Dolly aspires to, but they too are searching for something.
Now, at the precipice of the life she has and the one she longs for, the girl from The Savoy must make difficult choices: between two men; between two classes, between everything she knows and everything she dreams of. A brighter future is tantalizingly close—but can a girl like Dolly ever truly leave her past behind?
What did you receive?