Mailbox Monday, created by Marcia at To Be Continued, formerly The Printed Page, has a permanent home at its own blog. To check out what everyone has received over the last week, visit the blog and check out the links. Leave yours too.
Also, each week, Leslie, Martha, and I will share the Books that Caught Our Eye from everyone's weekly links.
Here's what I received: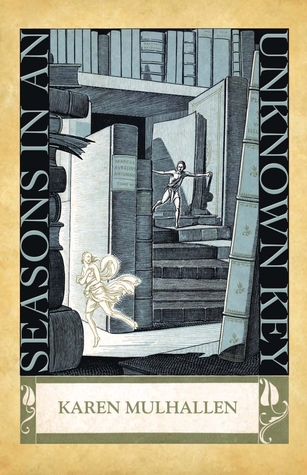 Seasons in an Unknown Key by Karen Mulhallen for review from Tightrope Books.
In her latest collection of poems, Karen Mulhallen takes us on a physical journey through the course of a year and on a spiritual journey through many lives. The beauty of birds, the amour fou of the inconstant lover, the rapture of the past in the history of Toronto Islands and of the city of Pompeii. This is a poet at the height of her art, crafting language and rhythm, to mirror the ebb and flow of the scene. A compelling and devastating group of poems.
Prosopagnosia by Ron Charach from Tightrope Books for review.
Riffing on the neurological condition 'prosopagnosia' ('face blindness'), the difficulty recognizing familiar faces, Ron Charach's new collection of poems explores our struggle to recognize ourselves in others, and to remain recognizable to them across the boundaries of gender, race and religion, health and illness, love and indifference, celebrity and fandom, youth and advancing age.
Friends and Enemies by J. Dawn King, a win from Diary of an Eccentric.
"If you know the enemy and know yourself, you need not fear the results of a hundred battles." Sun Tzu, 5th Century BCE
Mr. Fitzwilliam Darcy, the hero of Jane Austen's Pride and Prejudice, has his world turned upside down when his character, of which he is particularly proud, is called into question by those whom he trusts.
Will he learn from his mistakes or remain his own worst enemy?
When he discovers a secret which could destroy not only the reputation of his beloved sister but threatens her very life, he can no longer hide behind his mask of social indifference. Dismaying circumstances will test the strength of his personal beliefs and convictions as well as his devotion to family and friends as a rival from his past determines to ruin him and take everything Darcy holds dear. Out of the flames of adversity, Miss Elizabeth Bennet, once scorned, becomes a beacon of hope.
Can love grow from adversity? Is happiness possible?
In this full-length novel set in Regency, England, true friendships are made, enemies are revealed, and happily-ever-after is on the horizon. Or is it…
Mr. Darcy's Bad Day by J. Dawn King, which was a surprise additional gift from the author.
How could one simple decision change the course of a man's life? In this fast-paced novella set in Regency England, Mr. Fitzwilliam Darcy of Pemberley in Derbyshire and Darcy House in London, finds himself unwillingly, or possibly, willingly attached to Miss Elizabeth Bennet. With visions of their life ahead, he presses forward until everyone in her family and his are finally convinced they are a match made in heaven. Or, are they?
Based on Jane Austen's classic novel, Pride & Prejudice, Mr. Darcy's arrogance and pride seems to be a constant source of bitter frustration to his betrothed. He is surprised to find these less-than-sterling qualities trip himself up a time or two…or three, as well.
With his pride and her prejudice, will Darcy and Elizabeth ever get the happily-ever-after they desire? Enjoy Mr. Darcy's point-of-view as he tells a tale that might take you by surprise. It sure did him.
What did you receive?