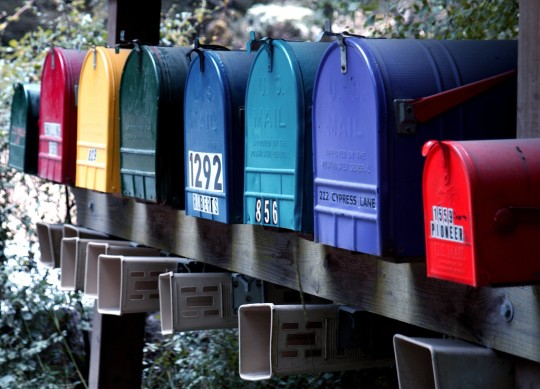 Mailbox Monday has become a tradition in the blogging world, and many of us thank Marcia of The Printed Page for creating it.
It now has it's own blog where book bloggers can link up their own mailbox posts and share which books they bought or which they received for review from publishers, authors, and more.
Leslie, Martha, and I also will share our picks from everyone's links in the new feature Books that Caught Our Eye. We hope you'll join us.
Here's what I received:
Beyond the Lens by Hannah Ellis, a Kindle freebie.
Twenty-six-year-old Lucy Mitchell isn't the sort of person who'd take part in a reality TV show. But when she loses her job and is offered a free trip to Spain, she reluctantly agrees. She has no idea what to expect.

But she definitely isn't expecting Adam.

The lovely cameraman captures her heart, and as Lucy sips cocktails in the sun with fantastic new friends, everything seems perfect.

But that's all about to change.

Thrust into the spotlight, Lucy's world is turned upside down. Can her blossoming romance survive under pressure? Will she ever escape the cameras? There's one thing she knows for sure: when dealing with the media, you should always read the fine print…
A Father's Sins by J. Dawn King, a Kindle freebie.
How do Fitzwilliam Darcy and Elizabeth Bennet overcome the consequences of poor decisions made by their fathers when Darcy and Elizabeth were young?

In A Father's Sins, Mr. George Darcy, father of an illegitimate child raised by his steward, Mr. Wickham, agreed with his wife, Anne, that the firstborn son of their marriage would be heir to Pemberley. However, Mr. Darcy loved his eldest son, George Wickham, and indulged him by bringing him to Pemberley to live after the death of his wife. His heir, Fitzwilliam Darcy, paid a heavy price for this decision.

Mr. Thomas Bennet, an educated gentleman and father of five daughters, favored his second born, Elizabeth. Unexpectedly, his wife gave birth to a son and heir. Mr. Bennet, at the persistent urging of his wife, chose not to have his youngest children vaccinated for smallpox. When the plague hit Longbourn it devastated their family. Elizabeth paid the heaviest price for this decision of her father.
Her Good Opinion by Eden Forster, a Kindle freebie.
Mr. Darcy knows that Miss Elizabeth Bennet is aware of his role in separating her eldest sister, Miss Jane Bennet, and his friend, Mr. Bingley, and thereby involving them both in misery of the acutest kind. He knows because he was there when Elizabeth found out. Still, the gentleman offers her his hand in marriage—an offer she promptly refuses.

Determined to win her good opinion and ultimately her heart, Mr. Darcy asks Elizabeth for six weeks to change her mind.

What could possibly tempt Elizabeth to accept the man who has been the means of ruining the happiness of a most beloved sister?
A Case of First Impression by A.M. Blair, a Kindle freebie.
What if George Wickham hadn't married into the Bennet family?

A Case of First Impression — a modern twist on Jane Austen's Pride and Prejudice – gives George and his accomplice, Mrs. Younge, the alternate endings they deserve. George Wickham's 21st Century counterpart, George Wickersham, is more corrupt than the original, but then again, who knows what the original is up to when he goes off to "enjoy himself in London or Bath."

Elyse Barret, an updated version of Elizabeth, narrates this modern tale. She's the only family member her father trusts to keep an eye on Mrs. Younge's criminal trial, which involves a modern Mr. Darcy as a key witness.
Second Impressions by Pepper Basham, a Kindle freebie.
He likes streamline. She prefers embellishments. His forte is business. Hers is atmosphere. Will they realize each has what the other needs most to create the perfect romance with a touch of Jane Austen flair?

When a country girl travels to Bath, England to visit Jane Austen country, will a serious businessman ruin her regency-dream?
Maria Lucas: A Short Story by Jennifer Becton, a Kindle freebie.
After a great deal of romantic strife, Maria Lucas finds herself married to Mr. Jonas Card in a desperate attempt to extricate herself and her sister Charlotte from a dire financial situation. Mr. Card, however, truly loves Maria and has vowed to woo her. Alas, she views him only in friendly terms. But when it seems that Mr. Card's feelings have changed, Maria sets out to discover why. And through a series of unexpected events, Mr. Card succeeds in wooing his wife without saying a word.

"Maria Lucas" is a post script to the novel Charlotte Collins: A Continuation of Jane Austen's Pride and Prejudice. As such, it contains minor spoilers, but it can be read as a stand-alone piece.
The Overdue Life of Amy Byler by Kelly Harms, a Kindle freebie.
Overworked and underappreciated, single mom Amy Byler needs a break. So when the guilt-ridden husband who abandoned her shows up and offers to take care of their kids for the summer, she accepts his offer and escapes rural Pennsylvania for New York City.

Usually grounded and mild mannered, Amy finally lets her hair down in the city that never sleeps. She discovers a life filled with culture, sophistication, and—with a little encouragement from her friends—a few blind dates. When one man in particular makes quick work of Amy's heart, she risks losing herself completely in the unexpected escape, and as the summer comes to an end, Amy realizes too late that she must make an impossible decision: stay in this exciting new chapter of her life, or return to the life she left behind.

But before she can choose, a crisis forces the two worlds together, and Amy must stare down a future where she could lose both sides of herself, and every dream she's ever nurtured, in the beat of a heart.
Dirty English by Ilsa Madden-Mills, a Kindle freebie.
A scarred fighter.
A girl with rules.
One night of unbridled passion.

There are three things you need to know about Elizabeth Bennett: she's smart as a whip, always in control, and lives by a set of carefully crafted rules. She's learned the hard way that people you love the most always hurt you in the end. But then she meets Declan Blay, the new neighbor at her apartment complex.

A tattooed British street fighter, he's the campus bad boy she's supposed to avoid, but when he saves her from a frat party gone bad, all her rules about sex and love fly out the window. She gives him one night of unbridled passion, but he longs for more.

With only a cardboard-thin wall separating their bedrooms, he dreams of possessing the vulnerable girl next door forever.

One night. Two damaged hearts. The passion of a lifetime.
What did you receive?