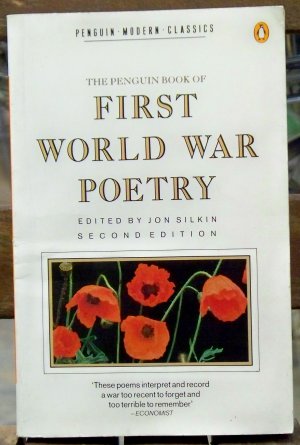 The Penguin Book of First World War Poetry (Second edition) edited by Jon Silkin and David McDuff is a collection of poetry from and about the WWI.  Silkin and McDuff  increased the number of poems in translation included in the collection.  There are poems translated from German, French, Italian, Russian, and Hebrew, and Silkin was a poet himself.  As expressed in the not at the beginning, "For some, war was moral athletics; others looked forward to the experience of war as a 'vacation from life' — a vacation from a society disjoined by class and constrained by the rigid structures of labour."  (page 12)
***However, I'm not one for long introductions so I skipped over it this time around and got straight to the poetry. ***
The anthology includes some of the more well known WWI poets, Thomas Hardy and Robert Graves, but also some who are not as well known.  One of the most well known WWI poems is "Anthem for Doomed Youth" by Wilfred Owen, which seeks to command a respect for the thousands who died in a cause for freedom and defense.  Steeped in religious allusions Owen makes reference to the candles lit where bodies lie and to the drawing of blinds in those same rooms as well as the prayers that often accompany the mourning process, but there also is an underlying celebration for their sacrifice as the bells are rung and anthems are sung.
Each of these poems brings with it a different perspective on war in the trenches, love, life, and loss, but above all patriotism.  Isaac Rosenberg's "Dead Man's Dump" (page 211) is particularly haunting:
"The wheels lurched over sprawled dead
But pained them not, though their bones crunched,
Their shut mouths made no moan.
They lie there huddled, friend and foeman,"
Meanwhile, there is a true sense of fear in Ivor Gurney's "The Silent One," (page 116):
"Who died on the wires, and hung there, one of two --
Who for his hours of life had clattered through
Infinite lovely chatter of Bucks accent:
Yet faced unbroken wires; stepped over, and went
A noble fool, faithful to his stripes -- and ended
But I weak, hungry, and willing only for the chance
Of line -- to fight in the line, lay down under unbroken
Wires, and saw the flashes and kept unshaken
Till the politest voice -- a finicking accent, said:
'Do you think you might crawl through there: there's a hole'
Darkness, shot at:  I smiled, as politely replied --
'I'm afraid not, Sir.' There was no hole no way to be seen
Nothing but chance of death, after tearing of clothes."
Each poet in the collection bring their own perspective to war, but there seems to be a pervading reverence to the fight these soldiers' waged and all that they sacrificed.  There were certain translated poems in the book that didn't resonate as well as some others, including Benjamin Peret's "Little Song of the Maimed," but it was good to revisit an old WWI poet, Osip Mandelstam (check out my earlier review of Stolen Air).  The Penguin Book of First World War Poetry (Second edition) edited by Jon Silkin and David McDuff offers a collection of poems that provide a wide perspective on war from the patriotism the soldiers felt to their fear and horror at the experiences they had.
About the Editors:
Jon Silkin was born in London, in a Jewish immigrant family and named after Jon Forsyte in The Forsyte Saga, and attended Wycliffe College and Dulwich College. During the Second World War, he was one of the children evacuated from London, and for a period of about six years in the 1950s, after National Service, he supported himself by manual labour and other menial jobs. He wrote a number of works on the war poetry of World War I. He was known also as editor of the literary magazine Stand, which he founded in 1952, and which he continued to edit (with a hiatus from 1957 to 1960) until his death.
David McDuff is a British translator, editor and literary critic. He attended the University of Edinburgh, where he studied Russian and German. After living for some time in the Soviet Union, Denmark, Iceland, and the United States, he eventually settled in the United Kingdom, where he worked for several years as a co-editor and reviewer on the literary magazine Stand. He then moved to London, where he began his career as a literary translator.
This review first appeared on Historical Tapestry for WWI Week.
This is my 14th book for the WWI Reading Challenge.
This is the 21st book for my 2012 Fearless Poetry Exploration Reading Challenge.