Mailbox Mondays (click the icon to check out the new blog) has gone on tour since Marcia at A Girl and Her Books, formerly The Printed Page passed the torch. This month's host is Chaotic Compendiums.

The meme allows bloggers to share what books they receive in the mail or through other means over the past week.
Just be warned that these posts can increase your TBR piles and wish lists.
Here's what I received for review:
1.  Come Late to the Love of Birds by Sandra Kasturi from Tightrope Books for review in April.
Sandra's first collection, The Animal Bridegroom featured an introduction by Neil Gaiman and has sold out. This collection expands on her themes of abject romances, deformed fairytales gone and the astonishing delights of life in glorious 21st century.

Kasturi's latest poetry book fuses nature's continuous emotional offerings, our desire to understand ourselves with our passion to be free, devoid of the burden of modern thought.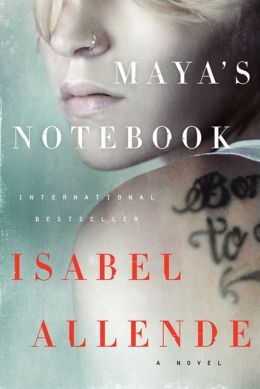 2.  Maya's Notebook by Isabel Allende for a TLC Book Tour in May.
This contemporary coming-of-age story centers upon Maya Vidal, a remarkable teenager abandoned by her parents. Maya grew up in a rambling old house in Berkeley with her grandmother Nini, whose formidable strength helped her build a new life after emigrating from Chile in 1973 with a young son, and her grandfather Popo, a gentle African-American astronomer.

When Popo dies, Maya goes off the rails. Along with a circle of girlfriends known as "the vampires," she turns to drugs, alcohol, and petty crime–a downward spiral that eventually leads to Las Vegas and a dangerous underworld, with Maya caught between warring forces: a gang of assassins, the police, the FBI, and Interpol.

Her one chance for survival is Nini, who helps her escape to a remote island off the coast of Chile. In the care of her grandmother's old friend, Manuel Arias, and surrounded by strange new acquaintances, Maya begins to record her story in her notebook, as she tries to make sense of her past and unravel the mysteries of her family and her own life.
3.  Market Street by Anita Hughes from St. Martin's Press for review.
Cassie Blake seems to lead a charmed life as the heiress to Fenton's, San Francisco's most exclusive department store. But when she discovers her husband, Aidan, a handsome UC Berkeley professor, has had an affair with a student, she flees to the comfort of her best friend Alexis's Presidio Heights mansion, where she wonders if she should give their marriage one more chance.

Whether or not she can forgive Aidan is not the only choice Cassie has to make. Cassie's mother is eager to have her oversee the opening of Fenton's new Food Emporium, which Fenton's hopes will become San Francisco's hottest gourmet shopping destination. Cassie's true passion has always been food, not fashion, and Cassie suspects her mother might be trying to lure her into the Fenton's fold by entrusting her with such an exciting opportunity. And then there is James, the architect designing the Emporium, who is quietly falling in love with her.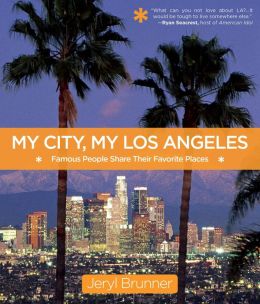 4.  My City, My Los Angeles by Jeryl Brunner for review.
What do famous people love to do during their free time in Los Angeles? Angelenos and other notables have their rituals that connect them to the city in a unique way: favorite restaurants, museums, beaches, parks, markets, landmarks, haunts, and hideaways. The activities are as diverse and eclectic as the city itself. My City, My Los Angeles gives readers something truly unique––a chance to experience L.A. the way the city's most notable luminaries do.
Here's what I purchased/picked up at Novel Places:
5.  One Breath Away by Heather Gudenkauf, which was on the free book table.
In the midst of a sudden spring snowstorm, an unknown man armed with a gun walks into an elementary school classroom. Outside the school, the town of Broken Branch watches and waits.

Officer Meg Barrett holds the responsibility for the town's children in her hands. Will Thwaite, reluctantly entrusted with the care of his two grandchildren by the daughter who left home years earlier, stands by helplessly and wonders if he has failed his child again. Trapped in her classroom, Evelyn Oliver watches for an opportunity to rescue the children in her care. And thirteen-year-old Augie Baker, already struggling with the aftermath of a terrible accident that has brought her to Broken Branch, will risk her own safety to protect her little brother.

As tension mounts with each passing minute, the hidden fears and grudges of the small town are revealed as the people of Broken Branch race to uncover the identity of the stranger who holds their children hostage.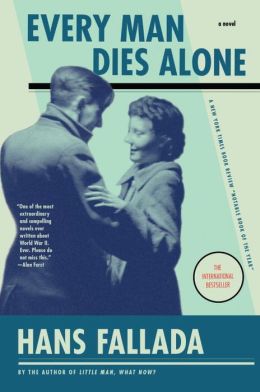 6.  Everyman Dies Alone by Hans Fallada, translated by Michael Hofmann, for book club in March — yes, I'm behind in reading this one for the club discussion.
It presents a richly detailed portrait of life in Berlin under the Nazis and tells the sweeping saga of one working-class couple who decides to take a stand when their only son is killed at the front. With nothing but their grief and each other against the awesome power of the Reich, they launch a simple, clandestine resistance campaign that soon has an enraged Gestapo on their trail, and a world of terrified neighbors and cynical snitches ready to turn them in.

In the end, it's more than an edge-of-your-seat thriller, more than a moving romance, even more than literature of the highest order—it's a deeply stirring story of two people standing up for what's right, and for each other.
7.  2017 by Olga Slavnikova, translated by Marian Schwartz.
In the year 2017 in Russia-exactly 100 years after the revolution-poets and writers are obsolete, class distinctions are painfully sharp, and spirits intervene in the lives of humans from their home high in the mythical Riphean Mountains.

Professor Anfilogov, a wealthy and emotionless man, sets out on an expedition to unearth priceless rubies that no one else has been able to locate. Young Krylov, a talented gem cutter who Anfilogov had taken under his wing, is seeing off his mentor at the train station when he is drawn to a mysterious stranger who calls herself Tanya. A scandalous affair ensues, but trouble arises in the shape of Krylov's ex-wife Tamara and a spy who appears at the lovers' every rendezvous. As events unfold, Krylov begins to learn more than he bargained for about the women in his life and realizes why he recognizes the spy from somewhere deep within his past. Meanwhile, Anfilogov's expedition reveals ugly truths about man's disregard for nature and the disasters stemming from insatiable greed.
What did you receive?