I've got a bunch of winners to announce and congratulate from a recent set of giveaways.  For those of you who are looking for other book giveaways, please check out the right sidebar as always for giveaways on the blog and elsewhere on the Internet.
The winner of The Bedtime Book for Dogs by Bruce Littlefield and Illustrated by Paul S. Heath is #1 Rhapsody in Books, who said, "
I love this line: 'Normally, I'm not a children's book reviewer..' Serena, you are SO going to be one in no time at all! :–)
One of my favorite books to read to children is actually of book of children's poetry, although I think it is out of print now. It is 'Catch Me & Kiss Me & Say It Again' (rhymes by Clyde Watson and pictures by Wendy Watson). It's got a bunch of 'interactive' rhymes that you can act out with children, such as tickling them at the right moments, etc."
The winner of The Decadent Lovely by Amy Pence is #13 Brittany Gale, who said, "Really enjoyed reading the second part of the interview. I love poetry and this seems to be the only site with poetry giveaways!"
Congrats to Brittany, and I hope the Canada Post stops striking soon.
The winner of the ARC of Dreams of Joy by Lisa See is #13 Reading Adventures, who said, "I can't wait to read this book! As to my favourite Lisa See book, I think it is Peony in Love, although all of her historical fiction titles have been good. I wasn't as keen on the mystery book I read by her."
Congrats to Marg.
Finally, I had a giveaway for War & Watermelon by Rich Wallace, which is a great kids book for ages 10-12 that focuses on the home front aspects of the Vietnam War and growing up as a young boy.  The winner is #3 Wordy Evidence of the Fact, who said, "Finding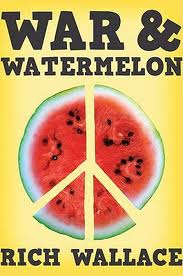 solid books for young male readers can be a particular challenge…our award panels of late have definitely favored the female voice. Nancie Atwell's school compiles gender-specific lists each year (created by the students) that are posted on their website http://www.c-t-l.org. It stays fresh and has some good classics too. Please consider me interested in this one. Thanks!"
Congrats Sara, and I hope you enjoy the book.