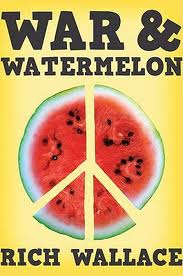 War & Watermelon by Rich Wallace, a Junior Library Guide selection, is set in 1969 in New Jersey just as the Vietnam War is beginning to rage and Woodstock is ready to rock suburban New York.  New Jersey brothers Brody and Ryan take a road trip to the concert of their generation as Ryan continues to avoid questions from his parents about his future, particularly college, and the draft.  Brody is just about to start junior high school and is eager to join the football team, but his world is insular in that his main focus is football, girls, the Mets, and the Top 40 hits.
"I grab the ball, make a juke to the right, and send a line drive over the clothesline and directly into the basket.  The bell rings.  Ryan puts his hands on his hips and stares at the ceiling.  I raise my fists and say, 'Yes!'

I carefully move past the shirt — it looks more like polka dots than tie-dye — and smack hands with him.  'Champion,' I say, patting myself on the chest.

'Mr. Clutch,' he says.  ' Best in the basement, for sure.'" (page 23)
Told in Brody's point of view, the novel thrusts readers into the life of a teenage boy who only thinks about sports and girls.  But it's more than that for Brody.  He's worried about fitting in at junior high and whether his brother will be drafted into the Vietnam War in September when he turns 18.  The prose is clipped and focused, with breaks between scenes as Brody's mind shifts from football worries to family concerns and between girls and the start of school.
Wallace's style is no-nonsense, and he has a football announcer/coach's way of describing football plays so that even a layman can picture the players' moves.  He had a firm grasp of what kids in junior high are thinking and feeling, particularly during this time period in the late 1960s.  What's interesting is that there are poems sporadically thrown in written by Brody, usually about his family, football, and the like.  They are not masterpieces, but they're also written by a young boy entering the seventh grade.
Woodstock Flock
by Brody Winslow (page 50)

Marching
Not to battle
Marching
All night long
Marching
Past barns and cattle
Marching
To hear a song

Marching
With my brother
Marching
With thousands more
Marching
To hear another
Marching
Against the war
Wallace creates a childlike innocence in Brody that becomes marred by his brother Ryan's unwillingness to take action — to decide between college and the draft. Their father continues to insult Ryan's indecision, pushing him to apply to college, and while Brody may agree with his father that Ryan needs to act to avoid going to war, he also agrees with his brother that he should not be forced into making a decision he's not ready to make.
War & Watermelon is a coming of age story in which a young man realizes that there are events and issues larger than his concerns about school, football, and girls.  The war, protests, and his brother's indecision prompt Brody to make some choices of his own and gain the confidence he needs to remedy his own issues at school.  Wallace has a way of teaching lessons without lecturing, and young boys should easily relate to the story.  However, young girls in this similar age group (9-12) may have a tougher time relating to a young football player unless they have older brothers or are interested in what boys their age are thinking about.
Stay tuned tomorrow, June 14, for my guest post from Rich Wallace about his writing space and another chance to win War & Watermelon.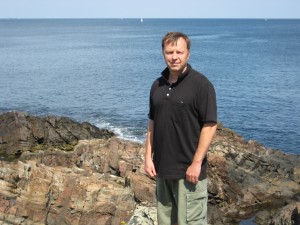 About the Author (From TLC's Website):
Rich Wallace is the author of many award-winning books for children and teenagers, including Wrestling Sturbridge, Sports Camp, Perpetual Check, and the "Kickers" and "Winning Season" series. He lives with his wife, novelist Sandra Neil Wallace, in Keene, NH. (As an aside, my cousin when to college in Keene.)
A note from Rich : "Bloggers might like to know that, like Brody in War & Watermelon, I was 12 years old in 1969 and living in suburban New Jersey, just becoming aware of the war and the music and the other world-changing events of that summer. I also had an older brother who was eligible for the draft, which caused considerable concern in our household and informed the events of this novel." Please visit his Website.
Please check out the rest of the stops on the TLC Book Tour.
To win 1 copy of War & Watermelon by Rich Wallace (US/Canada Only),
1.  Leave a comment on this post about what other middle-grade books you recommend.
2.  Spread the word on Facebook, Twitter, and the Blog about the giveaway for a second entry.
3.  For a third entry, read and comment on tomorrow's (June 14) guest post from Rich Wallace.
Deadline is June 22, 2011, at 11:59 PM EST.
This is my 24th book for the 2011 New Authors Reading Challenge.