Mingmei Yip has been writing and publishing since she was fourteen years old and now she has twelve books to her credit.  Her five novels are published by Kensington Books and her two children's books are published by Tuttle Publishing.  Mingmei is also a renowned qin (ancient string instrument) musician, calligrapher and painter.  In Hong Kong, she was a columnist for seven major newspapers.  She has appeared on over sixty TV and radio programs in Hong Kong, Taiwan, China, and the US. Visit her Website.
Last year, I really enjoyed Skeleton Women, and The Nine Fold Heaven picks up where the previous book ends.  "An ex spy and nightclub singer who undertakes an emotional and dangerous journey to reunite with her lost lover and the baby she was told was stillborn, and to discover the secret of her parents' murder."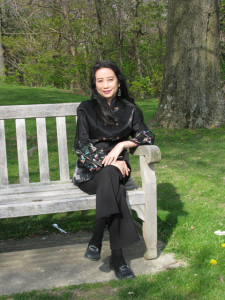 Come along with an ex spy as she returns to Shanghai where she's a wanted woman – but she has to search for her baby and her lost lover. Is her baby really alive? Will she be able to find her lover? Can she elude the police long enough to find them? Learn much more about The Nine Fold Heaven and Mingmei Yip.
Nine Fold Heaven is part of a series about Camilla the songbird and female spy – you can also read Skeleton Women, the first book about Camilla.
Today, I've got a great guest post from Yip about her writing space.  Please give her a warm welcome.
Writing space: I only write at home. I can't write at cafes, since most have loud music which is a distraction for me. But when they play classical music, then I stop writing and listen, so that does not work for me, either.

I consider myself lucky to have a small room just for myself in my apartment which I use as my writing space. Luckily, my little room has a view of the north side of Manhattan and the East River. So, when I just can't type anymore, I lift my head and soothe my eyes by staring at the peaceful scene outside the window. Soon I am refreshed and back at work.

I have decorated my writing room with some of my favorite things – books, plants, flowers, my own paintings and calligraphy. Writing is a solitary and difficult journey, so I try to fill my space with what I find both beautiful and spiritually inspiring. I also keep amulets next to me for protection, just in case.

Writing habits: I don't have a chance to write every day, because like everyone else, I have other responsibilities in life. So when I have a chance to write, I write as much and as long as I can. This is like gorging yourself when you don't know where your next meal is coming from. In any case, it is what works for me. It helps that I can take a nap whenever I want.

Writing tips: I plunge into writing and ignore everything around me. Since I was a tiny girl I have always preferred life inside my own head. Whenever I have writer's block, I'll read or watch a movie. This usually triggers ideas for me so I can go back to write. I also read a lot, not only to feed my imagination and creativity, but also to have a point of comparison for my own writing.

I think it is still essential to master the basics. Not only voice, characterization, dialogue, plot, but also sentence structure, its rhythm and music. I always try to vary the length of my sentences and start each one with a different subject. It's essential to spent whatever time it takes to find the right word. Sometimes, it is a single word that brightens a whole paragraph.

There is a Chinese saying "Slap on the thigh and exclaim!" That's how the readers will react to a good choice of word. Readers may not be aware of the meticulous hard work behind a smooth sentence, but if you don't pay attention, they will soon become bored. I also think it's good for authors to attend other cultural activities such as movies, concerts, art exhibitions. Have as diverse a background as you can cultivate, that really helps.

Most important, don't give up! The ancient Chinese philosophy classic, the Daode Jing says more things are spoiled in the end than the beginning. Stick through to the end.
Thanks, Mingmei, for sharing your writing space with us, as well as your writing habits. I'm the opposite, too much quiet and I can't write.