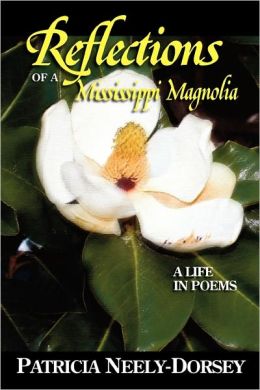 Reflections of a Mississippi Magnolia by Patricia Neely Dorsey is a very personal and reflective collection about growing up in the south and celebrating its culture.  Through rhyming poetry, Dorsey creates poems that have their own beats and rhythms that carry readers all the way through the poems.  While most of these rhymes are elementary and some seem forced, the collection is not about technique as much as it is about living and breathing the southern culture.
From "The Rules" (page 6)

Life can be much easier,
When you know what to do or not;
And you're sure to learn a lot of them,
If Southern parents you have got.
From "A Country View" (page 17)

What might you see as you go your way
On a walk through the country any spring day?
There's an old car tire without its rim,
Filled with flowers to the brim.
A bottle tree glistens in the sun,
And kids chunk rocks at it just for fun.
The poems do not hide their meaning behind complex metaphor and read more like short essays or memories. "Shelling Peas" and "Slopping Hogs" brought back images of farm life that are so vivid and filled with innocent joy and happiness. Readers will learn about the Agnews and much of the food and past times of the poet's Southern life. Dorsey has succeeded in demonstrating a slice of life in the South.  There are some assertions about Southern life that ring very true, at least what most people typically think about Southerners, but there also are assertions in the poems that would ring true for others not raised in the South, but simply raised with a good moral compass.
Dorsey is never cryptic and clearly shows pride in her heritage, and her "Getting Personal" section of the collection is the most empowering because it is about learning to love oneself despite what others may think and say about you.  In Reflections of a Mississippi Magnolia by Patricia Neely Dorsey what you see is what you get, and that's good enough.
***Check out the rest of the stops on the blog tour!***
About the Poet:
This is my 14th book for the Dive Into Poetry Challenge 2013.
This is my 23rd book for the 2013 New Authors Challenge.
Click the image below for today's National Poetry Month blog tour post!