Mailbox Monday, created by Marcia at To Be Continued, formerly The Printed Page, has a permanent home at its own blog.
To check out what everyone has received over the last week, visit the blog and check out the links.  Leave yours too.
Also, each week, Leslie, Vicki, and I will share the Books that Caught Our Eye from everyone's weekly links.
Here's what I received:
1.  Revival by Stephen King for Christmas from my parents.
In a small New England town, over half a century ago, a shadow falls over a small boy playing with his toy soldiers. Jamie Morton looks up to see a striking man, the new minister. Charles Jacobs, along with his beautiful wife, will transform the local church. The men and boys are all a bit in love with Mrs. Jacobs; the women and girls feel the same about Reverend Jacobs — including Jamie's mother and beloved sister, Claire. With Jamie, the Reverend shares a deeper bond based on a secret obsession. When tragedy strikes the Jacobs family, this charismatic preacher curses God, mocks all religious belief, and is banished from the shocked town.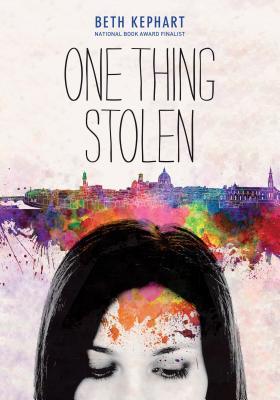 2.  One Thing Stolen by Beth Kephart, a happy surprise!
Set in Florence, Italy, One Thing Stolen follows Nadia Cara as she mysteriously begins to change. She's become a thief, she has secrets she can't tell, and when she tries to speak, the words seem far away.
3.  Wet by Toni Stern from Saichek Publicity for review.
Toni Stern enjoyed a highly productive collaboration with the singer-songwriter Carole King. Stern wrote the lyrics for several of King's songs, most notably "It's Too Late" for the album Tapestry. Now, through the expansive medium of poetry, she continues her spirited exploration of contemporary life.
4.  Paradise Drive by Rebecca Foust from the author for review.
5.  River House by Sally Keith from Milkweed Editions for review.
These are poems of absence. Written in the wake of the loss of her mother, River House follows Sally Keith as she makes her way through the depths of grief, navigating a world newly transfigured. Incorporating her travels abroad, her experience studying the neutral mask technique developed by Jacques Lecoq, and her return to the river house she and her mother often visited, the poet assembles a guide to survival in the face of seemingly insurmountable pain. Even in the dark, Keith finds the ways we can be "filled with this unexpected feeling of living."
6. The Red List by Stephen Cushman from Louisiana State University Press for review.
The "red list" of Stephen Cushman's new volume of poetry is the endangered species register, and the book begins and ends with the bald eagle, a bird that bounded back from the verge of extinction. The volume marks the inevitability of such changes, from danger to safety, from certainty to uncertainty, from joy to sadness and back again. In a single poem that advances through wordplay and association, Cushman meditates on subjects as vast as the earth's fragile ecosystem and as small as the poet's own deflated fantasy of self-importance: "There aren't any jobs for more Jeremiahs." Simultaneously teasing the present and eulogizing what has been lost, Cushman speaks like a Shakespearean jester, freely and foolishly, but with penetrating insight.
7.  The Heroes' Welcome by Louisa Young from Harper for review.
The Heroes' Welcome is the incandescent sequel to the bestselling R&J pick My Dear, I Wanted to Tell You. Its evocation of a time deeply wounded by the pain of WW1 will capture and beguile readers fresh to Louisa Young's wonderful writing, and those previously enthralled by the stories of Nadine and Riley, Rose, Peter and Julia.
8.  Intermezzo: A Pride & Prejudice Variation by Abigail Reynolds from the author.
"Intermezzo" is a short story and is available in an expanded version along with 4 other short stories in A Pemberley Medley by Abigail Reynolds.
9. A Sudden Light by Garth Stein from Anna and her family.
When a boy tries to save his parents' marriage, he uncovers a legacy of family secrets in a coming-of-age ghost story by the author of the internationally bestselling phenomenon, The Art of Racing in the Rain.

In the summer of 1990, fourteen-year-old Trevor Riddell gets his first glimpse of Riddell House. Built from the spoils of a massive timber fortune, the legendary family mansion is constructed of giant, whole trees, and is set on a huge estate overlooking Puget Sound. Trevor's bankrupt parents have begun a trial separation, and his father, Jones Riddell, has brought Trevor to Riddell House with a goal: to join forces with his sister, Serena, dispatch Grandpa Samuel—who is flickering in and out of dementia—to a graduated living facility, sell off the house and property for development into "tract housing for millionaires," divide up the profits, and live happily ever after.
What did you receive?