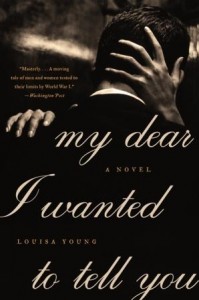 My Dear I Wanted to Tell You by Louisa Young is a WWI novel and love story that illustrates the toll that war takes on couples from mere recruits to the officers that give them orders.  Young's novel examines social and monetary class distinctions, even providing slight nuances to the "poshies" in how they treat the working class.  Truly, this is a love story — the story of Riley Purefoy and Nadine Waveney, childhood sweethearts separated by more than the war.
The narration sets it up so that readers get to know Nadine and Riley in their early years and the timid beginnings of their love, which helps not only anchor the emotional arc of the story but the connection readers feel to them both.  Nadine is from an upper class family with artistic roots — her father is a famous conductor — and Riley is from a working class family.  Both end up under the tutelage of Sir Arthur, a famous artist, who sees potential in Riley and Nadine.  Eventually, they are separated by her parents who refuse to send her to Sir Arthur's for lessons if Riley is still working there, which ultimately pushes Riley to see his fortunes through a different lens and join the military.
"He had to pull the bayonet out again, which was strange.  And that wasn't an end:  it was just a moment on a long line of moments, and time went on, and they went on.  He stepped away in a mist of red, a numbness spread across him, a sense of capacity.  He smelt the blood, and took on the mantle of it.  He ran on, screaming, til he found himself alongside Ainsworth, and felt safer."  (Page 40-1)
The introduction of CO Peter Locke, his wife Julia, and his cousin Rose serve as a juxtaposition to the love of Riley and Nadine, but although Locke's story is of interest in how the war can change a man, his wife Julia can be trying and insipid — wearing on readers' nerves.  Julia is self-absorbed to the point that she finds her actions for self-improvement as a way to "do her bit" for the cause by becoming the perfect wife in looks and caring for the household, rather than volunteering to care for the soldiers.  Locke, himself, is more in the background providing support for the soldiers and holding in the horrors and losses he's experienced, but eventually, his story jumps to the forefront and readers see a broken man wallowing in women and booze.
"If no one won that, after all that, that — if neither side won that, then neither side can win. The war won, and goes on winning." (Page 125)
Young has the skill and detail to capture the horrors of war from the adrenaline rush of battle to the devastation of losing one's companions and comrades. She also captures in realistic and devastating description the medical procedures used to reconstruct faces and other body parts of wounded soldiers — so much so, that some readers may squirm in their seats.  The war itself becomes a character taking over all that is good and twisting it, shoving the best bits into the waste bin.  However, the overarching themes celebrate the perseverance of the human spirit and its ability to recover from even the most devastating injuries — no matter if they are physical or emotional.  My Dear I Wanted to Tell You by Louisa Young is by turns endearing and horrifying, and WWI is ever-present in everything these characters face and endure.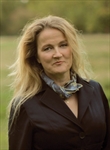 About the Author:
Louisa Young grew up in London, England, in the house in which Peter Pan was written, and she studied modern history at Cambridge. She was a freelance journalist and has written ten books, including the Orange Prize–longlisted Baby Love. She is the co-author of the bestselling Lionboy trilogy, which has been published in thirty-six languages. She lives in London and Italy with her daughter and the composer Robert Lockhart.  Check out her Website.
This is my 50th book for the New Authors Reading Challenge 2012.
This is my 13th book for the WWI Reading Challenge.