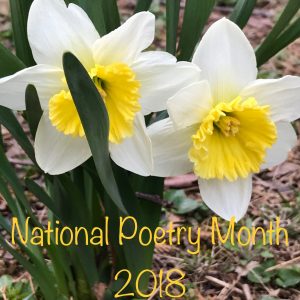 Source: Purchased
Paperback, 104 pgs.
I am an Amazon Affiliate
Point Blank by Alan King, who read at the second DiVerse Gaithersburg Poetry Reading and Open Mic, opens with the poem "Hulk," and there are a number of references to the comic book universe. In "Hulk," the narrator believes he's like everyone else able to walk where he wants and do what he likes as any other teenager, but given the hour and his skin color, reality begins to seep in, shattering the illusion like the hulk stomping through the city on a rampage.
King's poems are like this — musical, dreamlike, and nostalgic — only to be abruptly shattered or altered by forces beyond the narrator's control. Isn't this the essence of life? It sometimes upends us without our consent.
With "point blank" precision, King tackles issues of race, poverty, stereotyping, and uncontrolled anger. His poems often begin with stereotypes of race and as the poem unfolds, he teaches his readers to see how ridiculous those generalizations can be. In "Swarm," he asks, "That's when I wonder/if Insecurity's the biggest instigator./The one constantly egging you on/to prove yourself./"
King's poems speak with frankness about living in America, a nation that pretends to be equal in so many ways, a nation that is still younger than it thinks it is, and a nation rebelling against the world even now. The beauty of these poems is that frankness and how he mixes it like a song with rhythm and firecracker lines like "to scorch my boss/with her fire-bottle words/" and "my veins and arteries are the blood's highways/and interstates, that too much of what I love/will slow traffic like an accident."
"Booth Seat" is one of the most moving poems in this collection in which Death is racing around the city seeking out and getting his prey. Understanding the murder rates here in the D.C. area, this poems strikes very close to home. It reminds us that life is fleeting, and that even the most anonymous of us is at risk. Point Blank by Alan King is a stunner, and you'll never forget it.
RATING: Cinquain
About the Poet:
Alan King is an author, poet, journalist and videographer, who lives with his wife and daughter in Bowie, MD. He writes about art and domestic issues on this blog.
He's a communications specialist for a national nonprofit and a senior editor at Words Beats & Life's global hip hop journal.
As a staff writer for the Baltimore Afro-American Newspaper, King often out-scooped the Baltimore Sun when covering housing and the Baltimore City Council. His three-part series on East Baltimore's redevelopment and the displaced residents brought together stakeholders (community leaders, elected officials and developers) to work out a plan that gave vulnerable residents a role in helping to build up the city's blighted neighborhoods.
He's a graduate of the Stonecoast MFA Low-Residency Program at the University of Southern Maine. His poems and short stories appear in various literary journals, magazines and are featured on public radio. Follow him on Twitter and Facebook.