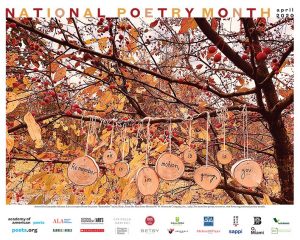 Poetry has reached beyond the page in a lot of cases, and many are aware of InstaPoets who read online in Instagram and create graphic posts of their poems. But were you aware of poets who are creating interactive collections using QR codes and turning to audio as a way to reach wider audiences?
Jessica Piazza's recent poetry collection, This is Not a Sky, pairs her ekphrastic poems with QR codes to the paintings and artwork that inspired them.
I called the collection " art unto itself and a must read for those who love painters and some of the most iconic artists of our time. Piazza will have you looking at the art on the museum walls in vastly different ways. She creates vignettes for the players and for those outside the frame."
Check out your own copy.
Alan King, a local poet in the Washington, D.C. area, created his own audio version of Drift, relying on music and sound effects to set the stage for his very real poems. I'm listening to the audio now, and it is intriguing. I've enjoyed the first few poems on audio just as I did when I read the book.
The collection " is musical, funny, and serious. It asks questions about identity and fitting it, particularly what it means to be a "brother." But it's also about growing up in an unforgiving urban landscape."
Check out this sample below:
Let me know what kinds of unique poetry collections you've discovered. Which ones are breaking boundaries of the page?