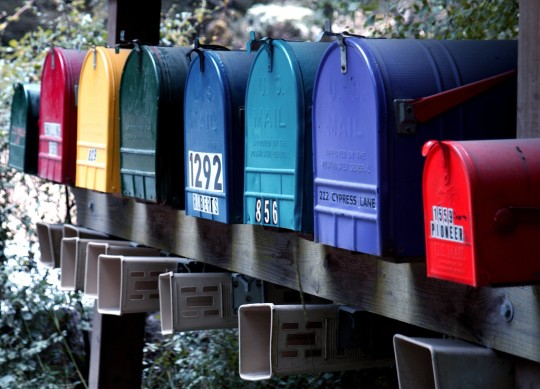 Mailbox Monday has become a tradition in the blogging world, and many of us thank Marcia of The Printed Page for creating it.
It now has it's own blog where book bloggers can link up their own mailbox posts and share which books they bought or which they received for review from publishers, authors, and more.
Leslie, Martha, and I also will share our picks from everyone's links in the new feature Books that Caught Our Eye. We hope you'll join us.
Here's what I received:
This Is Not a Sky by Jessica Piazza, which I purchased.
Jessica Piazza's THIS IS NOT A SKY begins with the seed of ekphrastic literature, then yawns, then stretches, then bursts beyond those bounds. Each of these 18 poems borrows a title from the greats—from Raphael and Turner to Warhol and Twombly—and through imagined narratives, takes the reader both inside and outside the paintings. In Piazza's capable hands, the original art works serve as launch pads, and the poems are glorious departures. Through the guided commentary of an italicized speaker (sometimes commentator, sometimes companion, sometimes voyeur), we are taken to a long hallway wherein the reader wanders from room to room, peeking inside. Behind one door, "The ladies wore boas and nothing else; the beautiful men repeated themselves," and behind another, "You float, no floors, no doors in the office walls, hidden heavy hook of neck, crook of knee." THIS IS NOT A SKY is a multi-faceted sensory experience; Piazza employs QR codes in tandem with each poem to allow the reader access to the original work of art alongside its poetic departure. Through her finely tuned ear for carefully considered formal metrical structures and rhyme, Piazza merges music, painting, and poetry to breathe new, strange, and modern life into the grand themes that have long given art its universality: death, love, religion, and truth.
Partial Genius by Mary Biddinger, which I purchased.
What happens when you finally realize that you are really good, but only at unremarkable things? What value does memory hold when weighed against heavier commodities such as money and time and conventional beauty? The prose poems of Partial Genius build upon the form in a collective narrative, working in unison to craft a larger story. Post-youth and mid-epiphany, Partial Genius ponders the years spent waiting for reconciliation of past wrongs, the acknowledgment of former selves, and the desire to truly fit into one landscape or another.

"I love this book so much. A work of meticulous craft and profound originality, Mary Biddinger's newest collection of prose poems is one of the best books I've read on our historical moment and the decades that led to it. PARTIAL GENIUS reads like a dossier of the psychological landscape of late capitalist America and the end of empire. In the tradition of John Ashbery, but wholly original in her own vision and voice, Biddinger draws from a deep well of poetic intellect and wit to illuminate the existential threats and imaginative possibilities of our collective self-destruction. In 'The Subject Pool' the speaker watches a man tattoo AU COURANT around her thigh. The tattoo artist has no idea. Every poem is chock-full of revelations in every detail. Reading this book felt like sitting by the fire in some secret location with a double agent, smoking her pipe telling tales of all that went down right in front of our faces, while we were all driven to distraction by outrage. To paraphrase Kim Gordon of Sonic Youth, She's got it all in this book."–Heather Derr-Smith
What did you receive?