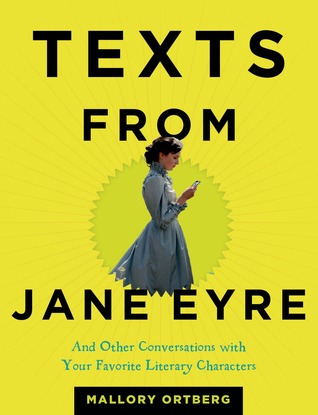 Source: Diary of an Eccentric
Hardcover, 240 pgs
I am an Amazon Affiliate
Texts From Jane Eyre: And Other Conversations by Mallory Ortberg, illustrated by Madeline Gobbo, provides the right amount of literary humor from classics like Jane Eyre to modern characters like Katniss and Peeta from the Hunger Games.  Readers can turn to this little gem again and again for a good laugh.  Text messages are sometimes completely off the wall, but totally in character with either the fictional people or the authors who send the texts.  However, readers will garner more enjoyment from the conversations if they are familiar with the books and authors involved.
From "Wuthering Heights" (pg 114-119 ARC)

"i love you so much i'm going to get sick again
just out of spite

i'll forget how to breathe

i'll be your slave

i'll pinch your heart and hand it back to you dead

i'll lie down with my soul already in its grave

i'll damn myself with your tears

i love you so much i'll come back and marry your sister-in-law

god yes

and i'll bankroll your brother's alcoholism

i always hoped you would"
Some are visited more than once in text conversation, particularly Hamlet, and those conversations are fantastically done.  It's fun to see Regan and Goneril fighting via text, as it is also humorous to see Heathcliff and Cathy profess their love for one another in the most Gothic ways possible.  There are others that could have been better, like the one for William Carlos Williams.  While readers will see the intent to play off of his famous poems, the text conversations could have been more inventive.  And the text conversation with John Keats was uninspired, though it recalled his famous poem Ode on a Grecian Urn.
What readers will love about the book is the use of modern technology and text-speak as classical writers and characters could use them with both their antiquated notions and points of view mixed with a more modern sensibility in some cases.  Ortberg has clearly given her imagination free reign here, and while in most cases, it pays off with a chuckle or a snicker, there are some cases where it falls flat. Texts From Jane Eyre: And Other Conversations by Mallory Ortberg, illustrated by Madeline Gobbo, is a fun little bit of humor to cheer you up on a gloomy day.
About the Author:
Mallory Ortberg is a writer, editor, and co-founder of the feminist general interest site The Toast. She previously wrote for Gawker and the Hairpin, where she met Toast co-founder Nicole Cliffe.