Mailbox Monday, created by Marcia at To Be Continued, formerly The Printed Page, has a permanent home at its own blog.
To check out what everyone has received over the last week, visit the blog and check out the links.  Leave yours too.
Also, each week, Leslie, Vicki, and I will share the Books that Caught Our Eye from everyone's weekly links.
Here's what I received:
1.  Enzo Races in the Rain! by Garth Stein, which we purchased for our daughter over the holidays.
Enzo the puppy's action-packed adventure begins when he makes the journey from the farm to the city (bark twice for faster!), discovers just how big the world is, and finds the family that was meant to be his.

Life on the farm is pretty quiet—except when he races the cars that come down the barn road. Because Enzo is fast. He knows he's different from other dogs. But people never understand Enzo when he barks, and it drives him crazy! Then one day Enzo meets a little girl named Zoë and her father, Denny, and everything changes. R. W. Alley's fantastic illustrations bring the beloved Enzo to life as he learns to adapt to life in his new home and discovers just what it means to become a family.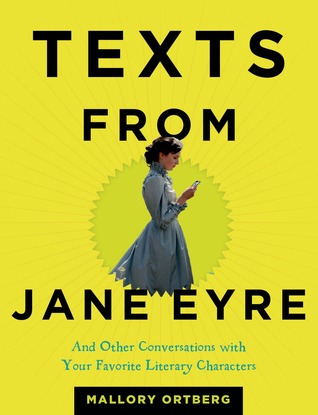 2. Texts from Jane Eyre: And Other Conversations with Your Favorite Literary Characters by Mallory Ortberg, illustrated by Madeline Gobbo from Anna.
Mallory Ortberg, the co-creator of the cult-favorite website The Toast, presents this whimsical collection of hysterical text conversations from your favorite literary characters. Everyone knows that if Scarlett O'Hara had an unlimited text-and-data plan, she'd constantly try to tempt Ashley away from Melanie with suggestive messages. If Mr. Rochester could text Jane Eyre, his ardent missives would obviously be in all-caps. And Daisy Buchanan would not only text while driving, she'd text you to pick her up after she totaled her car. Based on the popular web-feature, Texts from Jane Eyre is a witty, irreverent mashup that brings the characters from your favorite books into the twenty-first century.
3. Hansel and Gretel: A Fairy Tale with a Down Syndrome Twist by Jewel Kats, illustrated by Claudia Marie Lenart from Loving Healing Press.
Hansel & Gretel: A Fairy Tale with a Down Syndrome Twist is an enchanting tale about how kindness overcomes callousness and leads to a wondrous reward. This adaptation of the classic Grimms' tale includes the wicked witch and the poor siblings in search of food, but in this case, five-year-old Hansel is a mischievous, yet courageous, boy with Down syndrome.
4. The Princess Panda Tea Party: A Cerebral Palsy Fairy Tale by Jewel Kats, illustrated by Richa Kinra, from Loving Healing Press for review.
An enchanting story which shows girls that grace and courage come from within. Michelle, age eight, has cerebral palsy and lives at an all-girls orphanage. She is often openly mocked by the other girls because of her need to use a walker for mobility. One day, she spends her hard-earned change for a toy stuffed panda at the local Salvation Army store. When opportunity strikes for the orphanage girls to compete, in manners and deportment, for the privilege of tea with the Queen of England, Michelle's enchanted panda comes to life and her world will never be the same!
5.  Cinderella's Magical Wheelchair: An Empowering Fairy Tale by Jewel Kats, illustrated by Richa Kinra for review from Loving Healing Press.
In a Kingdom far, far away lives Cinderella. As expected, she slaves away for her cranky sisters and step-mother. She would dearly love to attend the Royal costume ball and meet the Prince, but her family is totally dead set against it. In fact, they have gone so far as to trash her wheelchair! An unexpected magical endowment to her wheelchair begins a truly enchanted evening and a dance with the Prince. Can true love be far behind?
6. Lives of Crime and Other Stories by L. Shapley Bassen for review.

These are great noir stories, with a very intelligent self-awareness that makes them existentially perplexing and entertaining at the same time. Kind of a guilty pleasure. Love the wry darkness." -Susan Smith Nash, author of "The Adventures of Tinguely Querer."
7. In the Company of Cheerful Ladies (No. 1 Ladies' Detective Agency #6) by Alexander McCall Smith from the library sale for 50 cents.
In the newest addition to the universally beloved No. 1 Ladies' Detective Agency series, the charming and ever-resourceful Precious Ramotswe finds herself overly beset by problems. She is already busier than usual at the detective agency when added to her concerns are a strange intruder in her house on Zebra Drive and the baffling appearance of a pumpkin. And then there is Mma Makutsi, who decides to treat herself to dance lessons, only to be partnered with a man who seems to have two left feet. Nor are things running quite as smoothly as they usually do at Tlokweng Road Speedy Motors. Mma Ramotswe's husband, the estimable Mr. J.L.B. Matekoni, is overburdened with work even before one of his apprentices runs off with a wealthy woman. But what finally rattles Mma Ramotswe's normally unshakable composure is a visitor who forces her to confront a secret from her past.
8. Silent Flowers: A New Collection of Japanese Haiku Poems edited by Dorothy Price, illustrated by Nanae Ito from the library sale for $1.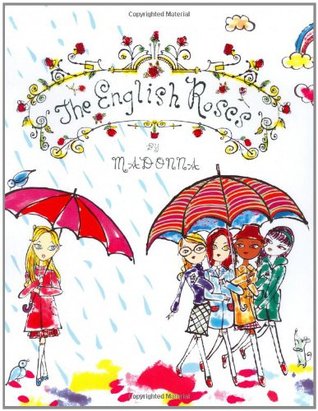 9. The English Roses by Madonna, illustrated by Jeffrey Fulvimari from the library sale for 50 cents.
This is a story about slumber parties, jealousy, fairy godmothers, and friendship; about feeling green with envy, blue with loneliness, pink with embarrassment, purple with rage, and how to find true-blue friends.
10.  Elmo's World Music! by John E. Barrett, Mary Beth Nelson from library sale for 50 cents.

La! La! La! Toot! Toot! Toot! Elmo loves to make music! Toddlers will love lifting the flaps and discovering all the fun Elmo has when he plays different instruments and sings his favorite songs.
11.  Pepper (Waggy Tales) by Stewart Cowley from library sale for 50 cents.

Pepper, who comes complete with a springy tail, expressive googly eyes, is the purrrr-fect name for this bubbly, bouncing cat tale. Children will love following this furball through silly adventures. Full-color illustrations. Consumable.
12. Dora's Desert Friends by Robin Chaplik from the library sale for 50 cents.
Help Dora and Boots cross the SUnny Desert to visit their lizard friends! Listen to star sparkles and other fun sounds on the way!
What did you receive?