Welcome to the 172nd Virtual Poetry Circle!
Remember, this is just for fun and is not meant to be stressful.
Keep in mind what Molly Peacock's books suggested. Look at a line, a stanza, sentences, and images; describe what you like or don't like; and offer an opinion. If you missed my review of her book, check it out here.
Also, sign up for the 2012 Fearless Poetry Reading Challenge because its simple; you only need to read 1 book of poetry. Please visit the stops on the 2012 National Poetry Month Blog Tour.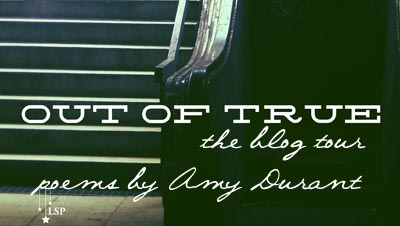 Today we've got something a little different as part of Amy Durant's blog tour for her book of poems, Out of True; She'll be reading two of her poems via vlog, and has graciously included the text for both so you can follow along and have our regular discussion:
Don't forget there will be a giveaway later in the post.
Downed Wires

Last night you came to me and told me
to stop looking. You were older
than I remember you. You would be,
of course; a lifetime has passed.
I still recognized you, but barely.
It was your eyes that clued me in, and the
hesitancy with your hands when you speak.
You still do that. 

You smelled of the lake where you used
to spend your summers
and of exhaustion, high, hot, electric. The air
thrummed between us. I put out my hand
and relished the shock. Our
hair flickers like seaweed in the charged air. 

Let me go, you said. Let me go
and you'll be free. The sound
of water lapped lazy in the background.
I watched your eyes for a sign. Your words
weight me like stones in my pockets. 

The boy you were runs past us
in the background, calling over
his shoulder. This is where I'll be,
when I go, he says.
Find me. Come and find me.
Not finding something
doesn't mean you've stopped looking. 

Let me go, you say, but you know I won't.
You grip my wrist in panic, a circlet of fire,
and I burn to ash.
Your eyes both judge me and thank me.
I live in the intersection of this Venn diagram.
I mindlessly trace the path like a labyrinth.
My feet know the way. To walk outside
would be madness.
To walk outside would be to lose you.
To walk outside would be to lose myself.
Pink Slip, Broken Hip

It's another world, the world of the unemployed.

While you are all working, the elderly come out to play.
They fill the roads with their huge Cadillacs, driving
very slowly, their seats pushed as close to their
leather-wrapped steering wheels as possible,
peering myopically though their bleary windshields.
They make wide turns, look confused when another car
gets in their way. You are the interloper here.

They clog the aisles of the grocery stores with their
electric shopping carts, they take things off the shelves
with care, comparing price per ounce. They complain
loudly about cost increases and gather clacking and
squawking around the half-off bakery table, clawing
at bread rapidly going stale, at cupcakes with the frosting
melting off at the edges. They eye you, mistrusting.

They gather outside the library to share gossip, stories
of the good old days, who has died, who has broken
bird-like bones, who has moved to warmer climes,
who has remarried with unlikely optimism. When
you walk by, they hush, they gather close like bullies
on the playground, they point at you with witchlike
fingers and cast their curses. You are not one of them.
You are too young, your hands do not bear liver
spots, your back is as-yet unbowed. You do not belong.

The streets are theirs, the stores, the sidewalks.
You go about your day knowing you're seeing
behind the curtain. You go about your day
knowing you're seeing your own future.
Someday, they will fold you into their ranks
as seamless as death by drowning, and you will
go forth, stooped, shaking, knowing the days
belong to you; the days are yours, now, numbered,
to spend as you watch your life run out like milk
tipped and lost from a toddler's cup.
What do you think?
About the Poet:
Amy Durant is a writer living in the Capital District of New York. She blogs frequently at her own site, Lucy's Football, about far less serious things than this, and is lucky enough to write for Insatiable Booksluts about all things bookish. She is the artistic director for one of the many wonderful community theaters in her area and lives with a very cuddly but very spatially-impaired Siamese cat. Her book, Out of True, was published by Luna Station Press in August 2012. Follow her on Twitter.
For those interested in winning a paperback copy of Amy Durant's book, just leave a comment by October 27, 2012 at 11:59PM EST.