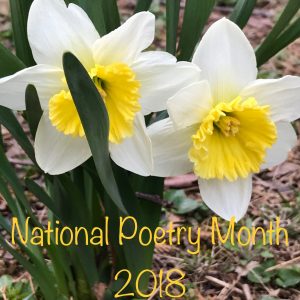 Source: Purchased
Paperback, 80 pgs.
I am an Amazon Affiliate
Crumb-Sized: Poems by Marlena Chertock, who read at the Fourth DiVerse Gaithersburg Poetry Reading, is a short and powerful collection about body image, space, and pain, but it is also a collection of exploration. She explores the strength within herself to do more and cope with more, to "push" through the pain in physical therapy, and to stand tall among those in the forest who are "healthier."
One of my favorite poems is "I am rotting log of wood," in which the tree is rotting and seemingly weaker compared to the others in the forest, but the tree realizes she can breathe her own oxygen and feel the sunlight on her leaves — finding strength inside.
Through her descriptions, readers are plunged knee deep in the narrator's pain. In "Rikkud," the narrator's health condition renders her on the sidelines of a dance while those her age continue to party. She says, "my hips and knees are kindling/and I can't give them more air/or my bones become crisps –" Many of her poems explore debilitating pain and the absurdity of telling a narrator to push through chronic pain, Chertock forces the reader to not only empathize but to be in those moments and live them.
The poems are not all dark and many of them churn on a word or phrase in a poem. In "Application to NASA," she explores how strong the narrator is despite being below the standards the space agency seeks in potential candidates. Chertock turns the negative into positive, takes a leap of faith into the unknown and creates her own nebulous reality where anything is possible.
Crumb-Sized: Poems by Marlena Chertock is the perfect combination of science and poetry. These poems are Earth-bound until they are launched into outer space to explore life beyond the pain.
RATING: Cinquain
About the Poet:
Marlena Chertock has two books of poetry, Crumb-sized (Unnamed Press, 2017) and On that one-way trip to Mars (Bottlecap Press, 2016). She uses her skeletal dysplasia and chronic pain as a bridge to scientific poetry. She regularly moderates or speaks on panels at literary conferences and festivals, serves as a judge or reviewer of creative work for contests, and reads her own work at open mics and reading series. Find her on Twitter and on Instagram.