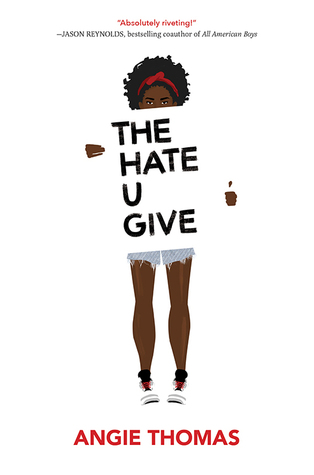 Source: Purchased
Audible, 11+ hours
I am an Amazon Affiliate
The Hate U Give by Angie Thomas, narrated by Bahni Turpin, is a young adult novel examining not only racism, but also life as a 16-year-old girl, Starr Carter, after witnessing the murder of her childhood friend Khalil by a police officer. (there's a read-a-long at Book Bloggers International, if you're interested) Following the death of Khalil, his murder is viewed not as the life of an unarmed teen who will never graduate high school or go to college but as the death of a drug dealer and a gang banger. Starr is forced to re-live those moments beside him as a unprovoked traffic stop turns into something tragic. Along the way, this young woman realizes that not only has she abandoned her old friends for the new ones at her suburban prep school, but that she has a voice that should be heard — loud and clear.
She also has to come to terms with where she comes from in Garden Heights — "the ghetto" — to where she wants to be as an educated woman capable of making her own life choices. Her double life comes to a head as she must reconcile the two halves of her identity — Starr Carter and Williamson Starr — to emerge on the other side of tragedy as a confident young lady. Starr also needs to stop placing labels on herself, all of her friends, and especially her white boyfriend, Chris — who let's face it is mature beyond his years if he can refrain from sex and let her cry on his shoulders instead.
The Hate U Give by Angie Thomas, narrated by Bahni Turpin, is a multi-layered novel about racism, poverty, justice, and healing. Starr and all of us need to review our own prejudices to see where justice can be had and how to bring together communities for the right reasons, not the wrong ones. Another one for the Best of List this year.
RATING: Cinquain
About the Author:
Angie Thomas was born, raised, and still resides in Jackson, Mississippi as indicated by her accent. She is a former teen rapper whose greatest accomplishment was an article about her in Right-On Magazine with a picture included. She holds a BFA in Creative Writing from Belhaven University and an unofficial degree in Hip Hop. She can also still rap if needed. She is an inaugural winner of the Walter Dean Meyers Grant 2015, awarded by We Need Diverse Books. Her debut novel, The Hate U Give, was acquired by Balzer + Bray/HarperCollins in a 13-house auction and will be published in spring 2017. Film rights have been optioned by Fox 2000 with George Tillman attached to direct and Hunger Games actress Amandla Stenberg set to star.
New Authors Reading Challenge 2017