Source: TLC Book Tours
Paperback, 368 pgs.
I am an Amazon Affiliate
The Secrets of Flight by Maggie Leffler is a stunning mystery that unravels piece by piece, and readers will first meet Mary Browning, an elderly woman in a writer's group.  She believes she sees an apparition of her sister, Sarah, as a young lady walks into their public writing group.  This vision prompts her memories to resurface, and with the help of this young transcriptionist, she begins again on her memoir.  Leffler deftly weaves between the past and present, creating a multi-layered story that will capture not only the nostalgia of a former airplane pilot during WWII but also the immediacy of a young woman's search for herself among the detritus of family drama.  Her characters resonate off of one another, like echoes of the past pushing forward the lives of the present into the future.  This ripple effect builds throughout the novel, until the final mystery is revealed.
"But my greatest fear of all was not having a voice of my own." (pg. 5 ARC)
We all fear losing ourselves and not having a voice.  We are individuals in search of ourselves, but we also are sisters, mothers, daughters, and friends, among other roles that we play.  These connections can help us breathe life into our passions and desires, or they can stifle them.  The trick is to balance the needs and expectations of others with our own without hurting ourselves or those we care most about.
"… I learned how to squeeze my face closed and let myself soundlessly shudder, imagining my tears deep inside, dripping off my organs." (pg. 31 ARC)
Mary has lived her life, much of it on her own terms, and while she has had a hard time compromising, she was able to do it for love, even to her own detriment.  When WWII was in full swing, she left home to do what she loved even as many told her she shouldn't, and when she fell in love, she made a sacrifice that many would now see as unnecessary without having lived with the fear of persecution.
Very rarely is there a book that can equally make emotions soar and crash, taking readers on a complete journey wrought with obstacles and choices that you can only imagine facing.  For Mary Browning to have survived them and to have created a satisfying, but not ideal life, is nothing short of miraculous — much like when a heavy metal plane takes to the air with the birds and clouds.  The Secrets of Flight by Maggie Leffler is equal parts coming of age story, WWII historical romance, and mystery, and it is so well balanced and amazing, readers will be left spent at the end of the runway.
RATING: Cinquain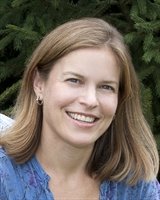 About the Author:
Maggie Leffler is an American novelist and a family medicine physician. A native of Columbia, Maryland, she graduated from the University of Delaware and volunteered with AmeriCorps before attending St. George's University School of Medicine. She practices medicine in Pittsburgh, Pennsylvania, where she lives with her husband and sons. The Secrets of Flight is her third novel.
Find out more about Maggie at her website, and connect with her on Facebook.