Source: TLC Book Tours
Paperback, 46 pgs
I am an Amazon Affiliate
Joy Street by Laura Foley is a slim collection of poems that sometimes use a blunt edge to carve out the truth, while others use needle-like precision to get at the harsh realities of life.  However, despite these sometimes sad topics, there is a light, a sense of hope in many of them that things can be better.  In "Near Miss," she evokes the stabbing pain of heartache that accompanies the loss of family or a spouse in a way that equates it to death even as it passes her by.  There is a sense that the narrator would rather she be the one to die than her loved one, but at the same time is relieved that she is not dying.
Drift (pg. 26)
I eye-roll Aunt Lizzie, who can't see me over the phone, tell her I'm
dating a woman now, but at ninety she's adrift in uncharted seas, till I
say we may marry—and she crests the wave, her kind old voice
soothing: Oh, but Laura, you're still attractive to men, grasping the rudder
with practices hands.
In "Hindsight," she looks at the photo of her emaciated father after his internment by the Japanese as a POW after WWII and identifies how different he looked, but her partner is quick to point to their similarities — the eyes of a survivor.  The narrator's relationship with her father is clearly not as close as she would prefer, but there are ways to connect with a distant father and seek out the things that connect them.
Many of these poems are about making connections, either to family or lovers and potential lovers.  "Voyeur" is a testament to desire and the human need for connection with those we love, even from a distance.  But beyond these intimate connections, there is a connection that we feel with the earth and growth.  In addition to these connections, we all want to be remembered, like in "On Sense."
Joy Street by Laura Foley is about the joy we can find in interaction and by living. Despite the challenges we face — a relative who doesn't understand our lifestyles and choices — we can find enjoyment and amusement in these interactions and rise above the darkness of hatred and oppression.  We need to search for the light in any darkness, because that is what makes living worth it in the end.
***Enter to win a copy of Laura Foley's collection by leaving a comment by Jan. 14, 2015, at 11:59 PM EST. Must be U.S./Canadian resident***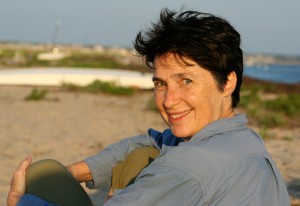 About the Poet:
Laura Foley is the author of four poetry collections. The Glass Tree won the Foreword Book of the Year Award, Silver, and was a Finalist for the New Hampshire Writer's Project, Outstanding Book of Poetry. Her poems have appeared in journals and magazines including Valparaiso Poetry Review, Inquiring Mind, Pulse Magazine, Poetry Nook, Lavender Review, and in the anthology, In the Arms of Words: Poems for Disaster Relief. She won Harpur Palate's Milton Kessler Memorial Poetry Award and the Grand Prize for theAtlanta Review's International Poetry Contest. She lives on a woody hill in South Pomfret, Vermont with her partner Clara Gimenez and their three dogs. Please visit her website for book information or more poems.