Source: TLC Book Tours
Hardcover, 328 pgs.
I am an Amazon Affiliate
Lost Kin by Steve Anderson, the third book in the Kaspar Brothers series, is the search for a lost brother in post-WWII Munich, Germany.  The war has created a chaos in which the residents of the area struggle to rebuild their lives, while at the same time, people displaced by the war try to find their own way.  The Soviets are seeking traitors and those who once lived in their territories, and there are others who are running from them.  But it seems that no one wants the Jews.  Captain Harry Kaspar, a German-born man, comes upon a dead body and a Cossack refugee, Irina.  He wants to know how she knows his brother, but before he can get answers, she vanishes in the night.
Harry's an odd fellow, a man who is eager to return to America as his stint in Munich winds down but also someone who has looked for his brother, Max, for a long time.  When Irina surfaces and knows his brother's name, it raises those old feelings of brotherhood.  He embarks on a dangerous journey to find out what happened to Max.  But will his own darker past catch up with him before he can return home to America?
Anderson weaves in the historical elements of the occupied mansions, the found clothes, the downtrodden lives of these people, and the black market and bartering system that have now taken hold.  But his character, Harry, was a little flat.  His emotions were in check quite a lot, unless he was assessing the latest woman in front of him — whether it was his live-in Maddie, the refugee Irina, or the camp leader Sabine.
Overall, readers may feel as though they are missing something, perhaps reading the previous two novels could fill in some gaps.  It's almost as if the reader is thrown into the action here with a modicum of explanation.  Lost Kin by Steve Anderson is part mystery, part historical fiction, and part spy novel.  The historical fiction portions demonstrating the effects of war on not only soldiers, but also society were harrowing.
RATING: Tercet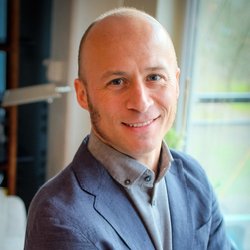 About the Author:
Steve Anderson was a Fulbright fellow in Munich, Germany. His research on the early US occupation in 1945 inspired him to write several novels centered on World War II and its aftermath. Anderson has a master's in history and has worked in advertising, public relations, and journalism. He lives with his wife, René, in Portland, Oregon. Visit his website, on Facebook, and on Twitter.