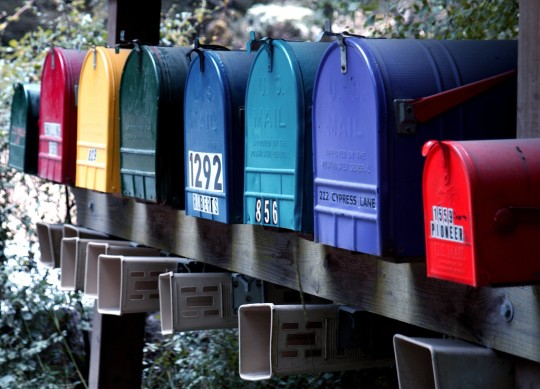 Mailbox Monday has become a tradition in the blogging world, and many of us thank Marcia of The Printed Page for creating it.
It now has its own blog where book bloggers can link up their own mailbox posts and share which books they bought or which they received for review from publishers, authors, and more.
Emma, Martha, and I also will share our picks from everyone's links in the new feature Books that Caught Our Eye. We hope you'll join us.
Here's what I received for Gaithersburg Book Festival consideration:
Why We Never Visited the Elms by Marianne Szlyk
Why We Never Tried to Find the Elms

gathers strands of poetry to weave them into a tapestry of memory and imagination. This whole includes a glimpse beneath a mirror that once appeared to show everything so clearly. Two examples are the title poem and "The Roadrunner," poems that grew out of conversations with others about what they themselves remembered about the incidents depicted. The tapestry includes cultural and historical context as in "Woolworth's, 1970," a meditation on the absence of people of color in my memories of the small New England city where my mother grew up, and "Frida without Arms," an imagining of Frida and Diego as young squatters in 21st-century Detroit. This tapestry contains not only my parents' beach house in Maine or the Willow jazz club in Massachusetts but also Food Lion and Tippecanoe Mall as these too have been part of my quotidian. But the tapestry goes beyond myself and my perspective (and corrections to it) as later strands like poems inspired by Hung-Ju Kan reveal. Some say that the chapbook is best at presenting variations on a theme. However, even a chapbook is a whole world peopled by more than the poet.
Realities and Alternatives by Ethan Goffman
Ethan Goffman is an acrobat of the imagination who pirouettes in this collection of stories from alternative realities to quasi-realistic alterities, leaving his readers alternatively baffled, amused, and edified. Possessed of an equally wry and bizarre touch, Goffman is a twenty-first century Maupassant, a dreamweaver who ranges widely across science fiction, utopia, and fantasia. This volume represents a welcome invitation to accompany our author/narrator on these alternatively whimsical and somber journeys without and within. Each of them is an eccentric little adventure whose meanderings leave us startled to discover anew how sheer quirkiness yields hard-won nuggets of sharp and sometimes bitter insight.

–John Rodden, author of The Politics of Literary Reputation and more than 20 other scholarly works and editor of The Cambridge Companion to George Orwell

Ethan Goffman is a gifted and multi-faceted author. For years, my own understanding of the human condition has been enriched by his scholarship on the literature of Black and Jewish relations, his thoughtful journalism on the environment, transportation, and urban planning, and his witty and insightful poetry. Here, Ethan showcases his skills as a story-teller. What I admire most, as in all of his writings, is Ethan's empathetic imagination. Writing in a plain style, with clarity and precision, Ethan represents ordinary people who encounter all too human struggles for dignity, but who also aspire to transcendence through music, community, and spiritual revery. Ethan uses language as a window to let us see the world outside ourselves as it is, but also uses language as a lamp to illuminate the unseen and unseeable parts of the world. Goffman's stories get to the heart and soul of quotidian hardship.

— Daniel Morris, Professor of English, Purdue University and editor of the Cambridge Companion to Twentieth Century American Poetry and Politics
What did you receive?