Source: TLC Book Tours
Hardcover, 336 pgs
I am an Amazon Affiliate
The Cherry Harvest by Lucy Sanna is a World War II novel set in the Wisconsin around the time of the cherry harvest, and for a novel focused on the home front of the war, the tension is still great.  As rationing affects the nation's farmers, but not those like the lighthouse keeper, readers will get a sense of the tensions that wars bring for those at home and not just fighting the battles.  The narrative is split between Charlotte Christiansen and her daughter, Kate, and as two strong women, they struggle with what is right for their family, right for the town, and right for themselves.  Thomas Christiansen is a bookish man who gave up his university studies to take over the family farm, and he married a good woman from a local dairy farm who could make some award winning pies.  When the war begins to take the immigrant labor from the farm, his wife hatches a plan to save their upcoming harvest because without a plan of action, their son Ben may not have a home to come to when the war is over.
"Worry? In addition to all they had to do before, lighthouse keepers are now charged with protecting our shores from the enemy.  The shores of the Saint Lawrence Seaway and the Great Lakes." She leaned in.  "And you think a few prison guards can protect us from that madman Hitler, who's bent on controlling the world?" (pg. 30 ARC)
Kate is struggling, too.  Her dreams of attending university seem to be thwarted at nearly every turn as her mother takes the one possession she has to sell to pay for college and uses it to feed them, and as she learns she needs additional help with math in order to pass the entrance exam.  But beyond these trials, she realizes that life is moving forward without her in many ways, with her friend Josie already planning a wedding to Ben, even while he continues to fight overseas and his likelihood of coming home is slim.  As she finds out what kind of woman she wishes to become, Kate uncovers her own compass and learns that she needs to rely on her own courage to achieve her goals.  This self-reliance is something she learns from her mother, even as Kate comes to the realization that her mother is not perfect.
Sanna has created a dynamic cast of characters for this home front novel, but where it lacks strength is in the twists of plot.  Some situations come from left field or are simply there to check a box in what a WWII novel should have — including two star-crossed love affairs and battles between Americans and Nazis, though not on the battlefield.  Additionally, Charlotte's character is a bit all over the place — one minute she wants the Nazis to be used as labor and in the next minute she wants them no where near her family.  Her hypocrisy is part of her undoing, but readers also may find that some things are left to unresolved to be satisfactory.  There are certain situations that did not jibe well with the character development, which made the fallout of those situations difficult to believe.
Where The Cherry Harvest by Lucy Sanna shined was in its depiction of troubled economic times because of the war, the tensions between those in the same town over those troubles, and the impact of war on soldiers and the uncertainty among family how to act or react to those soldiers coming home.  Had the novel a more refined focus, Sanna would have hit one out of the park with this one.  Due to the plot issues and other issues, this was a mixed read for me in the end.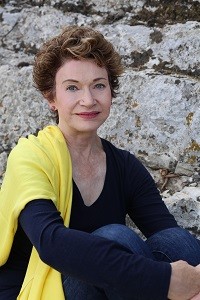 About the Author:
Lucy Sanna has published poetry, short stories, and nonfiction books, which have been translated into a number of languages. Born and raised in Wisconsin, Sanna now divides her time between Madison, Wisconsin, and San Francisco. The Cherry Harvest is her first novel.
Find out more about Lucy at her website and connect with her on Facebook. (Photo Credit: Hope Maxwell Snyder)