Source: Purchased
Hardcover, 64 pgs.
I am an Amazon Affiliate
Shimmer and Shine: Kitchen Magic is a cookbook for younger kids to start learning how to cook simple meals with the help of an adult. The recipes come with a little bit of story from Shimmer and Shine and their friends, as well as an ingredient list and step-by-step instructions. These recipes are easy enough to read that early readers can follow along themselves. Some elements will require help, including pre-heating the oven and taking the items in and out of the oven, etc. I will caution that there are some odd recipes in here for Pizza and ice pops, but they do make for healthy alternatives.
My daughter loves helping in the kitchen with recipes and the Blue Apron boxes (which I have 5 free boxes to give out so if you want one, let me know — you can't have been a previous customer or previously received a box before).

For her first recipe, she selected Sparkle Cakes from the book, though we did not have the ingredients to make the frosting. We did have some other store-bought frosting, which we used on the cupcakes and improvised with the fruit topping since we also didn't have raspberries. The recipe for the chocolate cupcakes was easy to follow, though when we added the hot water at the end after everything was mixed, it took a bit to get the right consistency for the mix before putting it into the cupcake pans. Since I've baked before, I knew the consistency wasn't right when we poured it in, so I had to help her mix it more thoroughly. For this recipe, I would have added the water earlier in the recipe.  Otherwise, the cupcakes turned out nice and fluffy and moist.
Our second recipe, Cheesy Noodle Flowers, was messy and fun to make, though we had no-bake lasagna noodles, which made it a little harder to roll our flowers up. Eventually we got them rolled up and ready for the oven, even though some noodles cracked and broke.  Despite the messy look of this one, I can tell you it was a big hit in the house and was nearly eaten in one evening with very few leftovers. My daughter was extremely proud of how well it tasted and how much everyone ate.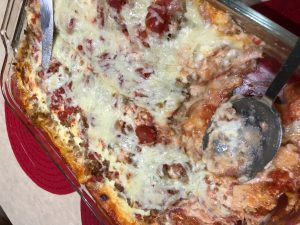 Shimmer and Shine: Kitchen Magic would make a perfect gift for kids who want to cook with their parents. It makes cooking more of a family activity and helps kids see how things are measured, how long they take to cook, and how much prep time is needed for some recipes. In today's instant gratification world, kids can learn that taking our time and putting in additional work can lead to some great results.
RATING: Quatrain