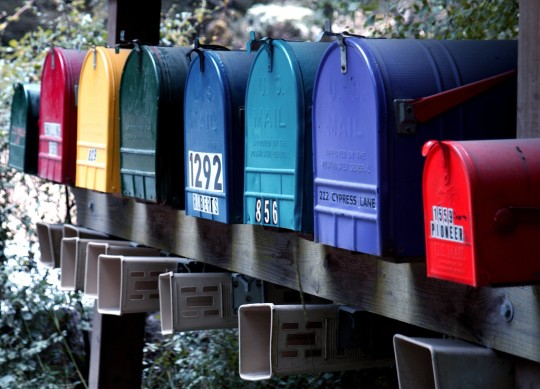 Mailbox Monday has become a tradition in the blogging world, and many of us thank Marcia of The Printed Page for creating it.
It now has it's own blog where book bloggers can link up their own mailbox posts and share which books they bought or which they received for review from publishers, authors, and more.
Leslie, Martha, and I also will share our picks from everyone's links in the new feature Books that Caught Our Eye. We hope you'll join us.
Here's what I received:
Sunset Beach by Mary Kay Andrews from Tandem Literary for review.
Drue Campbell's life is adrift. Out of a job and down on her luck, life doesn't seem to be getting any better when her estranged father, Brice Campbell, a flamboyant personal injury attorney, shows up at her mother's funeral after a twenty-year absence. Worse, he's remarried – to Drue's eighth grade frenemy, Wendy, now his office manager. And they're offering her a job.

It seems like the job from hell, but the offer is sweetened by the news of her inheritance – her grandparents' beach bungalow in the sleepy town of Sunset Beach, a charming but storm-damaged eyesore now surrounded by waterfront McMansions.

With no other prospects, Drue begrudgingly joins the firm, spending her days screening out the grifters whose phone calls flood the law office. Working with Wendy is no picnic either. But when a suspicious death at an exclusive beach resort nearby exposes possible corruption at her father's firm, she goes from unwilling cubicle rat to unwitting investigator, and is drawn into a case that may – or may not – involve her father. With an office romance building, a decades-old missing persons case re-opened, and a cottage in rehab, one thing is for sure at Sunset Beach: there's a storm on the horizon.
Westworld Psychology by Travis Langley, Wind Goodfriend, Tim Cain, a surprise in the mailbox.
In Michael Crichton's 1973 motion picture Westworld, people playing out fantasies find their lives in danger when robots built to entertain start to kill, creating an opportunity for viewers to examine an array of psychological phenomena. Today, the HBO television series reframes those questions and fears of technology gone awry in terms of twenty-first century concerns about rapidly evolving AI. The essays in this collection, edited by Travis Langley and Wind Goodfriend, explore those issues, offering fans an in-depth psychological exploration of the Westworld universe, including:

When do synthetic people become sentient?
When is artificial intelligence simply intelligence?
What is the appeal of live-action role playing?
Why does the Wild West intrigue us?
How far will people go in pursuit of violent delights?
Make a Nerdy Living: How to Turn Your Passions into Profit, with Advice from Nerds Around the Globe by Alex Langley, another surprise in the mailbox.
"How can I make a living at this?" Many nerds ask themselves this question—and now they have an answer. Filled with humor and real-life advice, this entertaining guide explores how you can actually get paid for nerdy passions that range from live-streaming video and prop making to writing and cosplay. Along with general tips for newcomers and in-depth advice for the more experienced, interviews with stars reveal how geeks, gamers, and fans successfully turned their dreams into reality.
Geek Girls Don't Cry by Andrea Towers, Marisha Ray, another surprise in my mailbox.
What does it mean for a woman to be strong—especially in a world where our conception of a "hero" is still so heavily influenced by male characters like Batman, Spider-Man, and Superman? Geek Girls Don't Cry explores the subject, offering advice tailor-made for fans of any age. Andrea Towers, who works in public relations at Marvel Entertainment and has written about superheroines for outlets such as Entertainment Weekly, outlines some of the primary traits heroic women can call upon, like resilience, self-acceptance, and bravery, pulling in stories from real-life women as well as figures from the pop-culture pantheon. She also interviews the creators of our favorite fictional heroines, who discuss how they drew from their own experiences to develop these protagonists and how, conversely, their own creations continue to inspire them.
100 Parks 5,000 Ideas by Joe Yogerst
In the sequel to the best-selling 50 States, 5,000 ideas, National Geographic turns to the United States' and Canada's most pristine–and adventure-filled–national, state, and city parks with 5,000 ideas for the ultimate vacation. Showcasing the best experiences, both obvious and unexpected, each entry in this robust guide provides an overview of the park, detailed travel advice, fascinating facts, insider knowledge about wildlife, and expert tips for hiking, biking, camping, and exploring. From the geysers of Yellowstone National Park to the Everglades' Nine Mile Pond Canoe Trail and the stunning peaks of Banff and Jasper in Alberta, each page will fuel your wanderlust. Plus, explore the natural beauty tucked away in cities like New York's Central Park and Boston Commons, and find bonus parks with day-trip suggestions to nearby neighbors. Top 10 lists throughout highlight best-of destinations for river trips, monuments, panoramic views, beaches, and more. This comprehensive book provides all the inspiration and information you need to plan your next park visit–and make it a memorable one.
What did you receive?