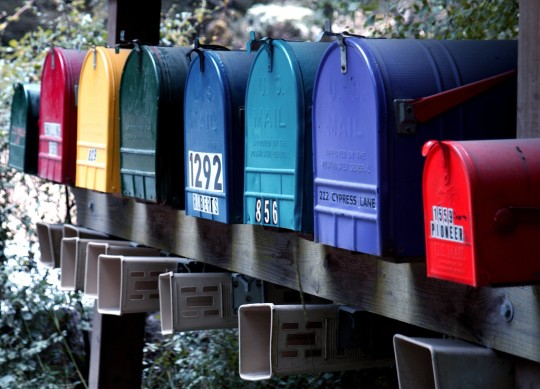 Mailbox Monday has become a tradition in the blogging world, and many of us thank Marcia of The Printed Page for creating it.
It now has it's own blog where book bloggers can link up their own mailbox posts and share which books they bought or which they received for review from publishers, authors, and more.
Leslie, Martha, and I also will share our picks from everyone's links in the new feature Books that Caught Our Eye. We hope you'll join us.
Here's what I received:
Seeking Mr. Dependable: The Jane Austen Pact by Cami Checketts, a freebie.
A broken-hearted Romeo. A wrongly-accused woman. Can he keep her safe if she puts her life in his hands?

Brooke Isaacson's ex-fiancé pulls a gun on her and she has no choice but to run. When she runs straight to Wyoming and into the arms of Ryker Redland, she's not sure if she's found her Mr. Dependable or found the biggest heartbreak of her life.

A deserted cabin and a territorial grizzly tracking them will either bring them together or be their death sentence.
Love Like This by Sophie Love, a freebie.
Keira Swanson, 28, lands her dream job at Viatorum, a slick magazine in New York City, as an aspiring travel writer. But their culture is brutal, her boss is a monster, and she doesn't know if she can last for long.

That changes when Keira, by a fluke, is handed a coveted assignment and given her big chance: to travel to Ireland for 30 days, witness the legendary Lisdoonvarna festival of love, and to debunk the myth that true love exists. Keira, cynical herself and in a rocky place with her long-term boyfriend, is all too happy to oblige.

But when Keira falls in love with Ireland and meets her Irish tour guide, who just may be the man of her dreams, she is no longer sure of anything.

A whirlwind romantic comedy that is as profound as it is funny, LOVE LIKE THIS is book #1 in the debut of a dazzling new romance series that will make you laugh, cry, and will keep you turning pages late into the night—and will make you fall in love with romance all over again.
Malcolm and Me by Ishmael Reed from Audible.
In 1960, Ishmael Reed, then an aspiring young writer, interviewed Malcolm X for a local radio station in Buffalo, New York. The encounter cost Reed his job and changed his life. In Malcolm and Me, Reed, acclaimed author of such classic novels as Mumbo Jumbo and winner of a MacArthur "Genius" Fellowship, reveals a side of Malcolm X the public has never seen before, while exploring how the civil rights firebrand influenced his own views on working, living, speaking out, and left a mark on generations of artists and activists.

Malcolm X was one of the most influential human rights activists in history and his views on race, religion, and fighting back changed America and the world. Reed gives us a clear-eyed view of what the man was really like—beyond the headlines and the myth-making. Malcolm and Me is a personal look at the development of an artist and a testament to how chance encounters we have in our youth can transform who we are and the world we live in.
Alone with the Stars by David R. Gillham, Hillary Huber, and Emily Bauer from Audible.
In the summer of 1937, Amelia Earhart is the most famous woman in the world—a record-breaking pilot, a best-selling author, and a modern woman shattering the glass ceiling in the early days of aviation. And then she vanished.

But a series of intercepted radio signals just might save her in this historical fiction audiobook from the acclaimed, New York Times best-selling author of City of Women, David R. Gillham. Award-winning narrators Emily Bauer and Hillary Huber create an account that brings light to that specific time and place.

In Tampa, Florida, 15-year-old Lizzie Friedlander spends her afternoons glued to her father's radio, tapping into the enormity of a world she longs to travel. Lizzie can hardly believe her ears when she picks up a radio signal from a faraway source that sets her heart racing: "Amelia Earhart calling SOS!"

As Lizzie copies down the transmissions, it's clear that the famed Amelia Earhart is not lost at sea, as the newspapers are dreading, but alive and calling for help. In a race against time, Lizzie must convince the local Coast Guard that the radio transmissions were real and that Earhart's life hangs in the balance. But will anyone believe her?

Written for audio by David R. Gillham, Alone with the Stars is a breathtaking and illuminating fictional tribute to a woman who risked her life in pursuit of new heights and the young girl who tried desperately to save her. Inspired by actual events, Alone with the Stars reveals, in riveting detail, the final moments in the life of a great heroine, whose courage changed the world forever.
Break Shot: My First 21 Years: An Audio Memoir by James Taylor from Audible.
"I'm James Taylor, and I'm a professional autobiographer." So begins the tender audio memoir Break Shot: My First 21 Years. Through decades of songs by the celebrated folk legend who brought us "Fire and Rain" and "Carolina in My Mind", James Taylor has doled out details of his life in the poetry of his work. Taylor says his early life is "the source of many of my songs", and Break Shot is a tour of his first 21 years in rich, new detail. Combining storytelling, music and performance, this one-of-a-kind listening experience also features a crop of musical gems, including an unreleased recording of the beloved hymn "Jerusalem" and selections from his newest release, American Standard, as well as new original scoring by Taylor specially recorded for Break Shot and more.

Recorded in his home studio, TheBarn in western Massachusetts, Break Shot tells the deeply personal story of Taylor's youth, which is entwined with the story of his family. What started as an idyllic tight unit soon became a family sent to different emotional corners – like a break shot in the game of pool, he says, "when you slam the cue ball into the 15 other balls and they all go flying off".
Present over Perfect: Leaving Behind Frantic for a Simpler, More Soulful Way of Living by Shauna Niequist from Audible.
In this book, New York Times best-selling author Shauna Niequist invites you to consider the landscape of your own life, and what it might look like to leave behind the pressure to be perfect and begin the life-changing practice of simply being present, in the middle of the mess and the ordinariness of life.

As she puts it: "A few years ago, I found myself exhausted and isolated, my soul and body sick. I was tired of being tired, burned out on busy. And, it seemed almost everyone I talked with was in the same boat: longing for connection, meaning, depth, but settling for busy. I am a wife, mother, daughter, sister, friend, neighbor, writer, and I know all too well that settling feeling. But over the course of the last few years, I've learned a way to live, marked by grace, love, rest, and play. And it's changing everything. Present Over Perfect is an invitation to this journey that changed my life. I'll walk this path with you, a path away from frantic pushing and proving, and toward your essential self, the one you were created to be before you began proving and earning for your worth."

In Shauna's warm and vulnerable style, this collection of essays focuses on the most important transformation in her life, and maybe yours, too: leaving behind busyness and frantic living and rediscovering the person you were made to be. Present Over Perfect is a hand reaching out, pulling you free from the constant pressure to perform faster, push harder, and produce more, all while maintaining an exhausting image of perfection.

Shauna offers an honest account of what led her to begin this journey, and a compelling vision for an entirely new way to live: soaked in grace, rest, silence, simplicity, prayer, and connection with the people that matter most to us.
What did you receive?