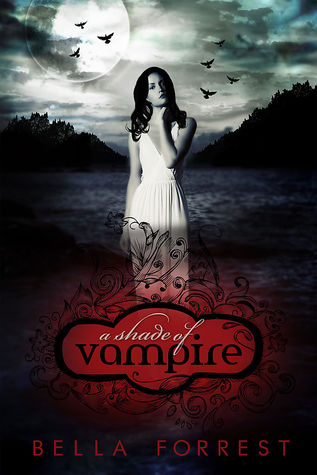 Source: Purchased
ebook, 296 pgs.
I am an Amazon Affiliate
A Shade of Vampire by Bella Forrest is a short novella in which Sophia Claremont is kidnapped by vampires and brought to The Shade to become a slave. She's given to Prince Derek Novak as a gift from his siblings, though his brother Lucas has already claimed her in his mind. Sophia has had a rough time growing up and was finally settled with a neighboring family and her best friend Ben, whom she's had a crush on for some time. But she also has debilitating anxiety in crowded spaces, almost like she's on sensory overload.  However, when she finally awakes on this vampire island, very little is seen of her disorders, until she's attacked one evening.
"She was beautiful because, at a time when she had every right to be terrified, she managed to show comfort to another person who needed it."
Derek, who has awakened from a 400 year long sleep, cannot stay away from Sophia and he keeps her like a caged bird in his treetop penthouse.  Her humanity has captured his attention, and even though her blood calls to him, he makes every effort to battle his desires.  As she teaches him about technology and he begins to show her respect, their bond intensifies.  Sophia is a naive character who is led by her emotions easily, and in many ways, she falls for the guy who acts like her protector — whether its teenage Ben at home or Derek the powerful vampire on The Shade.
"I know an excuse when I hear one.  Don't you dare deceive yourself into believing that you're the victim."
A mantra that Ben has used many times to snap her out of her anxiety trances, Sophia finds it can be useful in more ways than one, but even as she tames Derek's inner beast, she fails to see how she is a victim and needs to take action.  One failed escape attempt is all it takes for her to become complacent, which does little for the tension in the book.  While the characters, setting, and world are intriguing, there is little back story, which can leaving the feud between Derek and Lucas seem empty and can leave the lore of this vampire series feel incomplete.
A Shade of Vampire by Bella Forrest provides an engaging way to spend the afternoon, but unless there is more back story in the subsequent novels less telling, rather than showing, it would be hard to sustain interested beyond two more books.  There are 18 books in this series.  It boils down to wanting more from the setting and lore beyond the main characters who are dynamic and troubled.
About the Author:
Bella Forrest is the million-bestselling author of the "A Shade of Vampire" series.