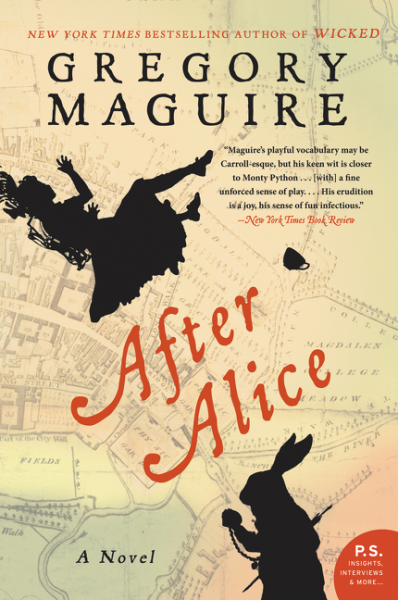 Source: TLC Book Tours
Paperback, 304 pgs.
I am an Amazon Affiliate
After Alice by Gregory Maguire is a bit like being at the tea party with the Mad Hatter.  Everything is topsy-turvy in the real world and in Wonderland, but the only difference is that readers are familiar with the characters in Wonderland.  Ada, a girl who has a steel corset to keep her erect, finds herself falling down the rabbit hole after Alice.  While she spends a lot of time looking for Alice and meeting the characters her friend has already met and interacted with, she makes little impact on the Wonderland world and it seems to have little impact on her until nearly 200 pages into the story.
Maguire makes a point of highlighting Ada's disability, but when she seems to freely wander about Wonderland without the aid of her corset, Ada, herself, does not appear to reflect on that much.  Readers could deduce that 10-year-old Ada is free of the constraints of society, the vicarage, and proper behavior once she sheds this corset, but there is little time spent on that.
"'Perhaps I could join your troupe.  I should like to go to the garden party, too,' said Ada. 'I am hunting for a friend, you see.  I'm afraid that she may be lost.'

'She's no more lost than Paradise,' said the Tin Bear.  Everyone looked at him. 'Do you think even Paradise Lost could find itself in this fog? Really.'" (pg. 126)
There are a great many references to Noah's Ark, Paradise Lost, and the like, and while readers can presume they are meant to be amusing in the land of wonder, they tend to fall a bit flat as there's no real context or build-up to their usage.  For much of the novel, readers wonder why they are transitioning from the present to Wonderland — following Ada who is following Alice and following the governess and Alice's sister, Lydia.
Although framing stories are often irksome, in this case, a frame might have improved the narrative here.  Allowing Ada to be the beginning and the end, while we examined what life was like without Alice in England.  However, even that would have made for a mostly uneventful story.  After Alice by Gregory Maguire is really just a case of a story chasing its own tale to no avail.
RATING: Couplet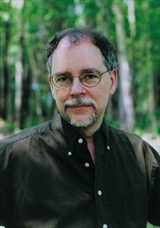 About the Author:
Gregory Maguire is the New York Times bestselling author of Confessions of an Ugly Stepsister; Lost; Mirror Mirror; and the Wicked Years, a series that includesWicked, Son of a Witch, A Lion Among Men, and Out of Oz. Now a beloved classic, Wicked is the basis for a blockbuster Tony Award–winning Broadway musical. Maguire has lectured on art, literature, and culture both at home and abroad. He lives with his family near Boston, Massachusetts.  Find out more about Maguire at his website and follow him on Facebook.