Mailbox Monday, created by Marcia at To Be Continued, formerly The Printed Page, has a permanent home at its own blog.
To check out what everyone has received over the last week, visit the blog and check out the links.  Leave yours too.
Also, each week, Leslie, Vicki, and I will share the Books that Caught Our Eye from everyone's weekly links.
Here's what I received:
Bukowski in a Sundress by Kim Addonizio for review from Penguin for review.
Kim Addonizio is used to being exposed. As a writer of provocative poems and stories, she has encountered success along with snark: one critic dismissed her as "Charles Bukowski in a sundress." ("Why not Walt Whitman in a sparkly tutu?" she muses.) Now, in this utterly original memoir in essays, she opens up to chronicle the joys and indignities in the life of a writer wandering through middle age.

Addonizio vividly captures moments of inspiration at the writing desk (or bed) and adventures on the road—from a champagne-and-vodka-fueled one-night stand at a writing conference to sparsely attended readings at remote Midwestern colleges. Her crackling, unfiltered wit brings colorful life to pieces like "What Writers Do All Day," "How to Fall for a Younger Man," and "Necrophilia" (that is, sexual attraction to men who are dead inside). And she turns a tender yet still comic eye to her family: her father, who sparked her love of poetry; her mother, a former tennis champion who struggled through Parkinson's at the end of her life; and her daughter, who at a young age chanced upon some erotica she had written for Penthouse.

At once intimate and outrageous, Addonizio's memoir radiates all the wit and heartbreak and ever-sexy grittiness that her fans have come to love—and that new readers will not soon forget.
After Alice by Gregory Maguire for review with TLC Book Tours.
When Alice toppled down the rabbit-hole 150 years ago, she found a Wonderland as rife with inconsistent rules and abrasive egos as the world she left behind. But what of that world? How did 1860s Oxford react to Alice's disappearance?

In this brilliant new work of fiction, Gregory Maguire turns his dazzling imagination to the question of underworlds, undergrounds, underpinnings — and understandings old and new, offering an inventive spin on Carroll's enduring tale. Ada, a friend of Alice's mentioned briefly in Alice's Adventures in Wonderland, is off to visit her friend, but arrives a moment too late — and tumbles down the rabbit hole herself.

Ada brings to Wonderland her own imperfect apprehension of cause and effect as she embarks on an odyssey to find Alice and see her safely home from this surreal world below the world. If Euridyce can ever be returned to the arms of Orpheus, or Lazarus can be raised from the tomb, perhaps Alice can be returned to life. Either way, everything that happens next is After Alice.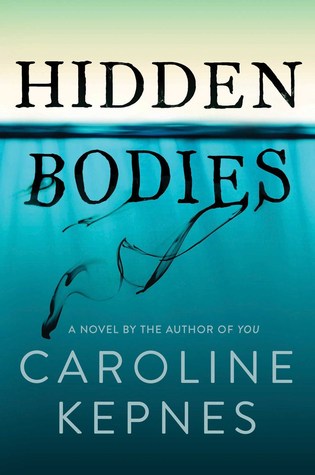 Hidden Bodies by Caroline Kepnes from a friend in Book Club!
Joe Goldberg is no stranger to hiding bodies. In the past ten years, this thirty-something has buried four of them, collateral damage in his quest for love. Now he's heading west to Los Angeles, the city of second chances, determined to put his past behind him.

In Hollywood, Joe blends in effortlessly with the other young upstarts. He eats guac, works in a bookstore, and flirts with a journalist neighbor. But while others seem fixated on their own reflections, Joe can't stop looking over his shoulder. The problem with hidden bodies is that they don't always stay that way. They re-emerge, like dark thoughts, multiplying and threatening to destroy what Joe wants most: true love. And when he finds it in a darkened room in Soho House, he's more desperate than ever to keep his secrets buried. He doesn't want to hurt his new girlfriend—he wants to be with her forever. But if she ever finds out what he's done, he may not have a choice…
The Totally Gnarly, Way Bogus Murder of Muffy McGregor by Teddy Durgin, my friend and colleague, from another friend.
High school is out for the summer of 1986. Unfortunately, mega-popular cheerleader Muffy McGregor won't live to see the fall. While most people in the small town of Laurel, Maryland, see tragedy in the cheerleader's gnarly demise, her unpopular classmate, Sam Eckert, sees a most excellent opportunity. In between shifts at his new job at the mall, Sam works with a local P.I. to try and solve Muffy's murder before the police do so he can finally get in good with the cool crowd. But the suspects are many. Was it Brent, Muffy's way emotional jock boyfriend? Was it Chet, the super slick record-store manager she was carrying on a not-so-secret affair with? It couldn't be Sam's dream girl, Barbara, could it? Or was it someone far more dangerous? Who killed Muffy McGregor? What was the motive? And did it have anything to do with Bobby Ewing in that shower?
What did you receive?