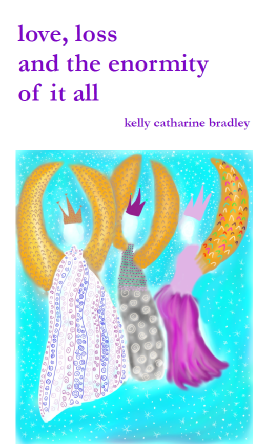 Source: GBF
Paperback, 68 pgs.
I am an Amazon Affiliate
love, loss, and the enormity of it all by Kelly Catharine Bradley is like a letter to her children and the family who have passed on too soon. These poems weave through the grief and out of it, plunge into it, and emerge from it, but at the root of that grief is love. The poems are like stories told through a lens of motherhood.
From "untitled mom" (pg. 26)

I almost facetimed you this morning
I'd cut my hair to donate it...

but then I remembered
and sobbed
We can experience that grief because we have felt it. The time you forget your friend is no longer here to reach out to, even if you haven't spoken in many years or the mother you feel with you even though she has passed away. There are other days in grief that we feel ourselves falling into darkness, a darkness we know will be hard to get out of once we're down there. And mothers also know that they cannot be in that dark place too long when they have children to care for. Bradley takes us on this journey acknowledging the struggle and the sorrow, but also the love and the unexpected joys.
Sunfall (pg. 18)

sunfall
snowfall
moonfall

don't fall
love, loss, and the enormity of it all by Kelly Catharine Bradley is a very intimate collection of poems, mirroring a memoir. For me, the collection was more like reading an diary of moments, but the poems seemed rough or unfinished in some places. In others, I felt the poems resembled those that are popular on Instagram these days. While these poems were less polished, they do provide a look at the roller-coaster of grief.
RATING: Tercet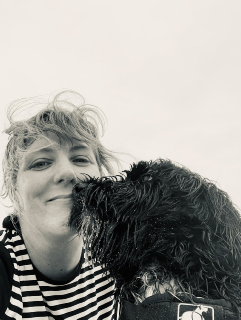 About the Poet:
Kelly Bradley is a tech writer and Sr. Product Manager in the Washington DC area where she writes stories and creates apps based on data. She wrote her first poem in Second grade, a requiem to her cat, Petey. Her first collection, "love, loss and the enormity of it all" addresses themes of grief, joy, love, heartbreak and perseverance. When not working or writing poetry, Kelly writes songs and rap lyrics, dances to electronic dance music, and hikes year-round with her dog, Winter.