Source: TLC Book Tours
Paperback, 358 pgs.
I am an Amazon Affiliate
Breaking and Holding by Judy Fogarty is set during what some call the golden age of tennis during the late 1970s when John McEnroe was an up-and-coming star and Jimmy Connors was at the top of his game. Patricia Curren is a beautiful woman who looks as though she's stepped off of a magazine cover and in a way, she did after her husband discovered her and used her in a rebranding campaign when she was younger. A man bent on building his business and maintaining the perfect facade through intimidation, Jack Curren will stop at nothing to get what he wants while expecting loyalty and acquiescence from those closest to him. It's clear that his relationship with his wife is far from blissful, and something is about to break.
"This isn't my story. It's Patricia and Terry's. But in the summer of 1978, their lives were wound around mine like strands of twine around a spool. Twine. Rope. Barbed wire by August." (pg. 1)
The Curren's take a trip to Kiawah, S.C., to their beach house, and when her husband returns to New York for work, she stays behind. She's looking to change to become stronger, to break out of her melancholy and aloofness, and to be more like Jack's assistant Lynn.  Here Patricia transforms into Tricia with the help of Terry, a summer camp teacher who wants to be a professional tennis player on the circuit.  Both are broken and both find that they can repair themselves through the uncomplicated love they have for one another, but the secrets they hold threaten to break apart everything.
Fogarty has created a set of deeply flawed, broken characters who must make peace with their own pasts in order to move forward.  The tennis matches mirror the volleying between Tricia and Jack, Tricia and Lynn, Jack and Lynn, and the volleys between Tricia and Terry, Terry and Baze (his friend), and Terry and Nona (a woman interested in sponsoring his pro career). Told from Lynn's point of view, readers are pulled into the mystery of these relationships, and the tangled webs they've all created until they nearly strangle one another.  Each has to decide when the tipping point is and when to take a chance and go to the net for match point.
RATING: Cinquain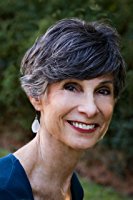 About the Author:
Judy Fogarty lives, writes, reads, and runs on the historic Isle of Hope, in her native Savannah, Georgia. She holds a Master of Music degree from the University of Illinois and has served as Director of Marketing for private golf and tennis communities in the Savannah/Hilton Head area, including The Landings on Skidaway Island, Berkeley Hall, and Callawassie Island. She is a devoted (even rowdy) tennis fan as anyone who has ever had the pleasure (or displeasure) of watching a match with her will attest. Breaking and Holding is her debut novel. She is happily at work on her second, and as always, enjoys the invaluable support of her husband, Mike, and children, Colin and Sara Jane. Visit her Website, Facebook, or Twitter.
To Enter for 1 copy (US/Canada addresses only; age 18+): Leave a comment about who your favorite tennis player is and an email. Enter by March 22, 2017, at 11:59 PM EST.
Save