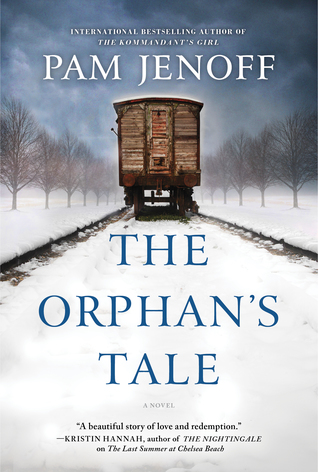 Source: TLC Book Tours
Paperback, 368 pgs.
I am an Amazon Affiliate
The Orphan's Tale by Pam Jenoff, out in stores today, is a deeply moving tale of a home found in the fanfare and hard work of a traveling circus, a dying profession under the Reich.  The Nazi regime has clamped down on everything, taken children from mothers, and shipped infants off in rail cars to die with little more than knitted booties on their feet.  The circus is a refuge for those the Reich seeks to harm, but it also becomes a family based on unbreakable trust, forgiveness, and love.
"I scan the train, trying to pinpoint the buzzing sound.  It comes from the last boxcar, adjacent to the caboose–not from the engine.  No, the noise comes from something inside the train.  Something alive."  (pg. 17 ARC)
In this dual narrative, readers are drawn into the innocence of Noa and her struggle to reach safety despite her impulsive decisions, while at the same time being drawn to Astrid's struggle to hide in plain sight of the Reich and not become too attached to those who could be taken at a moment's notice.  Jenoff has created a magical world in which her characters and readers feel as though anything is possible, that the horrors of the Reich cannot pierce the enchanting lives of these hard-working performers.
Jenoff is one of the best writers of WWII fiction, and her characters are real and dynamic — they struggle with the horrors of the Reich but also with their own decisions and in some case indecision.  She knows this time period well, her books are always well researched, and readers know that they will be in for an intense and emotional ride on the rails with this traveling circus.  The Orphan's Tale by Pam Jenoff is one of the best books I've read so far this year.  I could not put it down, even when I knew I had to.
RATING: Cinquain
Other Reviews:
About the Author:
Pam Jenoff is the author of several novels, including the international bestseller The Kommandant's Girl, which also earned her a Quill Award nomination. Pam lives with her husband and three children near Philadelphia where, in addition to writing, she teaches law school.  Connect with her on her Website, Facebook, and Twitter.