Source: Pam Jenoff
Paperback, 384 pgs
I am an Amazon Affiliate
The Last Summer at Chelsea Beach by Pam Jenoff is a sweeping tale set during World War II, as a sixteen year old Adelia Monteforte comes to America to live with her aunt and uncle in Philadelphia without her Jewish parents, who stayed behind in Trieste, Italy.  She feels like an outsider with the relatives she's never met before, and she realizes that her limited English and mostly secular upbringing is not what they expected.  While she speaks English, she still feels as though she's an outsider, until she becomes like a sister to the Connally brothers.  Despite their perceived differences in religion and upbringing, Adelia becomes Addie, molding herself in the cracks of the local family she meets at Chelsea Beach.
"Robbie turned to his mother.  'Can we keep her?'
'Robbie, she isn't a puppy. But I do hope you'll join us often,' she added.
'Because we really need more kids, ' Liam said wryly." (pg. 38)
Jenoff's World War II novels are always captivating, full of missed chances and second chances, moments of horror and tragedy, but also moments of hope and happiness. These snippets of time are those that her characters treasure, and they provide that kernel of hope that readers hold onto until they reach the end. Addie is a young displaced woman looking for a home, and she thinks that she's found it with the Connallys until tragedy strikes close to home and she's left in the breeze. She has to decide what to do for herself for the first time since coming to America, and while she chooses to go to Washington, D.C., with a half buried hope of finding her childhood crush, she also wants to do something more.
The Last Summer at Chelsea Beach by Pam Jenoff is an addicting read with its twists and turns and the realities of rationing and the closeness of war.  Jenoff is a master at characterization and romance in a way that is both fanciful, but realistic.  Her characters often have to struggle with more than the things that keep them apart, and for that, readers will be grateful.  Her books are not to be missed, and this summer read should be at the top of your lists.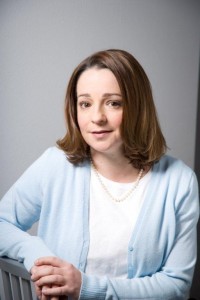 About the Author:
Pam Jenoff is the Quill-nominated internationally bestselling author of The Kommadant's Girl. She holds a bachelor's degree in international affairs from George Washington University and a master's degree in history from Cambridge, and she received her Juris Doctor from the University of Pennsylvania. Jenoff's novels are based on her experiences working at the Pentagon and also as a diplomat for the State Department handling Holocaust issues in Poland. She lives with her husband and three children near Philadelphia where, in addition to writing, she teaches law school.
U.S. residents, leave a comment below about your favorite beach activity by Aug. 26, 2015, at 11:59 PM EST.  Win a bag and book!