Source: TLC Book Tours and Diana Raab
Audio, 1hr+;
Paperback, 104 pages
I am an Amazon Affiliate
Lust by Diana Raab, read by Kate Udall, is uninhibited, sensuous, and consumed with physical and emotional pleasure.  The poems, as read by Udall, are impassioned and shocking at times, as Udall breathes life into each stanza and word, painting a titillating scene with each image and story.  The poems explore not only the primal lust of the physical body, but the desire we have to feel and be loved, even as we age.  There is an intimacy that the narrator hopes will open readers up to share their own most secretive selves and desires with their own partners.  There are selves inside that we rarely show to the world, and in the lovemaking that we have with our partners, we can abandon the outer shells to regain a connection with our true selves and that of our partners.
Imagine all of the nerve endings and hair follicles coming alive, that is what this collection is — electrified narrative poems.  Udall's voice is hypnotic, drawing listeners into the stories and letters Raab crafts with seductive language and imagery.  There are marriages kept alive with passion, there are adulterous affairs that are "burps" disrupting the fake smiles on our faces, and there are one-night encounters.
And even in these passionate moments, there is the acknowledgement that these encounters are temporary and fleeting, even among lovers joined in marriage and commitment.  But there is more than just passion here, there is sorrow, regret, confusion, addiction, fantasy, and love.  Raab's poems are passionate and temporal, but striving to transcend reality and reach an out of body experience where appearances do not matter.
Lust by Diana Raab, read by Kate Udall, is stunning and memorable on more than one level.  Lovers and married couples should consider reading these poems to one another, so that perhaps they can deepen their own desires for one another, their own passions, and reach a new kind of ecstasy.  Lie upon the bed and take turns reading these verses and passions are likely to flare.
***Handle with care, as the language here is very sexual in nature.***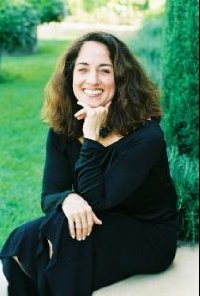 About the Poet:
Diana Raab is an award-winning poet, memoirist, and believer in the healing power of the written word. She began crafting poems at the age of ten when her mother gave her her first Khalil Gibran journal to help her cope with her grandmother and caretaker's suicide. A few years later she discovered the journals of diarist Anaïs Nin and learned that, like Raab, Nin began journaling as a result of loss (the loss of her father). Much of Raab's poetry has been inspired by Anaïs Nin's life and works.
She is the author of four poetry collections, My Muse Undresses Me (2007); Dear Anaïs: My Life in Poems for You (2008); The Guilt Gene (2009); and Listening to Africa (2011).
Her poetry and prose have appeared in numerous journals and anthologies including Rattle, Boiler Room Journal, Rosebud, Litchfield Review, Tonopah Review, South Florida Arts Journal, Prairie Wolf Press, The Citron Review, Writers' Journal, Common Ground Review, A Café in Space, The Toronto Quarterly, Snail Mail Review, New Mirage Journal, and Jet Fuel Review.
She is editor of two anthologies, Writers and Their Notebooks (2010) and Writers on the Edge (2012), co-edited with James Brown. Both these collections have submissions from poets and prose writers.
Diana has two memoirs, Regina's Closet: Finding My Grandmother's Secret Journal (winner of the 2009 Mom's Choice Award for Adult Nonfiction and the National Indie Excellence Award for Memoir), and Healing With Words: A Writer's Cancer Journey (winner of the 2011 Mom's Choice Award for Adult Nonfiction).
She is a regular blogger for The Huffington Post and writes a monthly column for the Santa Barbara Sentinel, "The Mindful Word." She lives in Southern California with her husband, and has three grown children. She is currently working on her doctorate in psychology and is researching the healing power of writing and creativity.
Other Books Reviewed:
Book 23 for the Dive Into Poetry Reading Challenge 2014.