Source: TLC Book Tours and New Harvest
Hardcover, 128 pages
I am an Amazon Affiliate
Adé: A Love Story by Rebecca Walker reads like a memoir, but it is fiction.  A young, American woman who has felt unmoored since her parents' divorce, even at an Ivy League school until she falls into the web of Miriam, a free-spirited twenty-something whose eager to lose herself in the passions of others, particularly by having sex with men.  At the end of the school year, she and Miriam decide to see the "real" Africa and Middle East, traveling first to Egypt and slowly moving into more southern territories.  While Walker's novella is considered a love story, it is far from overtly romantic, and it is more a search for identity, an identity that is strong and unwavering.  This nineteen-year-old, who later becomes known as Farida, is searching, always searching and consciously taking note of her place in the world.
"I was nineteen years old to Miriam's twenty-one.  I felt raw and unfinished, where she seemed complete and self-assured.  I was a child of divorce and felt like I came from a thousand places — each one holding a little piece of me, and I drifted among them with no way to gather them up.  Miriam was from just one place, Miami, and more specifically, the moneyed enclave of Coconut Grove." (page 4)
As they are touring Egypt, both young women are searching for something more authentic in their experience, rather than the tourist traps of Cairo and Giza, where Walker's prose refers to tourists as flies around a plate of food.  Just from these early moments and descriptions, the reader can garner a sense that Farida is still searching for a home, a place where she not only feels worthy but safe and loved.  These tourist traps are not what she has come for her, with her "copper-colored" skin and "brown eyes the shape of almonds."  As the narrative shifts away from Farida and Miriam's experiences and becomes more focused on Farida's alone, the reader gets a sense that something has shifted in the narrative — something more serious has come.
Even after she meets Adé, a Swahili Muslim from the Kenyan island of Lamu, Farida has succumbed to the feeling of belonging in these nations' she's visited, with their small villages and welcoming people.  Their romance is slow, and yet fast.  They begin with meetings at night after he works and walks throughout the town, then things heat up even faster after she reveals her passion for him.  Although this relationship blooms quickly and breaks her away from the past she's known in America, her sensibilities have never strayed too far outside those democratic principles, and it is those principles that sets her apart in a world she's come to think of as her own. Adé: A Love Story by Rebecca Walker is not a traditional story of love between a man and a woman, but of finding the love that can lift you up, complete you, and make you stronger even in the most adverse circumstances — and there are plenty of those here as the Persian Gulf War begins in the background.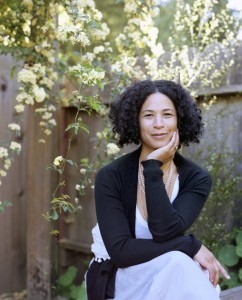 About the Author:
Rebecca Walker is the author of the best-selling memoirs Black, White and Jewish and Baby Love, and editor of the anthology Black Cool. She is also the editor of the anthologies To Be Real, What Makes a Man, and One Big Happy Family. Her writing has appeared in Bookforum,  Newsweek, Glamour, Marie Claire, The Washington Post, Vibe, and Interview, among many other publications, and she blogs regularly for The Root. For more information, please visit her Website and follow her on Twitter.
ENTER to win 1 copy of Rebecca Walker's Adé: A Love Story by leaving a comment below by Nov. 18, 2013, at 11:59 p.m.
This is my 77th book for the 2013 New Authors Challenge.