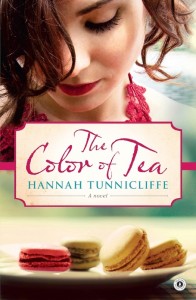 Macau is a former Portuguese colony and is now a special administrative region of China and a hub of gambling and more.  The Color of Tea by Hannah Tunnicliffe is a woman's journey into a strange land and the time of her life as she trails behind her husband, and their dreams of a new life change drastically.
"Macau: the bulbous nose of China, a peninsula and two islands strung together like a three-bead necklace, though by now the sand and silt have crept up and almost covered the silk of the ocean in between.  Gobbled up, like most everything in Macau, by Progress.  Progress and gambling."  (Page 1)
Grace Miller is a woman who has lost her dream and builds another with tea and French pastries.  With the help of Leon, a French chef, Grace learns to make macarons and she opens a cafe, breathing new life into her days.  Although she doesn't know Portuguese, Cantonese, or Mandarin, she finds the strength to become a businesswoman with little help from her husband, Pete.  She finds a new strength in her situation as she creates new kinds of macarons, serves coffee and tea, and provides a community with a little hope and connection.
"The day after the earthquake Lillian's is packed to the rafters.  It is so crowded that those who can't find their own tables join strangers and start to talk.  It is as if the catastrophe has brought out the community-minded side of people.  Conversations are hushed, and customers linger over their coffees.  Children are sent to the corner to play with our basket of toys, mutely constructing castles or ships out of LEGOs; even they must sense the need for regrouping and rebuilding."  (Page 125)
It is the essence of Tunnicliffe's novel — rebuilding and regrouping — to create something shiny and new out of the rubble . . . to begin again.  Lillian's is a cafe born from the ashes of a Portuguese restaurant in a Chinese owned commonwealth by a British woman seeking a foothold in a spiraling out of control life, but what this cafe brings to her and to the community is more than she could have bargained for as cultures are bridged and friends are earned.
Grace is dedicated and strong, but she's also naive about the cultural differences surrounding her, but those traits together make her more endearing.  Peter tries his best to cope with the loss of their dream, but throws himself more and more into his work when his wife withdraws.  His character is less well drawn, but the novel is told from Grace's perspective, so that is to be expected.  Gigi, Leon, Celine, Rilla, Marjory, and Yok Lan are secondary characters who are full of life, teaching one another how to have patience with one another and grow.
Tunnicliffe's debut novel is ripe with sugar and creamy pastry as each new relationship adds to the culinary masterpiece that is The Color of Tea.  It is Grace's story.  Through her baking she comes alive, and subsequently comes into her own.  Tunnicliffe is talented and makes Macau come alive through food, relationships, and tea — creations that transcend sorrow and class.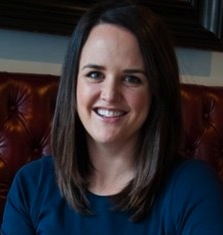 About the Author:
Hannah Tunnicliffe was born in New Zealand but is a self-confessed nomad.  After finishing a degree in social sciences, she lived in Australia, England, and Macau.  A career in human resources temporarily put her dream of becoming a writer on the back burner.  The Color of Tea is her first novel.
This is my 58th book for the New Authors Reading Challenge 2012.
If you'd like to win a copy and live in the US or Canada, please leave a comment about your favorite tea or pastry.
Deadline is Aug. 16, 2012, at 11:59PM EST