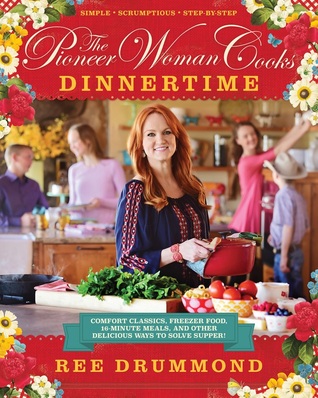 Source: Public Library
Hardcover, 400 pgs.
I am Amazon Affiliate
The Pioneer Woman Cooks Dinnertime by Ree Drummond is another great cookbook with easy to follow ingredient lists and steps.  My favorite part of these cookbooks is the step-by-step photos she adds for each part of the process.  One thing I would love, that doesn't seem to be in these cookbooks, is a guide on how to pare down the ingredients and recipes to meet the food needs of a smaller family.  While my family will eat leftovers, there is a limit to how long they will keep and how much my family can eat.
For this cookbook, we had our daughter choose the recipes of what looked good to her, and we tried them out.  Among the recipes we tried were the Sausage, Potato, and Kale Soup (a dish similar to a spicy Portuguese soup I make and the Oliver Garden Zuppa Toscana soup); the Red, White, and Green Stuffed Shells; Shrimp Scampi; and the Pasta Puttanesca.
The soup was the easiest to make and the leftovers went quickly, mostly because I love soup.  Her recipe was very close to the Olive Garden version, so if you love that soup, this is a recipe for you to try at home.  The stuffed shells are also easy to make, though they can take a lot of time because the stuffing process will depend on the flexibility of your shells — which you don't want too flexible because they'll be mushy.  My daughter and husband really enjoyed these, which is a win for me since they both hate spinach.
Shrimp Scampi is probably the easiest of the recipes, next to the soup, but this one was not liked by either my husband or daughter for some reason.  Since eating this, which has wine in it and a lot of garlic, my daughter has refused to eat shrimp, something she normally loves.  In my case, I had to eat all the leftovers, but got sick of eating them because there was just too much.  Pasta Puttanesca is another recipe that did not go over as well as the first two, even though I eliminated the anchovies and olives, both of which are not liked here.  I love olives, but the other family members do not.  To me, without those ingredients, or at least something to replace them, the pasta was bland tasting.  My daughter, however, loved the tomatoes.  She ate those right up.
The Pioneer Woman Cooks Dinnertime by Ree Drummond is another cookbook I'll have to buy at some point to try the recipes, since this one has to head back to the library.  I could just take it out again, but I like to make notations in my cookbooks about changes I make or things I substitute.
RATING: Quatrain
Other Reviews:
About the Author:
Ree Drummond began blogging in 2006 and has built an award-winning website, where she shares recipes, showcases her photography, and documents her hilarious transition from city life to ranch wife. She is the author of the #1 New York Times bestselling cookbook The Pioneer Woman Cooks. Ree lives on a working cattle ranch near Pawhuska, Oklahoma, with her husband, Ladd; their four kids; their beloved basset hound; and lots of other animals.