Source: Inanna Poetry and Fiction Series and TLC Book Tours
Paperback, 150 pages
I am an Amazon Affiliate
Midsummer by Carole Giangrande is a poetic novella that settles the reader into the complexities of an immigrant family from Italy — a brother who chooses to stay in America and make his way in finance and a sister who returns to Italy to begin a life with her successful husband.  Nonno Lorenzo came to America and dug the New York City subway tunnels, only to land his pickaxe on the hull of a missing ship — Tijger — that was caught on an old shoreline.  Beneath his working class roots in America, the man was a visionary artist who never became famous, but he begets a number of dreamers, including a granddaughter who has suffered the most along the way — losing family and friendship.
"'One day,' said my aunt, 'I would like you to hear my stories in Italian.'
'But you grew up in America,' I said.
'The stories grew up somewhere else,' she replied."  (page 14)
Giangrande navigates memory and emotion carefully, guiding the reader outside the prime maritime routes into the deepest seas of human connection, with one's family.  The intersection of Joy's family and that of her husband, Adrian, comes together just as her grandfather discovered a lost Dutch ship beneath the Twin Towers in New York City.  Through family legends and a shared language, Giangrande weaves a story steeped in myth and love, despite tragedy.
"A creature trapped in a pretty, long necked bottle, a frantic beating of wings against glass, waiting for deft fingers, the touch of his hand to release her.  I sensed she enjoyed her entrapment for the moment of release it brought." (page 53)
Joy and her family are caught in their own silences, unable to utter apologies even though they exist without being uttered.  Lorenzo's ability to see into the future through his painting has left the family with a haunted legacy, but it is clear that the legacy will be ever-lasting.  Like a painting that comes to life, Midsummer by Carole Giangrande is like the longest-day of summer in families when tragedy saddens everyone in different ways, regrets threaten to bring members to their knees, and forgiveness is a shining beacon that can save them all.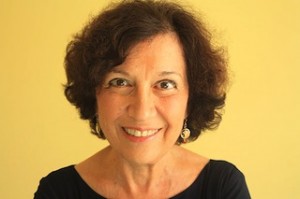 About the Author:
Born and raised in the New York City area, Carole Giangrande now resides in Toronto, Canada. Her novella, A Gardener On The Moon was co-winner of the 2010 Ken Klonsky Novella Contest, and is published by Quattro Books. She's the author of two novels (An Ordinary Star and A Forest Burning), a short story collection (Missing Persons), all published by Cormorant, and two non-fiction books. Her new novella, Midsummer, will be published in April 2014 by Inanna. She's worked as a broadcast journalist for CBC Radio (Canada's public broadcaster), and her fiction, articles and reviews have appeared in Canada's major journals and newspapers. Her 50-part literary podcast Words to Go has been downloaded over 20,000 times in 30 countries. She comments as The Thoughtful Blogger, and she's recently completed a novel. She's a dual citizen of the United States and Canada.
Find out more about Carole at her website, connect with her on Facebook, follow her on Twitter, and find her on Goodreads.
30th book for 2014 New Author Challenge.